Let's talk about Being: Everton
Samwise Gamgee never stood a chance. It was always going to be Frodo Baggins basking in the glory of destroying the One Ring. But we all know who carried him up the fire-charred cliff of Mount Doom.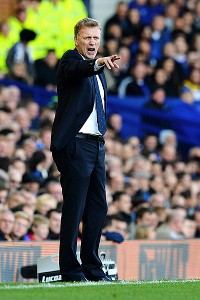 GettyImages / Paul Ellis/AFP/Getty ImagesDavid Moyes has the Toffees second in the table, reserving the early-season struggles of the past campaign.
Samwise never got nearly as much credit as he deserved. Yet he comes to mind when you fix your eye on Merseyside. This isn't an apple-to-apples comparison, obviously, as Liverpool and Everton would like nothing better than to see the other fall into a fiery chasm. But one side is hogging the limelight for (mostly) negative reasons; the other deserves it just as much for doing something good.

Turn on the TV and you know we live in Brendan Rodgers' world. "Being: Liverpool" spins the cult of the guru who wants to bring Barcelona-style football to Anfield. Which, to be fair, was nearly on display at Norwich this past weekend. Yes, only Norwich, but the various link-up plays between Luis Suarez, Suso, Raheem Sterling and Steven Gerrard were absolutely brilliant. Suarez's clinical finishing in front of goal was another welcome sight for the neutral. This was possession with a purpose, dazzling in execution, lethal in the final ball.

Yet despite their position in the table (14th place), Rodgers & Co. have cast a great shadow in hype and style. So great, in fact, that you could easily forget that there's another Merseyside team doing even better.

David Moyes must be experiencing the light-headedness that comes with being in high altitude. He has his side second in the table, on 13 points and only three behind league leader Chelsea. The horrific start of the last campaign -- seven points, 13th position at this juncture in 2011-12, which devolved to 10 points after 10 games, to land the Toffees in 17th -- is but a distant memory. So is their awfully slow start the season before that.

In this calendar year, only United and City have more points than the Toffees. That is a startling statistic when few would mention them in such high-moneyed company.

No one is mistaking Everton as a title contender, yet Moyes has the side clicking over nicely. Where to start?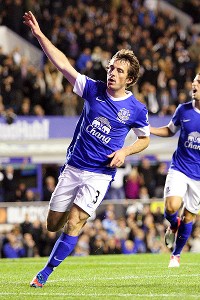 GettyImages / Ian Horrocks/Newcastle United/Getty ImagesLeft back Leighton Baines leads the Premier League in chances created.
You've got the telepathic understanding between Leighton Baines at left back and Steven Pienaar in midfield. After a disappointing time with Spurs, Pienaar has returned and struck up as productive a partnership as any in the Premier League -- both players raise each other's game. Baines also leads the league in chances created, 28; second best is the much-lauded Santi Cazorla with 23. But we're comparing a left back with a Spanish playmaker, making the English international's contributions stunning.

On the right, Seamus Coleman, who would prefer to play in midfield, is providing excellent width with his runs from right back. We saw how he blew past two defenders on Saturday against Southampton to provide the assist to Nikica Jelavic.

Playing their best lineup against Southampton, Everton rallied from a goal down to dominant the newly promoted side. As we've seen with the Toffees so far this season, they are looking to build attacks out of the back, but aren't averse to the tried-and-true direct approach. With no one coming back to receive the ball from Tim Howard -- the excellent center back pairing of Phil Jagielka and John Heitinga will turn their backs as if to say, "Don't even think of a short pass" -- the American keeper huffs the ball forward in hopes it'll find the 'fro of Marouane Fellaini. Fellaini is poised to have a terrific season with his physical play either in midfield or right behind the striker. United fans remember how he brushed Michael Carrick aside in the season's first game as if he were a crumb on his lapel. And for a man who rarely leaves the ground to head the ball, he is fourth in the league with 24 aerial battles won.

Up top, Jelavic is proving the complete package, scoring with either foot and decent in the air. Against Southampton, Fellaini and Kevin Mirallas played a nice one-two in the middle of the park, after which Mirallas played in Jelavic, a quick and effective pass knowing any dawdling on the ball might have caused the striker to be offside. His left-footed finish firmly changed the game's momentum after Osman had scored in the 25th minute. And what about Mirallas? A reported 6 million-pound pickup from Olympiacos this offseason, he is shaping up to be another key addition to Team Moyes, whose manager treats the transfer market like hobbyists use eBay -- smart, shrewd, with nary a penny wasted.

Jelavic added to his tally against Southampton, giving him three goals in five league matches. He's got a tricky knee, so Moyes probably can't depend on him game in, game out. The coach, for that matter, doesn't have a ton of depth if the injury bug hits. What you saw out on the pitch Saturday is the heart of the squad, with a bit of interchangeability among the players (Bryan Oviedo came on for Mirallas, and Pienaar moved over to the right).

For the most part, these players have been competing together for the past couple of seasons. Moyes, in the final year of his contract, is getting the best out of them so far. The gaffer doesn't traffic in the management speak of Rodgers. He doesn't have a war chest at his disposal. And he doesn't have a television program to propagate his footballing philosophies.

What he does have is a damn fine team punching above its weight at No. 2 in the table to be sure, but one that could be having a defining season. Being: Everton, anyone? You know Moyes would have none of that.