10 Bundesliga transfers that flew under the radar
Thiago Alcantara, Henrik Mkhitaryan, Mario Götze, Pierre-Emerick Aubameyang -- Bayern Munich and Borussia Dortmund have been writing the headlines on the German transfer market this summer. FC Schalke 04, with a handful of strategic and interesting transfers, have sneaked in every now and then, and, of course, the Heung-Min Son transfer from Hamburg to Leverkusen has been worth a story or two.

Other clubs might not be in the center of attention but, of course, have also signed new players. All of them have high hopes going into the new season. Some of them might fail, some of them will get injured and some of them might be the next Götze or the next André Schü rrle. Only time can tell. Some of those players below have traveled far only to come back to Bundesliga, and others will make their first steps in one of Europe's biggest leagues.

Here are nine players you might hear about next season And one player, who at the age of 39, chose to play outside of his native Spain for the first time in his life.

Halil Altintop, 30
Trabzonspor to FC Augsburg
Free transfer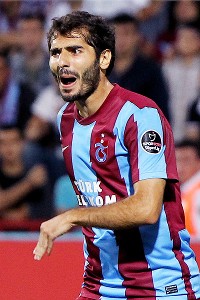 EuroFootball/Getty ImagesHalil Altintop always kept his eye on the Bundesliga while in Turkey. He returns to Germany after signing with FC Augsburg.
They always return. With Roberto Hilbert (from Besiktas to Leverkusen) and Altintop, No. 31, two experienced Bundesliga players have left Turkey to try their luck in Bundesliga once again. "I have never lost sights of Bundesliga," the twin brother of former Real midfielder Hamit said. The Gelsenkirchen-born Halil had indeed been hailed as the more talented one before both burst onto the Bundesliga landscape in the early noughties.

"I think our careers ran in scales. Sometimes he was better and then it was me again. The most important thing, however, is we are both happy and lead a healthy life," Halil said.

The versatile midfielder will be trying to weigh in all of his experience to help FC Augsburg to a fourth consecutive season of Bundesliga football. "The Bundesliga is the best league in the world, and I always want to compete with the best," said Halil, who had his Trabzonspor contract terminated after the club ran into financial difficulties.

Luca Caldirola, 22
Inter Milan to Werder Bremen
Reported fee: €2.25 million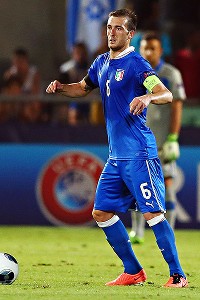 Alex Grimm/Getty ImagesLuca Caldirola becomes Werder Bremen's first Italian player. The 22-year-old replaces Sokratis, who switched to Dortmund.
Besides the new Bayern star Thiago, 22, a quartet of European youth internationals has made the switch into Bundesliga. The Greece Under-20 captain Konstantinos Stafylidis, 19, and the 23-year-old Italy Under-21 international Giulio Donati, 23, signed contracts at Bayer Leverkusen. The former could take the left back and the latter the right back position, with Donati having to step into the big footsteps Real Madrid's Daniel Carvajal left at Leverkusen during his one season at the Werksklub.

SC Freiburg coach Christian Streich convinced the France Under-20 centre back Christopher Jullien, 20, to cross the Rhine and join the Europa League participants. Streich, who has gained a reputation for developing young players, calls the former AJ Auxerre player "an interesting player who blends in well with us." Jullien is the only France player to not play during their title-winning Under-20 World Cup campaign this summer but is widely regarded as a possible replacement for either Matthias Ginter, 19, or Fallou Diagne, 23, who had both already been heavily linked with a move out of Freiburg this summer.

Bremen signing Caldirola played for Italy's Under-21 team alongside new Leverkusen right back Donati. Both had been sent to Italy's second tier by Inter Milan for loan stints. Caldirola is the first Italian to play for the 2004 Bundesliga champions, who have fallen from the top of the league during the past few seasons. "Bremen offer was tempting. I by all means wanted to play here because, after all, the Bundesliga is one of the strongest leagues in Europe," Caldirola said. The 22-year-old will replace Sokratis, who made the switch to Borussia Dortmund. "I trust myself to do that. I wouldn't have joined the club otherwise," the Italian said.

Leon Goretzka, 18
VfL Bochum to FC Schalke 04
Reported fee: €3.3 million

The next wave of German youngsters will be arriving in Bundesliga, more precisely, at Schalke this season. Alongside the talent hailing out of Schalke's famous Knappenschmiede, Schalke 04 have added 1.FC Cologne's Christian Clemens, 22, and VfL Bochum youngster Goretzka to their roster of German prospects.

"In footballing terms, I try to emulate Toni Kroos. In the future, I see myself as a player on the No. 8 position," Goretzka said in an October 2012 interview. Despite having played only one full season in professional football, Goretzka had been one of the most sought-after youngsters in German football. He has aroused interest from clubs such as Inter, Real, Juventus and FC Bayern, but, in the end, Goretzka opted to stay close to his hometown of Bochum and join neighbouring Gelsenkirch side FC Schalke 04 in a longer transfer saga, which in early July finally came to a good end for everyone.

"You could say for sure that Dortmund was also interested in me, but I opted for Schalke, and I believe I made the right decision," Goretzka said. Goretzka will be competing for a spot in Schalke's holding midfield with U.S. international Jermaine Jones and Germans Marco Höger and Roman Neustädter.

Max Kruse, 25
SC Freiburg to Borussia Monchengladbach
Buyout clause: €2.5 million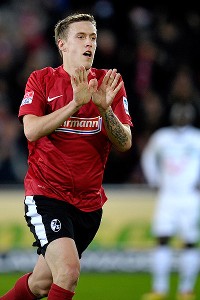 Thomas Kienzle/Getty ImagesMax Kruse joins a Monchengladbach side that just missed out on the Europa League last season.
It took Kruse only a handful of months at Freiburg to receive his first call up from Germany boss Jogi Low this summer. After making the switch from St. Pauli to Freiburg in the summer, the free-floating attacker was a key to Freiburg's surprising Europa League qualification. Kruse's 11 goals and the further eight he created made him Freiburg's most-dangerous player during that season.

Off the pitch, Kruse has been making headlines in the tabloids with his appearances as MC Max during his Hamburg days and his love for extravagant sports cars. On one of his first days at his new club, he was pictured arriving at the training ground with a camouflage Maserati.

"Of course, you are out in the public as a footballer, but you don't have to discuss every camouflage car. I just like it," Kruse said. "I take each day as it comes, and I don't want to contemplate too much. I am not interested in what happened last year. I can't live off my past glories. The cards are being re-shuffled, and that's why it is of no use looking back. In the most cases, that's an advantage."

The former FC St. Pauli man will join a thirsty Borussia Monchengladbach, which just missed out on Europa League last season. With Alvaro Dominguez, Luuk de Jong and Granit Xhaka going into their second Bundesliga season and the addition of Raffael, Gladbach have a good chance to be one of this season's dark horse.

Mike Hanke, 29
Borussia Monchengladbach to SC Freiburg
Free transfer

In his column for ESPN FC, Uli Hesse recently reflected on the members of Germany's class of 2006. Hesse told the story of David Odonkor, who had fallen from grace and is, at the age of 29, about to sign with Thai Premier League new kids Bangkok United.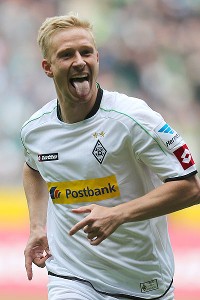 Juergen Schwarz/Bongarts/Getty ImagesFreiburn will be looking for signs of leadership from experienced player Mike Hanke.
Back in 2006, when Odonkor was called up to the national team, he might have been the most surprising member of Jurgen Klinsmann's side that breathed new life into Germany's football. Odonkor left a lasting impression, setting up Oliver Neuville's last-minute goal against Poland in the second group game at Dortmund's Westfalenstadion.

But arguably, the most-surprising name on the squad list had been the 22-year-old VfL Wolfsburg attacker Hanke. He had scored eight goals in his first season for Wolfsburg and was banned for the first two games following a red card in the Confederations Cup the year before. He went on to play 19 minutes in Germany's meaningless third-place playoff against Portugal.

Hanke last wore the Germany jersey on Nov. 17, 2007. He followed Wolfsburg with 3½ years at Hannover. In January 2011, he made another switch to Monchengladbach, at that time bottom of the league. It was also down to Hanke's furious start with three goals in his first five games as a sub that Gladbach in the end survived -- and the next season with a potent partnership between Hanke and Marco Reus stormed into Champions League qualification.

Having lost his partner Reus, it took Hanke nearly all of last season to win a place in Gladbach's starting formation. Once he won back his place, he had already been told he could seek new employment elsewhere.

And so Hanke moved on. This time down south to Freiburg, where he will join a team looking for leaders. By now, Hanke could be one. He is a well-seasoned Bundesliga player, has clocked up 269 Bundesliga games and not given up on returning to the Nationalmannschaft.

"This is not over for me. I will continue to step on the gas, and maybe I will get a new chance someday," Hanke said. A Germany return for Hanke, who started his journey through Bundesliga at Schalke 04, would certainly be one of the bigger surprises in 2014.

Tarik Elyounoussi, 25
Rosenborg Trondheim to TSG Hoffenheim
Reported fee: €3 million

Elyounoussi is the latest Bundesliga attacker imported from Norway's top flight. The Rosenborg striker, who scored six goals in 13 games during the ongoing season in Norway, follows the likes of Mohammed Abdellaoue, Didier Ya Konan and Mame Biram Diouf, whom, of course, also played for Manchester United and Blackburn.

All three of them had initially joined Hannover 96 and left their traces in Bundesliga. Ya Konan and Diouf are still in Hannover, with the latter the subject of a longer transfer saga that will most likely see Diouf leave the Leinesiders on a free transfer next summer. Abdellaoue moved on to his second destination in Germany when he signed for VfB Stuttgart in the summer. Hoffenheim are now the second club to adapt the trend.

"It shows me that this step can be successful," the 14-time Norway international said. "It is up to me to make an impact just like the other three."

Elyounoussi joins a club that had been all but relegated with only 15 minutes to go last season. But two late goals against Borussia Dortmund got them to the relegation playoffs against Kaiserslautern, in which they secured another season of Bundesliga football.

They have since offloaded several players and demoted others, and, under coach Markus Gisdol, who puts a lot of his trust into young players, should at least stay away from the relegation fight. "The young players are extremely hungry, want to show themselves. That has already impressed me," Elyounoussi said. "If we fulfill our coach's plan, we can surprise quite a few."

Timm Klose, 25
1.FC Nurnberg to VfL Wolfsburg
Reported fee: €6 million

Here is your average Bundesliga transfer of the season.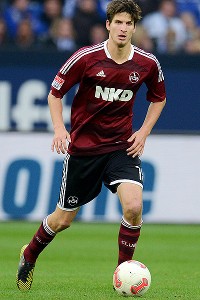 Patrik Stollarz/AFP/Getty ImagesWolfsburg's Timm Klose helped previous club Nuremberg stay out of most of the relegation fight and turned his fortunes around last season.
Timm Klose played a decent season at Nuremberg. The centre back helped them to stay out of most of the relegation fight. In his first season at Nuremberg, the Frankfurt-born Switzerland international played the first 13 games of the 20110-12. Then, after several costly mistakes, disappeared from the first team. "He needs to learn from his mistakes and get up again," Nuremberg coach Dieter Hecking said right before Klose played his last first-team match of the season. He got his feet on the ground again in Nuremberg's reserve at the end of the season.

He also debuted for Switzerland in October 2011 in a European Championship qualifier against Wales. He caused a penalty when it was still goalless, and the final 2-0 defeat ended Switzerland's dreams of traveling to Ukraine and Poland.

Klose turned his fortunes around last season, when he became an integral part of Nuremberg's defense. He replaced Philipp Wollscheid, who had joined Leverkusen, in central defense. "I had one full year to prepare myself for Bundesliga," Klose said, explaining how the low point had made him stronger.

At the end of the season, VfL Wolfsburg -- coached by Dieter Hecking, his old Nuremberg boss since January 2013 -- voiced their interest. And after some back and forth, the deal was finalized for a reported transfer fee of €6 million. At Wolfsburg, Klose will play alongside his Switzerland teammates Diego Benaglio and Ricardo Rodriguez. It is likely that Switzerland coach Ottmar Hitzfeld will be spotted at the Volkswagen Arena a couple of times. As like every season that has followed their Bundesliga title in 2009, anything can happen in Wolfsburg. They might struggle to stay in the league or -- if Diego pulls it together and maybe even Bayern's Luiz Gustavo joins them -- they can finish the season somewhere close to, or even inside, the Champions League spots.

Hakan Calhanoglu, 19
Karlsruher SC to Hamburger SV
Reported fee: €3 million (2012)

Calhanoglu was in the center of a tug of war between Werder Bremen and Hamburger SV during the 2012 summer transfer period. "From his talks with Werder Bremen, he returned with a Werder jersey," Oliver Kreuzer recently remembered. Kreuzer is now Hamburg's sporting director and, in August 2012, filled the same spot at then Bundesliga III club Karlsruhe, which knew it would not be able to hold on to the midfielder.

But Kreuzer demanded €2.5 million, Bremen left the race and Hamburg signed the young Turk, who explained "my heart has always said HSV." He was directly loaned back to develop further at Karlsruhe. In his first game as a Hamburg loan, Karlsruhe beat Hamburg 4-2 in the German cup. It was only after that cup defeat Hamburg increased their work to bring home Rafael van der Vaart.

During the 2012-13 season, the 19-year-old scored 17 and set up another 11 as Karlsruhe returned to Germany's second flight. "I have a lot of confidence," Calhanoglu said. Hamburg's new midfielder turned down the No. 10 jersey. He said, "I need to earn that first."

Calhanoglu has been compared to Mesut Özil. "Many experts believe he is a step ahead of Mesut Özil at that age," Kreuzer said of the Turkey Under-20 international back in August 2010. Calhanoglu, however, has said that Dortmund's Nuri Sahin is his big role model. "It would be a dream to play in one team with him," Calhanoglu said. He could fulfill his dream when the half-German receives his first call-up to Turkey's national team. In Bundesliga, they will be opponents.


Daniel Ginczek, 22
Borussia Dortmund via St. Pauli to 1.FC Nurnberg
Reported fee: €1.5 million

Ginczek is one of many interesting BVB youngsters flooding the Bundesliga this season. The 1.91-meter tall striker has enjoyed a good season at second-tier club FC St.Pauli. His 18 goals -- 11 of which came during the last 12 match days during his breakthrough season in Bundesliga II -- helped Hamburg's cult club avoid the drop into the third league.

He had been briefly linked with a transfer to West Ham but opted for 1.FC Nuremberg, a club looking for a marksman ever since Marek "The Phantom" Mintal's severe foot injury in 2005. Ginczek will face tough competition from €3 million signing Josip Drmic and the young Pole Maruisz Stepinski, signed from Widzew Lodz. "It's every footballer's dream to play in Bundesliga," Ginczek said. "I want to play as many games and score as many goals as I can. That's why I came here."

Andres Palop, 39
Sevilla to Bayer Leverkusen
Free transfer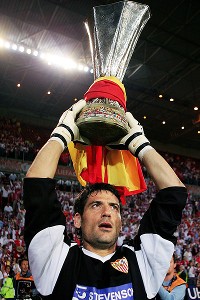 Michael Steele/Getty ImagesBayer Leverkusen's Andres Palop is the oldest player to join the Bundesliga this summer. The Spaniard is 39.
Palop is the oldest player to join any Bundesliga team this summer. The 39-year-old former Sevilla keeper signed a one-year deal at the Champions League participants. Palop will mostly sit on the bench with Germany Under-21 international Bernd Leno, taking the spot between the Leverkusen posts. "To be honest, I was indeed surprised by the transfer," Leno said. "He is a bit older than the average, but that's OK."

Palop will be working with Leverkusen goalkeeping coach David Thiel. At 28, Thiel is the youngest goalkeeping coach in Bundesliga. "My job here is to bring in my experience and maybe help that things run well and better here."

Palop knows he won't win a lot of minutes. Last season, Leno played in 32 of Leverkusen's 34 Bundesliga games.