Martino will maintain Barca traditions
It's been quite a year of parties in Argentina. First an Argentine Pope, now an Argentine manager of Barcelona. The fact that both have down-to-earth, soft-spoken public images hasn't stopped the public in their home country from celebrating both appointments in a big way. Of course, for a lot of people in Spain and Europe the main exclamation has been, "Who's he?" Well, wonder no more. Welcome Gerardo Martino...

Marcotti: Barcelona's future
Report: Gerardo Martino to Barcelona

Although not a household name in Europe, Barcelona could scarcely be appointing a manager whose style is more in line with their identity. The tactical vision that's guided Barca since Pep Guardiola took charge has been one of bielsismo -- the high-pressing, possession-based ideas espoused by Guardiola's idol, Marcelo Bielsa.

A link will already be clear to some readers; Martino arrives in Barcelona from Newell's Old Boys, where Bielsa is so adored that their stadium was renamed after him in 2009. After playing for them, Bielsa enjoyed his first managerial successes with Newell's. Martino, an elegant playmaker, was a vital part of the team that won the Torneo Apertura title in 1991, though he left for Tenerife before the overall 1991-92 championship was confirmed with a win in a playoff over 1992 Clausura winners Boca Juniors.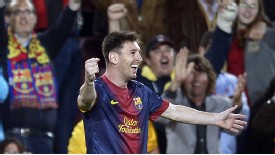 GettyImagesGerardo Martino's appointment at Barcelona would keep Lionel Messi smiling.
The Newell's link is a major reason for Martino's appointment. Lionel Messi is a lifelong Newell's fan -- it was in their youth ranks that he started playing before the club's lack of finances to fund his hormone treatment necessitated a move abroad -- and his father, Jorge, holds Martino as his favourite player. With Neymar's arrival in Catalonia and Messi's (personally) underwhelming finish to the 2012-13 season, the Barca board are eager to keep their most important player as happy as possible.

Martino started managing in Argentina's lower divisions in 1998, but it was when he moved to Paraguay in 2002 that he had his first major success. He won four league titles in five years with Libertad and Cerro Porteño, including in two consecutive seasons (2003 and 2004, one with each club) in which his side won the overall season title by virtue of winning each year's "short" championships.

While his sides in the domestic league were nearly always either first- or second-top scorers, his time in charge of the Paraguayan national side was by necessity more pragmatic. Libertad and Cerro are -- along with this week's Copa Libertadores finalists, Olimpia -- two of the three giants of Paraguayan football. However, Paraguay don't have a great standing in the international game and thus the coaching responsibilities represented a very different challenge. That too, Martino's most internationally visible achievement -- taking Paraguay to the 2010 World Cup in South Africa -- was made much harder in the build-up to the tournament when in January 2010, his most important attacker, Salvador Cabanas, was shot in the head in a Mexico City nightclub (Cabanas, incredibly, returned to football in April of last year and now plays for his local club in Paraguay's third division).

The loss of Cabanas meant Paraguay's performance in South Africa was far from a true reflection of how Martino had improved them, and yet they still came close to dumping eventual champions Spain out in the quarterfinals -- if only Oscar Cardozo's penalty hadn't been saved by Iker Casillas with the score at 0-0! Although they were dull during the 2011 Copa America knockout stages, this was at least in part because Martino recognised that his team conceded too many goals during the group stage. A tighter plan and a run to the final was the result.

He clearly has tactical diversity and knows how to get the most from his players. His recent spell at Newell's made clear that he is true to the club's bielsista heritage. Taking charge in December 2011 of the club where he'd been a hero as a player, Martino's job was simple: Get Newell to a championship. Newell's form had been woeful for a long time, and come the start of 2012-13, they would be in trouble in Argentina's relegation table that takes into account not only the current season, but also the previous two (that is, six championships; remember there are two championships per season here).

An improved performance in the half-season after Martino took charge gave them a footing to work on in 2012-13, but everyone at the club knew they'd need to challenge for at least one of the season's championships if they were to stay up. They got not one but two title challenges, the second of which was successful. They also got a glut of goals, scoring 40 during the 19 games of the Torneo Final after only 23 from 19 matches in the Torneo Inicial.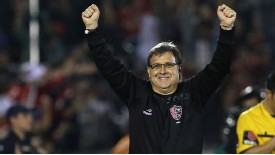 GettyImagesGerardo Martino is likely to stick to Barcelona's footballing philopsophy
It's those goals that Barcelona fans should pay attention to rather than the fact that Newell's had a hard time scoring in this year's Copa Libertadores. Their squad wasn't large, and at times, the rigours of playing two competitions sapped the players' energy. A run to the semis of the Libertadores involves as many games as a run to the semis of Europe's Champions League, but with greater travel times and with all of the continental matches squeezed into one half of the season. The demand is constant and rest time limited.

Barcelona also have various advantages in terms of infrastructure, budget and quality of players at their disposal that Newell's -- while they could hardly be called a team of cloggers -- didn't have over their competition. Martino will build on Barça's tactical philosophy, while also putting together more of a plan B than they've seemed to have in Europe.

On Sunday, Martino was alongside Newell's new manager Alfredo Berti (ironically, an internal appointment after the club wanted, Barcelona-like, to maintain continuity), watching a youth game. That moment exemplifies the humility that the club's new striker, David Trézéguet, talked of on Monday afternoon at the press conference for his own unveiling. "They'll appreciate that [side of Martino's character] in Europe," he said.

Martino is also a man of his word, having turned down Santos and Real Madrid because they wanted to bring him in before Newell's Libertadores campaign ended.

It's not an appointment without its risks, it's true, but Martino knows inside out the foundations that Barcelona's current play is built upon, and if he does well for them, he should do very well indeed.