Ancelotti's Real Madrid shows signs of shedding histrionics
BOURNEMOUTH, England -- For all the complex politics, all of the public drama and all of the intrigue of the past few years, it can often be easy to forget the enduring basic glamour of Real Madrid's mere name.

There was a timely reminder Sunday night in Bournemouth, evident in the excited fascination that such a famous football name was visiting at all.

Over two hours before this most surprising of preseason friendlies, the entire 12,000-capacity crowd seemed to be waiting outside Dean Court in the hope of just a glimpse at one of Real's succession of stars. During it, there was frequent photographing of a scoreboard putting two such contrasting clubs together. After it, there was no disappointment that it confirmed a 6-0 defeat.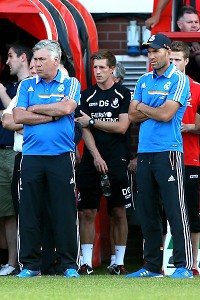 Jan Kruger/Getty ImagesCarlo Ancelotti presides over a more stable Real Madrid from when Zinedine Zidane was on the pitch.
Throughout the entire evening, though, there were also increasing indications that Real are themselves aiming to return to a more historic, less histrionic approach. This was a Madrid arriving with all of the old class but very little of the recent bombast.

Many would naturally put that down to the simple contrast between the facilitative Carlo Ancelotti and fractious Jose Mourinho. The Italian, after all, is a man who instantly managed to end a developing feud in Milan simply by approaching Mourinho and insisting it was all a bit juvenile.

There are strong signs, however, that it all goes much deeper than just a difference in the characteristics of the head coach.

Consider the last time that Real visited this part of Europe for a preseason friendly at a stadium even more modest than Dean Court. It was the summer of 2009 and Cristiano Ronaldo was playing his first game for the club against Shamrock Rovers at Tallaght Stadium in Dublin. Amid all the hype of Florentino Perez launching the second Galactico project, the Portuguese star was even asked about the hot pants he had worn on holiday.

This time, there was no such nonsense. Real came and left with the minimum of fuss.
There also has been, more important, no replication of the follow-up to the first Galactico policy.

Back then, the 2000 acquisition of Luis Figo gradually evolved into the notorious "Zidanes y Pavones" plan, whereby the pursuit of elite names would be balanced by academy graduates. The problem was that there was a greater gap between the two than just the statuses, as reflected by the wages. While the likes of Zinedine Zidane were being paid €6m a year, many of the young players beyond Francisco Pavon were earning no more than €150,000. Ultimately, the junior members of the squad were just not good enough. By the end of the 2003-04 season, Real were a shapeless mess.

Both Mauricio Pellegrini and Mourinho, it must be said, deserve credit for not allowing the team to devolve in a similar way over the past few years. At a club with the ultimate short-term approach, in fact, appointing a coach as immediately impactful as the Portuguese was arguably the only real way to help them properly compete with a structure as deep as Barcelona's.

Yet, as Perez again seeks to catch up with and overtake the Catalans, it seems he has learned some of the lessons of the past decade.

Not only do players such as Isco, Dani Carvajal and Asier Illarramendi add important long-term depth and youth to the squad, their quality is illustrated in the way they are certainly earning a lot more than €150,000 a year.

It also appears that Real have learned a lesson from Mourinho's period too. Whereas Isco was initially seen as a purchase who may push out Mesut Ozil and cause some of the discord that became so common over the past two seasons, they were playing together in often impressive harmony at Dean Court. Ancelotti's comments about the pair afterward further pointed to a policy that would more happily facilitate so many players rather than tensely pit them against each other.

"It was an experiment, only," Ancelotti said. "I believe players with quality can play together. It's only important to find a good balance offensively and defensively.

"The first game was good. We wanted to play like what is our [main] objective. Sometimes, we did good plays. Other times, not that good. It's the first game. I can say I'm happy because the team worked well. We have to improve. That is normal after just one week of work."

Not unlike Pellegrini, if in a little less integrated a manner, Ancelotti has previously proven hugely effective in getting attacking players to coalesce and interchange.

Against Bournemouth, there was already evidence of that as Luka Modric, Isco and Ozil linked up well, while Carvajal provided a constant threat on the right. In the second half, after a raft of replacements, Illarramendi always prodded at the home side while also poking some good passes through.

There was still one constant from the past few years: Ronaldo scoring a key goal. The forward hit the first two strikes of the game to set Real on their way. One was a blockbusting low free kick, the other a typical piece of opportunism.

It emphasised his utter importance to the side, as Ancelotti insisted Real would keep him. They are also more hopeful of getting him to sign a new contract until 2018. When specifically asked whether Manchester United had any chance of success in their long pursuit of his signature, the Italian simply responded: "I don't think so.

"I think he is the most important player of Real Madrid and his future will be with Real Madrid. There is no question about this."

There were, however, plenty of questions about Gonzalo Higuain. Despite reports from Italy that Real had accepted a €40m from Napoli, the Argentine came off the bench at halftime to add to Sami Khedira's strike and make it 4-0 with his first few touches.
Afterward, Ancelotti denied the speculation.

"It is not true [about the Napoli bid]. I don't have news about this. As I said, he's a Real Madrid player and until there is news I have to consider him a Real Madrid player. I would like he would stay with us."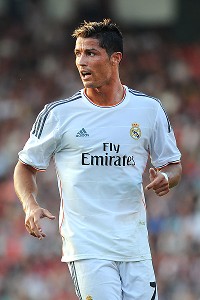 Charlie Crowhurst/Getty ImagesReal Madrid is trying to leave the drama behind but keep Cristiano Ronaldo's goals intact.
The entire situation is further indication of Real's more measured approach. Of course, there is no doubt that Perez is desperate to bring in another high-profile forward, as well as perpetuate the perception of him as a businessman capable of always closing the biggest transfer deals. Some things will never change. Gareth Bale and Luis Suarez both remain targets, and it is still likely that Higuain will ultimately leave.

The difference now is that Real have previously been so callous in quickly forcing unwanted players out -- and often to the detriment of the club. Wesley Sneijder and Arjen Robben are only two of the most telling recent examples.

There was none of that with Ancelotti, at least. The Italian knows that it would be foolish to diminish their forward line until they are at least assured of bringing in someone superior. All of his comments suggested a coach more quietly trying to strike a balance.

Perhaps most telling of all, after Angel Di Maria had added a fifth and Casemiro a sixth, there was Ancelotti's final assessment of his squad as it stands.

"My opinion is this team is really good, really good quality, really good balance; players with quality, players with character, players with personality.

"We don't need to add other players."

What they do need, though, is to put that famous name back where the club feel it belongs: on the Spanish league and Champions League trophies.

The first signs, at the least, were encouraging.