Each transfer window tends to throw up a handful of footballers talking themselves into a perilously embarrassing quandary, and this summer has been no exception.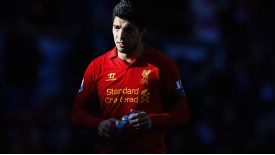 PA PhotosDark times for Luis Suarez and Liverpool
Protestations that you have to leave your current employer tend to come with reasons that vary from the genuine to the frivolous and yet, more often than not, a handful of wannabe transferees find themselves beating a hasty retreat when their 'dream' move fails to materialise.

Walking back into a dressing room a few weeks after you have gone public to belittle your club and teammates is hardly an enviable position, and we have already seen a few high-profile stars tripping down a familiar path.

Liverpool's Luis Suarez, Borussia Dortmund forward Robert Lewandowski and Manchester United striker Wayne Rooney have either stated their desire to leave their clubs or been accused of handing in transfer requests by their irate employers, with a predictable backlash from venomous supporters the inevitable by-product.

Yet unless the players in question have inside knowledge that they are certain of a switch to a bigger and better stage, their public utterances can lead to humbling back-peddling a few weeks later -- and that may well be the case for the trio of Suarez, Lewandowski and Rooney.

However, this intriguing balancing act between players and clubs can work both ways, and history suggests that hanging onto a player who has made it clear that he wants a transfer is a risky game to play.

Tottenham's Gareth Bale is an example of a superstar who many suspect will end up at Real Madrid or Manchester United at some point in his career, yet Tottenham are determined to ensure that move is not made this summer. Likewise, Barcelona are weighing up an offer from Manchester United for Cesc Fabregas, whose market value may collapse if he becomes a bit-part player at the Camp Nou next season.

So while Liverpool fans may be hoping Suarez doesn't secure a big-money move in the next six weeks, some examples of fallen heroes might suggest trying to retain the services of a player who wants out is not always wise.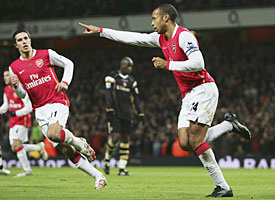 GettyImages / PhilColeThierry Henry would eventually return to Arsenal for a second spell after moving to Barca.
Thierry Henry (Arsenal 2006-07)

As Henry walked slowly from the field after Arsenal's Champions League final defeat in 2006 at the hands of Barcelona, many Arsenal fans feared their hero had kicked his last ball for their club.

Rumours of a move to Barca had been circulating for several months, yet Henry and Arsenal resisted that move for one more year, as the player and club tried to drain more glory from their historic partnership.

In the end, Henry's final season at Arsenal was blighted by injury as he offered up a less-than-impressive total of 12 goals in 27 games (and no trophy in sight, obviously), before he eventually moved to the Camp Nou in the summer of 2007, claiming he needed to move to challenge for major honours.

Cristiano Ronaldo (Manchester United 2008-09)

Real Madrid were eager to sign Ronaldo in the summer of 2008, but United's animosity toward the owners of the Spanish club made a deal impossible to broker.

Ronaldo had made it clear that it was his dream to play for Real Madrid and he was eager for the move to go through, but he stayed at United for one more year and fell below the extravagant standards he had set in the previous two seasons -- including his stellar performances in the second half of 2007-08, which helped him win the Ballon d'Or.

United boss Alex Ferguson later said he 'wouldn't sell that lot a virus' when referring to Real Madrid, before agreeing to the sale of Ronaldo to that very club a few months later.

Cesc Fabregas (Arsenal 2010-11)

Fabregas had spent the previous two summers at the centre of rumours linking him with a move to his beloved Barcelona, and in 2010, he made his biggest push to turn that dream into a reality.

With Fabregas pictured wearing a Barcelona shirt after it was forced over his head by his Spanish teammates celebrating their World Cup win, the little midfielder had to swallow his pride as he was forced to return to Arsenal for one more season of near misses in the trophy stakes.

He eventually plotted a path back to his homeland the following summer, but his final year at Arsenal was a story of injuries and indifferent form that suggested his best days as a Gunners hero were behind him.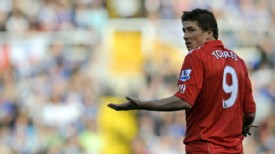 GettyImagesFernando Torres' reputation is now forever tarnished on Merseyside
Fernando Torres (Liverpool 2010-11)

Torres was widely tipped to leave Liverpool throughout the summer of 2010, and even though club officials insisted he would not be sold, the Spanish striker was clearly keen on a move away from Anfield.

Looking lethargic and uninspired when he started the 2010-11 season in Liverpool red, former teammate Jamie Carragher has since accused Torres of not performing at his best in a bid to engineer a move out of the club.

His £50 million transfer to Chelsea was duly signed off in January 2011, with the whole saga doing little for Torres' reputation or career, as he has not looked the same force in the two-and-a-half years since.

Wayne Rooney (Manchester United 2010-11)

Rooney is one of the names in the frame for a big-money transfer this summer and, of course, he has been in this position before, having handed in a transfer request at Manchester United in October 2010.

With supporters quick to condemn Rooney for his apparent desire to seal a switch to local rivals Manchester City, there seemed to be no way back for the striker until he had a sudden change of heart when a new contract was thrust in his direction.

The affair did not seem to derail Rooney's career, as he scored an impressive 34 goals in the 2011-12 campaign, but that initial episode of 'betrayal' is part of the reason why many United fans are reluctant to support him in his latest stand-off with his paymasters.

Luka Modric (Tottenham 2011-12)

Chelsea made their intentions clear as they chased the signature of Modric until the final hours of the summer window ahead of the 2011-12 season and, in the end, the transfer saga did more damage to Tottenham than they dared imagine.

With manager Harry Redknapp among those urging his belligerent chairman to sell the player to Chelsea and give him money to rebuild his team, Spurs started the season as a team full of uncertainty and lost their opening two games amid the confusion.

In the end, Modric stayed, but his less-than-dynamic displays led some observers to suggest his eagerness to quit the club affected his form in the campaign that followed. He eventually left Spurs for Real Madrid in August 2012.

THIS SUMMER'S POSSIBLE MOVERS


PA PhotosRobert Lewandowski is left to contemplate another season at Dortmund
Robert Lewandowski – Having made it clear he wishes to join Bayern Munich, it will be intriguing to see how this Polish striker fares in the final year of his contract with Borussia Dortmund. Will he still have the stomach for the fight?

Gareth Bale – Real Madrid and Manchester United appear to be eager to sign Bale, but Tottenham chairman Daniel Levy has made it clear his star man will not be sold this summer.

Cesc Fabregas – Barcelona's determination to hang onto their midfielder has been questioned as Manchester United made their move for the ex-Arsenal captain. If he is faced with a season of bench warming -- much will depend on Xavi's fitness -- he may be forced to return to the Premier League.

Wayne Rooney – Chelsea seem convinced they can lure Rooney out of Manchester United, and their confidence suggests they may well get their man in the end. Playing second fiddle to Robin van Persie under David Moyes' management will not appeal to Rooney.

Marouane Fellaini – Rumours that Arsenal had activated the release clause in Fellaini's contract last month proved to be false, but a move away from Everton still seems likely for a Belgian midfielder who has been linked with Chelsea and Manchester United.

Leighton Baines – A bid has been lodged by Manchester United to sign Baines, and with that carrot dangled before him, another season at Everton may not seem quite as appealing if the two clubs cannot agree on a fee for his services.