United yet to see best of Kagawa's endearing adaptation skills
At Manchester United's Christmas party, the team's summer signings were encouraged, as is the custom, to either sing or give a speech.

"I had a little talk about my first positive experiences at the club," fullback Alexander Buttner recalled to Voetbal International, "but for my buddy [Shinji] Kagawa, it was all a bit more difficult. He barely speaks English. That's why he stood out in the middle of Rio Ferdinand's restaurant while the whole squad was watching. He then screamed: 'I don't speak English,' put on the music and started dancing Gangnam Style alone. It was legendary, everybody was on the floor laughing."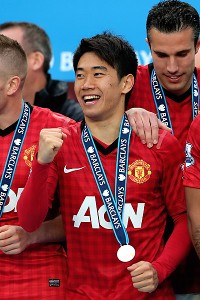 Alex Livesey/Getty ImagesShinji Kagawa is not afraid to show his lighter side, but he remains driven to win.
Posted on YouTube, it received more than half a million views.

By playing to an Asian stereotype with some impromptu karaoke, a form of entertainment that of course originated back home in Japan, and choosing the global hit by South Korean 'artist' PSY, Kagawa showed that he has a sense of humour and doesn't take himself too seriously at all. "Kagawa is one funny guy!" Ferdinand tweeted. "Made my night last night with the song he sang for the lads! Classic!"

That moment revealed a lot about his first season at United. Here was a player who didn't speak the language -- he has English lessons with David de Gea -- and yet managed to get his personality across and integrate regardless. It called to mind the experience of his international teammate Yuto Nagatomo.

As was the case with Kagawa at United a year ago, he became the first Japanese footballer to play for Inter back in the spring of 2011 and soon won over the dressing room at San Siro. Filming inside it before a match against Roma, Sky Italia's cameras caught Nagatomo wielding an imaginary samurai sword, slashing away at Marco Materazzi much to everyone's amusement. He was Wesley Sneijder's best friend and sushi buddy.

Like Nagatomo, it's difficult not to warm to Kagawa. He brings a smile to fans' faces and can be an absolute joy to watch. Expressing himself fully, however, as Kagawa himself admits, has not come easy. That's certainly been true of English, the language, but also, though to a lesser extent, English football. "I hope to show my dynamism, style and presence more," Kagawa told Inside United.

While he may give the impression of being a happy-go-lucky kind of guy, he's driven and very hard on himself. You'd think that Kagawa would be delighted to win the Premier League in his first season at United. And make no mistake, he was, not least because after going back-to-back with Dortmund in the Bundesliga, he'd become a champion in each of the three years he has been playing in Europe. But Kagawa had mixed emotions. "... I'd say I'm half satisfied and half unsatisfied," he admitted.

An honest pro, he wasn't prepared to allow United's collective success hide what, from an individual perspective, was not his best season. That, incidentally, was his final campaign at Dortmund when, after Robert Lewandowski, he was their most influential player -- so good, in fact, that he made many supporters at the Westfalenstadion forget Mario Goetze's four-month absence due to injury.

A transition period was understandable. After playing in a hard-running, lung-bursting system like Juergen Klopp's, which is based around Gegenpressing, the incessant closing down of opponents, it really wasn't going to be a problem for Kagawa to adapt to the often frenetic tempo of the Premier League.

What did take him time to get used to, in addition to "the quality through the division," however, was "the physical side of it." His former boss Sir Alex Ferguson elaborated on this further when asked about how Kagawa was finding things. "The difference between German and English football is that in Germany you can't foul," he said. "You are not allowed to touch anyone in Germany, so he has come from that environment to the Premier League, which is totally different."

Ironically of sorts, it was in the Champions League where Kagawa received a knock that would cause him the most bother, twisting his knee against Braga in October.

The initial prognosis was that Kagawa faced a month on the sidelines. Much to his frustration he'd be out for longer and wouldn't be back until after Christmas. After making a series of steps forward, he had to start over. "Now, I'm just doing my best to catch up on what I have missed," Kagawa said.

Getting to start 11 of United's remaining 18 games certainly helped him do that. But he only finished four of them and some felt he was being played out of position. That's the impression Klopp had gathered at least, and it made him despair.

"Shinji Kagawa is one of the best players in the world," he told The Guardian, "and he now plays 20 minutes at Manchester United -- on the left wing! My heart breaks. Really, I have tears in my eyes. Central midfield is Shinji's best role. He's an offensive midfielder with one of the best noses for goal I ever saw. But for most Japanese people it means more to play for Man United than Dortmund. We cried for 20 minutes, in each other's arms, when he left."

It might come as a surprise to Klopp to learn that, nominally speaking at least, Kagawa started more games for United in [his preferred] central midfield position last season [13] than he did on the left [8]. And besides, Kagawa was never told to stay out-wide and get chalk on his boots. He had a license to come inside, roam around, occupy spaces left by his teammates and interchange with them. Picking him up is a problem, as Norwich found when Kagawa started on the left but kept appearing in other areas and scored a hat trick.

Another highlight, of course, was his performance against West Ham in April when his assist to Antonio Valencia incorporated a body swerve that left Winston Reid on the floor. "You always keep your balance well. You were born that way," Shunsuke Nakamura says to Kagawa in a recent adidas commercial. That move under the floodlights at Upton Park was a case in point. It showed the suppleness of a gymnast.

Where Ferguson and Klopp agree is that United will see the best of Kagawa in 2013-14. "... He will be far better, you will see a really good player then," Ferguson said. "Everybody will know, I'm sure, in England next year what a brilliant player this is," Klopp added.

Assuming that David Moyes persists with the 4-2-3-1 that United played last season and that Wayne Rooney leaves Old Trafford, then the place behind Robin van Persie would be Kagawa's and his alone. Unless of course they make good on their apparent intention to sign Cesc Fabregas from Barcelona and/or Gareth Bale from Tottenham, both of whom can play in that position.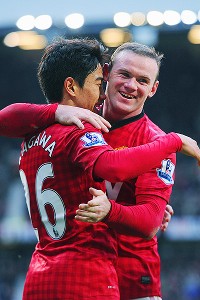 Michael Regan/Getty Images The way United decide to use Shinji Kagawa this season is closely tied to the fate of Wayne Rooney.
United look like they'll have to overcome formidable obstacles to get a deal done for either of them, not least the unwillingness of their current clubs to sell. Whoever they bring in, one suspects, particularly with Moyes apparently attempting to introduce a style of play with a higher defensive line and a more aggressive pressing game, that Kagawa, especially considering his experience at Dortmund, will be valued even more highly.

"It's a bomb," Klopp said. "Really it's unbelievable how strong [Kagawa] is." The full force of his explosion wasn't felt last season. It will be next.

The expectation is that, were Fabregas to join United, then he would play beside Michael Carrick deeper in midfield. However, the Spaniard's final years at Arsenal and his time at Barcelona have been characterised by a deployment further forward to make the most of his llegada, that ability to arrive in the box and score goals, an ability Kagawa has -- as Klopp alluded to -- and one that Ferguson was working on, advising him to "face the goal or you won't be a threat."

In the event that this transfer did go through, it would throw up some interesting questions. For instance, would United look to play Fabregas behind his former teammate van Persie and use Kagawa on the left, as Japan does to accommodate him and Keisuke Honda? It would be a nice problem for Moyes to have.

While undoubtedly an excellent player and one proven in the Premier League, one has to ask, is Fabregas the kind of midfielder United really need? And if a replacement for Paul Scholes is what they're after, why not pursue a player like Luka Modric, a previous target, who -- considering he has Xabi Alonso and new signing Asier Illarramendi to compete with at Real Madrid -- it would perhaps be worth inquiring about to see whether he's open to a return to England and United, where he might play more regularly in his preferred position, deep in midfield?

But that's enough thinking out loud. All will become clear by the end of the transfer window, if not before.

Earlier this year, Kagawa said: "I always think how I should play to make the most out of my teammates' abilities and their established styles." Surely making the most out of Kagawa's should be one of United's main focuses, too.