Intrigue remains over new-look City
And then there were four: four summer signings for Manchester City and four centre-forwards in Manuel Pellegrini's squad. The arrival of Alvaro Negredo and the forthcoming capture of Stevan Jovetic, following on from the moves for Fernandinho and Jesus Navas, may have completed City's expensive overhaul.

- Horncastle: Jovetic intelligence will improve City

As the new City boss' interest in Real Madrid's Pepe showed, another central defender could yet be on the agenda. The probability, however, is that City's business is done, six weeks before the transfer window closes and at a time when David Moyes is yet to seal a major deal.

But Pellegrini's is a spending spree likely to irritate another manager — not his immediate opponent in Manchester as much as his predecessor. Perhaps even now, somewhere in Italy, a charismatic, short-tempered man is raging. This, it's easy to imagine Roberto Mancini exclaiming angrily, is what City refused to do after winning the title, to spend big and early, to secure their manager's preferred targets, rather than end up with a hotchpotch of substandard recruits on deadline day, as they did last year. Now Mancini's advice, offered often and publicly in his press conferences, has belatedly been heeded.

He was sacked after those buys, with the notable exception of Matija Nastasic, underperformed. Pellegrini has fewer excuses for failure. His conscripts are pricier and older — the 28-year-old Fernandinho, two 27-year-old Spaniards and the odd one out, the 23-year-old Jovetic — and for all the talk of a "holistic" approach, short-term success seems prioritised. The ingredients are hardly organic, either.

The collective cost of the quartet is around £90 million. While City can argue that the £24 million Negredo and the £22 million Jovetic are even collectively rather cheaper than Edinson Cavani, who was wanted by Mancini before Paris Saint-Germain paid £55 million for him, and while they have sold Carlos Tevez and Maicon and parted company with several big earners, a net spend of £80 million is still a substantial sum in the era of Financial Fair Play.

The on-field connotations involve a change of shape. Navas is the out-and-out winger City have lacked since the perennial substitute Adam Johnson left; Pellegrini has added pace to the attack for the anticipated switch to 4-3-3. Jovetic, with his ability to play deeper, wider or as a central forward, offers an abundance of options.

Yet it is Negredo's recruitment that has the clearest implications. The Spaniard is an out-and-out centre forward. So, too, is Edin Dzeko. It is unlikely enough they would be paired often in a 4-4-2 formation, let alone 4-3-3, which requires two of the forwards to come from the flanks. The Bosnian was grouchy enough at being a substitute last season and, while Pellegrini had been adamant the unsettled Dzeko would stay, he appears to have been demoted in the pecking order before a game has played.

The bench seems to beckon again for him and the exit for John Guidetti. Pellegrini's problem will be keeping his four main attackers content. There is the sense that, by adding Negredo and Jovetic, City have reverted to having a full complement of forwards. The striking contingent was down to three when Mario Balotelli moved to AC Milan in January and then depleted further when Tevez followed him to Italy.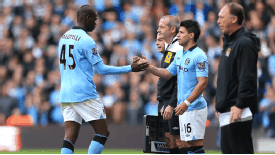 PA PhotosMario Balotelli was unimpressed at being substituted. David Platt was unimpressed with him
Yet, in truth, they often only had a trio. For much of the first half of last season, either Aguero or Balotelli was sidelined. Tevez went six months without a first-team game in the previous campaign, spending much of it in exile. Mancini rarely had as difficult a balancing act as Pellegrini's. While the Italian's team scored 93 league goals in 2011-12, they only mustered 66 last time around, a shortfall that cost them the title. City have set about remedying that.

Indeed, if Wayne Rooney leaves Manchester United, they have arguably the most formidable firepower in the country. Dzeko only started 16 league games last season but managed 14 goals; Negredo struck 25 times in La Liga; the more creative Jovetic registered 13 in Serie A; and, while he was less productive last time around, Aguero's magnificent debut year in Manchester yielded 30 goals. Even with the big-money additions, the Argentine remains the classiest finisher on the books. Negredo, however, may have his personal supply line in his former Sevilla colleague Navas.

But the identity of the sellers adds to the intrigue about City's prospects. None of the newcomers joins from an elite club and, while the precocious Jovetic has been courted by several, the others have reached their late 20s without moving to the genuine contenders. David Silva and Aguero had not played for any of the true elite either, but they were signed at a younger age, and while acute homesickness accounted for Navas' long stay at Sevilla — and he is a World Cup winner — perhaps some of their top targets have come from the second rank of players. Or so Mancini, that vocal admirer of Cavani, Luis Suarez and Robin van Persie, might say anyway.