Jovetic's intelligence will improve Man City


Stevan Jovetic checked his run so as to come back onside. The Fiorentina teenager had gotten himself into the space between Liverpool centre-back Jamie Carragher and their left-back Emiliano Insua. Catching sight of Jovetic there, his teammate Cristiano Zanetti released him through on goal. All of a sudden the teenager was one-on-one with Pepe Reina.

The Liverpool goalkeeper came out, making himself big. But that was a mistake. Rather than go around him, Jovetic struck the ball first time, angling it past him into the corner. Jovetic celebrated by pointing to the sky and would do so again barely 10 minutes later, when he flicked a cross driven in by Juan Manuel Vargas inside Reina's near post.

Ultimately, his goals claimed Fiorentina a famous 2-0 win in the 2009-10 Champions League. Reflecting on his career to date, Jovetic recently told La Gazzetta dello Sport that beating Liverpool was "perhaps the most beautiful night of my life." Like Giancarlo Antognoni, Roby Baggio, Gabriel Batistuta and Manuel Rui Costa before him, he entered into the Fiorentina fans' hearts. The stall in Florence's San Lorenzo market selling Jovetic wigs -- remember he had long curly rock star-like hair at the time -- soon sold out.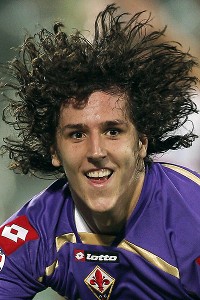 FABIO MUZZI/AFP/Getty ImagesAt 19, young Stevan Jovetic and his curly locks were already entrenched in the hearts of Fiorentina fans.
Only 19, he was already on the radar of Europe's biggest clubs. He had scored the goal away to Sporting Lisbon that had qualified Fiorentina for the group stages of the Champions League, and in addition to the brace he netted against Liverpool, another followed in the second leg of their last 16 knock-out tie against Bayern Munich.

Liverpool's manager at the time, Rafa Benitez, was so impressed by the Montenegrin on that autumn evening in Tuscany that he spent the remainder of his time at Anfield wanting to sign him. "Jovetic was our target," he recalled not too long ago. "But we didn't have the money."

Nearly four years later, Manchester City do, agreeing a reported €26m deal (plus €4m in add-ons) to take Jovetic to the Etihad ahead of the new season.

He might have been a player at rival Manchester United if reports were to be believed when he joined Fiorentina in 2008. That was the competition they apparently beat on signing Jovetic. It was of great satisfaction to their director of sport at the time, Pantaleo Corvino. United had pipped him to the purchase of Nemanja Vidic three and a half years earlier, and he wasn't prepared to allow something like that to happen again.

To the person who'd discovered Mirko Vucinic (and another player who'd later represent City, Valeri Bojinov) it was clear Jovetic was a star in the making. At 18, he was already captaining Partizan Belgrade and scoring 11 goals as they won the Serbian championship in his final season. Throughout it, Corvino had been to see Jovetic many times. In the spring, he'd invited the player and his family to visit Florence. They liked what they saw and agreed to a £7.3m move.

Fiorentina's then-coach, Cesare Prandelli, presented Jovetic to the fans as "a young Totti." Looking back, you can see what he was driving at. Prandelli wasn't attempting a like-for-like comparison, but rather an approximation. Neither of them are No. 10s, nor are they centre-forwards. They're something in between, capable of leading a line, playing in between the lines, starting moves and finishing them, bringing teammates into play but also deciding games with moments of individual brilliance. Indeed it was Totti's game on which Jovetic would start to model his own.

"I dream of becoming like [him]," he told Il Corriere dello Sport.

Their respective development is a near-mirror image. When Totti was Jovetic's age, he finished a season with 12 league goals. He'd scored 13 the previous year. Jo-Jo, as the Fiorentina fans affectionately call him, managed to hit 13 in the last Serie A campaign and struck 14 times in the one before that. Whether he explodes like Totti does in this respect over the next few years remains to be seen. Jovetic lacks his fantasia, his flair, but his ability to ghost past players has led Montenegro's greatest-ever player, Dejan Savicevic, to liken him in this sense -- and only in this sense -- to Johan Cruyff.

For now, though, let's return to his early days in Florence. After a year's adaptation, Jovetic began to blossom. No sooner had he started to, though, than his development came to a halt. He tore his anterior and exterior cruciate ligaments and missed the entire 2010-11 season. Baggio had suffered the same fate. He came back from it (time and again). Jovetic would, too.

Encouraged by the success they had with him, Fiorentina went back to Partizan for Adem Ljajic in 2010 after United decided not to take up their option to sign him. Later they'd discover Matija Nastasic there too, who Jovetic will of course be reunited with at City.

The Fiorentina side to which he returned were in a different state to the one he'd played for prior to his injury. Prandelli had left and was replaced by the deeply unpopular Sinisa Mihajlovic.

They were out of Europe, and he'd get the sack in November 2011 as the team unexpectedly found itself fighting against relegation. Cometh the hour, cometh the man. Jovetic had his best season when Fiorentina needed him the most. He scored 14 times and they survived.

Aware that he deserved better than to be playing for a team in their position, Fiorentina's owners, out of gratitude and in recognition of his contribution, promised Jovetic last summer that if he gave them one more season then they'd consider offers for him at the end of it, providing their valuation of €30m was met. They kept their word.

It had been hoped that Fiorentina's renaissance would convince Jovetic to see out the remainder of his contract, which was due to expire in 2016. He'd scored 13 goals as they finished fourth, missing out on qualifying for the Champions League on the final day of the season. Fiorentina had played the best football in Serie A under Vincenzo Montella. There was great enthusiasm again.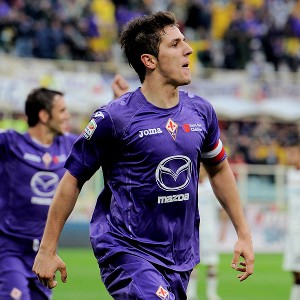 Dino Panato/Getty ImagesStevan Jovetic came through for Fiorentina when it was threatened with relegation in 2011-12, scoring 14 times.
Alas, it wasn't enough to convince him to stick around. "After five very intense seasons," Jovetic wanted a new challenge. "I'm young and ambitious," he told La Gazzetta dello Sport. "It's normal that you feel the need to measure yourself elsewhere. ... I need to establish myself at a top club."

His preference, it's claimed, was to remain in Serie A, a league he grew up watching not least because it was where Montenegro's Savicevic played. Champions Juventus, where his international strike partner Vucinic played, looked the likeliest destination.

"They've been after me for a year," he said. "They say that they want me, that I come before Ibra, Tevez and Higuain on their list. Who wouldn't be flattered? I am and I don't believe admitting it is a betrayal."

Juventus, however, gave up the chase. After they hijacked Fiorentina's bid for Dimitar Berbatov last summer, they couldn't expect an easy ride, not with the rivalry between the clubs. No players would be accepted in exchange. Fiorentina demanded €30m cash, a figure Juventus weren't prepared to pay.

Jovetic would have to go elsewhere. Did he really not fancy England, La Gazzetta asked? "Of course [I do]," he replied. "I'm also considering that. The Premier League is a fantastic championship, as is La Liga. I have offers. We'll see."

He has since accepted City's. "I arrived in Florence a boy and I leave a man," Jovetic said, "and if you'll allow me to say so, an established player, so thanks to everyone ... Fiorentina got me playing in Europe. Now I'd like to try and win in Europe."

For a team like City, who have been knocked out of the group stages of the Champions League in each of the last two years, that's precisely what they want too.