Few in Bundesliga can stop Bayern, but dark horses abound
Having played the best season ever by a German team, and having added not only the most sought-after coach in football but also two of the biggest talents in European football to their team, is there anyone -- or anything -- to stop Bayern Munich from at least winning back-to-back Bundesliga titles in the new season?

Let's take a look at Bayern's opponents first, before touching base on what really could prevent Bayern from defending the Bundesliga title. Looking at the current Bundesliga squads it is unlikely that any other than the trio made up by Borussia Dortmund, Bayer Leverkusen and FC Schalke 04 could realistically compete with Bayern Munich. You never know in Bundesliga, and over the past decade or so a few dark horses ended up on top of the standings after all games had been played.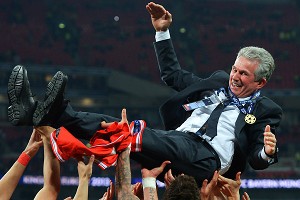 Patrik Stollarz/AFP/Getty ImagesJupp Heynckes was in charge of the best season ever by a German team. Still, Bayern's talent on the pitch and on the sidelines has been enhanced since his departure.
VfB Stuttgart won the title in 2007 and VfL Wolfsburg's win two seasons later -- the last great achievement of Germany coaching legend Felix Magath before he finally turned into the first day trader in Bundesliga, buying and selling players at his will -- was also a major upset, just like Borussia Dortmund's first title in 2011. The following year BVB were the first team to break the deadlock and win the Bundesliga in a year not followed on a bigger international tournament since Werder Bremen lifted "die Meisterschale" in 2004.

Despite having to sell Mario Gotze to their fiercest rivals this summer, Dortmund look like the team most likely to challenge Bayern to the last match day. The Champions League finalists have spent wisely over the past few weeks, adding the fast attackers Pierre-Emerick Aubameyang and Henrikh Mhkitaryan to their "pressing machine."

For their shaky defense -- 42 goals-against last season -- they acquired the services of the make-no-enemy Greece international Sokratis. A selection of fine youngsters like Erik Durm, Jonas Hofmann and Marvin Sarr have also added quality to the squad that looked thin on various occasions last season. It could look thin again as Dortmund will want to try and make it out of their Champions League group for a second year in a row and then "take it from there."

Dortmund's Ruhr Rivals Schalke 04 have, without a doubt, made some well-considered moves on the transfer market, looking for characters and players to develop rather than names. In Adam Szalai they have found a Bundesliga experienced target man to lift some pressure of Netherlands striker Klaas-Jan Huntelaar. Centre-back Felipe Santana crossed the great divide from Dortmund to Schalke and is likely to stabilize Schalke's defense.

Leon Goretzka and Christian Clemens, who joined the Royal Blues from Germany's second tier, two huge German midfield talents add to the competition. Julian Draxler, Max Meyer and Sead Kolasinac have all stormed into Schalke's first team from the club's famous youth academy -- Die Knappenschmiede. Peter Herrmann, the man behind Jupp Heynckes last season, has joined the club as one of the assistant coaches. But overall it may be too early days for Schalke, who are, nevertheless, on a good path.

Bayer Leverkusen finished last season only a point behind Borussia Dortmund but their inferiority complex has not helped them in the past nor will it help them in the future. Over the past few days, several Bayer Leverkusen players have bemoaned the lack of attention the team gets, with outgoing Bayer CEO Wolfgang Holzhauser indeed suggesting that Leverkusen should target becoming "everyone's favourite second team."

Given those discussions but also looking at the double burden of Champions League football, Leverkusen, who have replaced Chelsea-bound Andre Schurrle with Hamburg's highly rated South Korean talent Heung Min-Son and the outstanding right back Daniel Carvajal, who had to return to Real Madrid with the Italy Under-21 Giulio Donati, will more likely be fighting to stay in the Top Four of Bundesliga football. It also remains to be seen if Sami Hyypia had been the man behind Leverkusen's success last year or if Sascha Lewandowski, who was fed up with professional football and returned to the club's youth academy, was the brain behind Leverkusen 2012-13.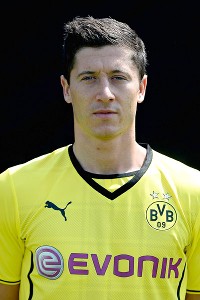 Dennis Grombkowski/Getty ImagesRobert Lewandowski was close to becoming the second Dortmund player to leave to rival Bayern this offseason.
So, with maybe Borussia Dortmund and -- an even bigger if -- Schalke 04 challenging Bayern can only be stopped by themselves.

The famous phrase "If it ain't broken don't fix it" has been slowly creeping into the minds of football fans looking at the current changes at Bayern Munich. Whereas during his presentation in late June Pep Guardiola claimed that he would need "to adjust to the players 100 percent," he has since then caused irritations at Sabener Straße by slowly adjusting the players to his needs.

In a first step he has introduced a new system –- the 4-1-4-1 formation -- and got rid of the old and rather successful Bayern system of the past season -- the 4-2-3-1 formation. Over the past couple of days, several Bayern players have commented that this new formation will indeed take time to learn.

"Pep Guardiola has his own ideas," Bayern captain Philipp Lahm said, and added they needed to "work on fine-tuning in the next few weeks." The France international Franck Ribery called the new system "a bit weird" and urged everyone "to talk, learn and train."

In a second step Guardiola went public with his wish to sign Thiago Alcantara from his former club. During a news conference that left the German public stunned by openly saying "I want Thiago and Thiago only," it also became evident that Guardiola is much more than the humble person he was during his opening press conference in July.

The former Barcelona man knows what he wants and he knows how he can demand things buy praising. That day he told the press that "Mario Gotze is a super, super player. But I need Thiago."

Guardiola also called Dortmund striker Robert Lewandowski a super, super player but handed the question if he was to sign over to the Bayern officials Matthias Sammer and Karl-Heinz Rummenigge, and, with that and his statements about Thiago, basically ended all talks of Lewandowski becoming the second Dortmund player to change colours this summer.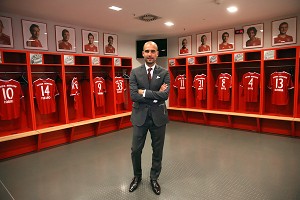 Alexander Hassenstein/AFP/Getty ImagesThe sough-after Pep Guardiola is tweaking a championship system at Bayern Munich and has also added Thiago Alcantara.
The Thiago deal, however, went through over the next couple of days. The Barcelona midfielder had also been a Manchester United target but admitted that when Guardiola told him about the option to join the Treble holders and Guardiola he basically made up his mind about his switch to Bayern.

With Thiago, the Bayern midfield now is packed with talent. Players from six nations likely to be involved in the World Cup in Brazil next year will be competing for a spot in the starting formation. Ribery (France), Arjen Robben (The Netherlands), Xherdan Shaqiri (Switzerland), Luiz Gustavo (Brazil), Javi Martinez, Thiago (both Spain) and the Germany quartet Gotze, Toni Kroos, Thomas Muller and Bastian Schweinsteiger have all been key players for their countries over the past few months.

With Brazil, Spain, the Netherlands, France and Germany players from five of the 2014 World Cup favourites and a total of 10 players are now competing for what is shaping out to be only five places in the starting formation. But what exactly is this formation and where will everyone fit it?

During his Barcelona days Guardiola has always played with one holding midfielder, Sergio Busquets, covering the two "eights" in midfield. At Barcelona the Spaniard was able to use Xavi and Iniesta most of the time; at Bayern, before the recent signing of Thiago, the two Germany internationals Toni Kroos and Bastian Schweinsteiger looked destined to become the offensive pairing in midfield.

This has now changed. Thiago joined FC Bayern to win minutes and he has been talking to Guardiola for a while now and will know of Pep's plans. Without going into further details who could lose his place, the dressing room could become a problem for Guardiola if the results are not meeting the Bayern standards.

Even if Guardiola pulls back Javi Martinez to the centre-back position, this would mean either Brazil international Dante or Germany international Jerome Boateng, who are both struggling to be permanent starters for their countries, would be benched. Gotze has also not joined Bayern Munich to sit on the bench, he had rather thought he was Guardiola's wish player. The Germany youngster, who has been fighting with injuries over the past few years, has yet to start preseason after suffering a muscular injury ahead of the Champions League final.

"In such a team with so much quality a lot of very, very good players had to sit on the bench last season," Toni Kroos, one of the candidates to be dropped from Bayern's staring XI, recently said. The Germany midfielder added that playing for Germany "is only possible trough good performance for the club."

Given that Bayern players could play up to 66 games until the 2014 World Cup, the deep squad will guarantee Kroos a few games but if those games will be enough to win back the place as the first replacement in the holding midfield position on the Germany team, seems questionable. His competitor on this position is Dortmund's Ilkay Gundogan, who has a guaranteed place in Dortmund's midfield.

"When you are the coach at FC Bayern you have to play good all the time, you have to always win. That is the situation," Guardiola said. And, indeed, results will be needed from the very beginning to stop Bayern from returning to the old FC Hollywood. If they manage to do so, they will not be stopped in Bundesliga and could be the first team to defend the Champions League title.