Can money buy PSG supporters' love?
All you hear about in France is la crise, the financial crisis that has left everyone out of pocket in recent years. Everyone, that is, bar Paris Saint-Germain and Monaco, which are conducting their own real-world version of Top Trumps.

Actually, Radamel Falcao and Edinson Cavani are dead level on 52 goals each in their respective leagues since 2011-12, though the latter wins out on "transfer fee."

At an estimated 64 million euros, Cavani's move from Napoli is not only the fifth-biggest in football history -- Falcao trumped again, he's now down in eighth at 4 million less -- but compares favorably with the GDP of small island nations.

-PSG sign Digne from Lille
-Video: Cavani's capture

And yet, despite the almost obscene nature of this largesse while all around are tightening belts, there is not the dusk-till-dawn coverage it would have had if a Premier League, La Liga, Bundesliga or Serie A club spent such a Himalayan wedge of cash.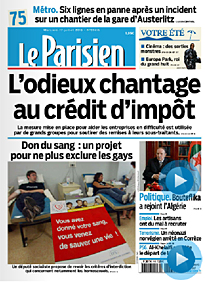 GettyImagesLe Parisien on Wednesday
The French capital's daily Le Parisien made no mention of Cavani on its front page Wednesday, preferring instead to talk about Leonardo's departure from his role as sporting director. Tuesday's edition did have a picture of Cavani arriving in France, but it was dwarfed by the main story: changes to parking in Paris.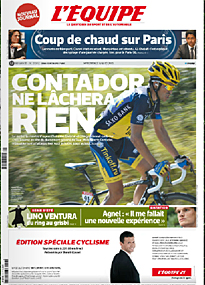 GettyImagesThe front page of L'Equipe
L'Equipe went large on Tour de France contender Alberto Contador, not Cavani, who was relegated to the very top of the front page of France's sporting bible. The story inside centered more on the supposed chaos at the club in the wake of Leonardo's and Carlo Ancelotti's departures.

The reason? Simple. France is not a football country in the same way the major nations that surround it are.

This is the problem PSG's owners, Qatar Sports Investments, face in their ambitions. "The arrival of Cavani is proof of the continuity of our project, to realize our objective of making PSG the best club in Europe," president Nasser Al-Khelaifi and QSI frontman said as he presented coach Laurent Blanc's latest plaything to the media. The Qatari's almost-groveling public expression of gratitude to Cavani for having opted for Paris when "a lot of big clubs were on him" suggested even Al-Khelaifi knows they have some way to go.

Not that it is necessarily his or QSI's fault, as they have adopted an intelligent approach to their "project" since taking over in summer 2011 at a club where the only adjective that could be used to describe the philosophy in place in the previous decade is "scattergun."

QSI are much more clearheaded. "To win the Champions League in the next four years, and why not next year?" was the ambition Al-Khelaifi restated Tuesday, and indeed, why not given the squad at Blanc's disposal?

The emergence of an almost equally well-endowed rival in Monaco will merely succeed in spurring QSI to greater efforts, leading to the footballing equivalent of an arms race that can only benefit French football's image as it generates interest from outside the country, even if -- in the medium term -- it may turn the charge for the title into a purely two-horse affair.

However, while the work of making PSG a big team will most likely bring significant success, the vision of making it "a big club" will take more blood and sweat, and may all end in tears.

They are certainly trying to move in the right direction. The appointment of Jean-Claude Blanc, managing director and the man who helped engineer Juventus' move from the Stadio delle Alpi to their new home, gives PSG the experience of a man steeped in working at "a big club."

The oft-criticized Leonardo did facilitate the big-name arrivals -- largely from Serie A, which have swelled the squad -- even if the Brazilian rather blotted his and the club's copybook by picking up a 14-month ban for barging into a referee, in part provoking his decision to leave the club.

The poaching of Aston Villa's Jonathan Calderwood, two-time groundsman of the year in the Premier League, received -- as you can imagine -- less media coverage but shows a welcome attention to the minutiae that are so often forgotten, particularly in France, where the playing surfaces bear a striking resemblance to grazing pastures.

That Cavani's No. 9 shirt was on sale in the club shop before the player had been officially presented also suggests PSG's marketing team know what they are doing too.

Though they have not let the grass grow under their feet, QSI still have work left. Ancelotti's leaving despite a year left on his PSG contract and the prospect of greater success in 2013-14 suggests PSG do not possess the mystical power of Real Madrid to turn even the most experienced of football people into dreamy schoolboys.

Also, the Italian's public questioning of "whether I am here for results or the project" hints at the club's owners not quite managing to toe the party line about the promise of future success to the detriment of enjoying the glory and rush of an immediate return on the 313.5 million euros they have invested in two years.

Not that Madrid's powers that be are any more patient, but should he get the sack within a season, Ancelotti will at least have the satisfaction of having fulfilled a childhood ambition. It is safe to say he never dreamed of sitting in the dugout at the Parc des Princes growing up.

That may all come with time, trophies and -- most important -- money, which will be the driving force behind QSI's ambition to develop a new minimum-60,000-capacity home to grow into as they believe the Parc des Princes, which took on its current form in 1972 -- and is already outsized by Lille's new Grand Stade and soon to be dwarfed by those of Lyon and Marseille -- will soon be much too snug for their needs. But while one of the main accoutrements of "a big club" is to have a palatial playground, the other is to fill it, and this is where QSI could well hit a brick wall despite the millions they spend.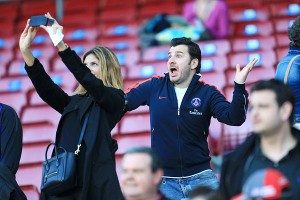 Press Association via AP ImagesOne of PSG's challenges is to grow the intensity of their fan base. The club was unable to sell out its allotment for tickets in last spring's Champions League match against Barcelona at the Camp Nou.
At an average of just over 43,000 last season, PSG's attendance topped Ligue 1, but largely due only to the fact that Marseille's Stade Velodrome is undergoing major renovation ahead of Euro 2016. It is telling that in a title-winning season, the club's first since 1994, it did not sell out every home game -- as Bayern Munich does at Allianz Arena, for example.

Perhaps it was due to France's pitifully small traveling contingents, but even so, how often as an away fan have you paid your money to see your team with more than half a mind to enjoy the quality among the opposition ranks? Add to that the attraction and ease of reaching one of the world's great capitals, and it is all the more surprising.

But it largely comes down to the fact that France, with Paris the most glaring example, is simply not in love with football. The greater Paris region possesses around one-sixth of the country's 65 million residents, yet despite there being only one top-flight professional club in the capital and closest top-flight rivals Lille being a two-hour drive away -- they still did not sell out the Parc for every home game in a title-winning season.

The mad scramble for tickets for last season's Champions League quarterfinal with Barcelona was about seeing Lionel Messi, not Zlatan. PSG's allocation for the return in the Camp Nou was partly returned. Only certain clubs, such as Lens or Saint-Etienne, have a supporter culture resembling that which any self-respecting fan in England, for example, would recognize. "Through thick and thin" is purely for marriage vows on the oh-la-la side of the Channel.

Again, this is not the club's fault. They could barely make their current squad more enticing, and though the style of football they will play under Blanc should make them more palatable than the often tasteless displays they produced with Ancelotti at the helm, it will take at least a Champions League victory for PSG to begin to have realistic hopes of filling a new XL-sized venue.

Even then, the demographics of the capital mean many Parisians' focus is on la belle vie rather than le beau jeu, while those who live outside of it and follow the club are not always those the owners would wish to be associated with, as witnessed by the ransacking of the Champs-Elysees during last May's aborted title celebrations. The image of the French national team, tarnished in 2010 and -- ironically -- stained further under Blanc at Euro 2012, has done nothing to help engender popular fervor for the game either. Indeed, quite the opposite.

Al-Khelaifi and QSI should not be too downcast though. Lyon won seven successive Ligue 1 titles in the first decade of the millennium -- four more than PSG in their 42-year existence -- and are still behind 1993 Champions League winners Marseille and even 1976 European Cup runners-up Saint-Etienne in the "public darling" rankings.

PSG may well emulate their rivals in scaling the European summits within Al-Khelaifi's four-year plan, but the advent of "a big club" -- as opposed to a big team -- in the French capital will have to wait quite a while longer.