What next for Roberto Mancini?
Roberto Mancini insists he still doesn't understand why he was sacked by Manchester City.

"I never expected what then happened...I never believed those rumours...I said that I would have been made to look stupid [if they were true] and I was," he told Il Corriere dello Sport in an interview at the beginning of the month.

While Mancini knew exactly what he was getting into -- remember the circumstances of his appointment three and a half years ago -- and, lest we forget, he has received a payoff that will ease some of the pain of his dismissal, it's difficult not to feel sympathy for him.

He depicts himself as the person last to know, and that's never someone you want to be. It leaves the impression that he'd become isolated. As such, he was in the dark about what was clear as day to many. Even so, there's a temptation to see denial, if not delusion, in Mancini's words.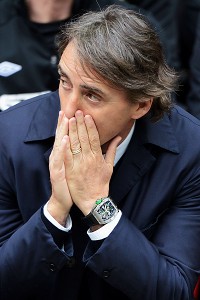 Michael Regan/Getty ImagesRoberto Mancini still insists that he was shocked at his sacking from Manchester City, given his accomplishments there.
Ironically enough, just as Jose Mourinho -- his successor at Inter -- felt he had to after leaving Real Madrid, Mancini has sought to defend and justify his record as a success. The similarities here are worth exploring. For each of Mourinho's achievements -- a La Liga title, Copa del Rey and Spanish Super Cup -- Mancini matched him -- a Premier League, FA Cup and Charity Shield -- in more or less the same time frame, both with a fractious final seasons.

It's in their interest to claim they weren't failures. But did they fulfill the briefs they received? Mourinho's case isn't as strong as Mancini's. His directive was to see Real prevail over Pep Guardiola's Barcelona, which they did (though at what cost to their bank balance and reputation), and to win them their 10th Champions League trophy, which, of course, he didn't. Mancini's mission, at least according to what he told Il Corriere dello Sport, was to get City into the Champions League, which he did, and to win the Premier League in three years, which he also did.

From his perspective, the directives given to him on his appointment had been accomplished. As such, rather than acknowledge how City's objectives might have evolved and become more grandiose over the course of his tenure, he feels hard done by.

"I was hurt," he said. "I thought I deserved more respect for what I did for City. My staff and I did an extraordinary job in three and a half years. The club hadn't won a title for more than 40 years. I won a league, an FA Cup, a charity shield and in the worst year, the last one, I lost a final and finished second. The numbers are clear. I still don't have a motivation for this sacking. Anyway, I'm proud of my work."

He went on: "... I won against all the big teams. I won 6-1 at Old Trafford against Manchester United and in London at the homes of Chelsea and Tottenham. For three years, City played the best football in the Premier League. We had the best defense and the most possession in the division. Justify me this sacking."

Ok, then. Let's give it a go. Did City play the best football in the Premier League, as he claims? For the first half of the 2011-12 season and toward the very end of it, undoubtedly yes. But before and after? Only really in patches. They should have retained their title too. "Absolutely," concurred City's chief executive Ferran Soriano.

The sense was that they should have been better for winning the Premier League. Despite throwing it away and having it thrown back at them by United, they should have been more sure of themselves. Instead they went backward. Mancini claims to have anticipated that this would happen. He knew from experience that, "the team would relax, [because] when you're not used to winning and you reach the top, you sit down [and relax] without even realizing it."

He proposed that City make "at least three important signings" to freshen things up a bit, provide some impetus and keep everyone on their toes. The switch to three-at-the-back presumably was with this in mind. It would give the players something to focus on and was introduced under the assumption that they'd be signing a midfielder in Daniele De Rossi, who was comfortable dropping back into central defense as the full backs or wing backs pushed on. But just like Robin van Persie and Eden Hazard, he didn't arrive.

"Everyone knew [I'd asked for van Persie]. It wasn't a mystery," Mancini said. "We already had an agreement. I knew that he would be the man to make the difference. It's no coincidence that the Premier League was won by the team who signed van Persie."

City gave the impression, though, that United would be playing catch-up and that van Persie would ensure that they would not lose on goal difference again. They didn't imagine he'd produce a nine-point swing in their favour. But he alone wasn't the difference. No. City didn't perform at the standard they'd set. They scored 27 fewer goals and conceded five more [still finishing, incidentally, with the Premier League's best defense]. City should and could have made United work a lot harder to take the title.

All that could have been forgiven, of course, had they gone deep in the Champions League. But City were knocked out in the group stages again. There were no signs of improvement. Mancini's excuse here was that City were "unlucky" in the draw for a second year in a row. He argued that "perhaps in my day a Samp could get to the final on their debut [season] in the competition, but today it's no longer like that. In the Champions League, experience and mentality are fundamental."

Like City, though, Borussia Dortmund had gone out in the group stages the previous year, but learned from their mistakes and went on to reach the Champions League final. Paris Saint-Germain, a team comparable to City in spending terms, got to the quarterfinal with a new generation of players and in their first season in the Champions League in a long time.

As with Mourinho at Real, it was in this competition that Mancini was adjudged to have failed. But at least the Special One could point to winning it in the past at Porto and Inter. For Mancini, it continues to elude to him, just as did it when he was a player [though he reached the final in 1992]. "It's the real measure," Soriano said. "And this measure we failed."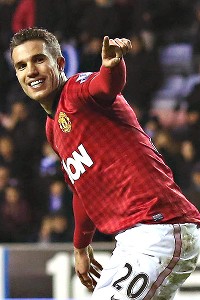 Matthew Peters/Man Utd/Getty ImagesManchester City didn't add an important signing such as Robin van Persie under Roberto Mancini, but the club also didn't live up to its new standards.
The comments Soriano has made have rankled Mancini. The interview with Il Corriere dello Sport revealed as much. When it was put to Mancini that perhaps the chairman should have defended him, he replied, "It's not easy to manage a club from afar. Khaldoon remains a great person and an excellent director. Evidently someone, every day for many months, must have put situations in his head that didn't correspond to the truth."

Asked if he was alluding to Soriano, Mancini did nothing to discourage the inference. "For him, I was too big within the club. A manager who concerned himself with everything, who the fans loved and love still today ... I didn't find him to be an interesting person from a footballing point of view. We didn't speak the same language, and I'm not referring to Italian, Spanish or English."

That view was perhaps reinforced when Mancini read City's statement communicating his sacking and how there was now an "identified need to develop a holistic approach to all aspects of football at the club." The use of the word "holistic" was derided by many even though it was entirely appropriate in meaning.

Over the last season, there appeared to be a disconnect between Mancini and his players. After struggling to grasp why he'd lost his job, he did, after a while, consider that this was a factor in it. "I am a coach who demands a lot from everybody. At times I overreact," he said. "But I'm also a coach who helps and gives a lot. In this sense the club might have acted with the dismissal really because it's not easy to work with me."

Mancini is now taking a break. He says he needs it, but hopes not to be out of the game for too long. The question of who his next club will be is quite fascinating. There are few coaches in football who have won as much as Mancini has and yet around whom there are still so many doubts and question marks as to whether they're actually a great coach.

His trademark as a player and a manager is winning with teams who have either never won before or haven't done so in a long time. He inspired Samp to their one and only Scudetto and helped Lazio to their first in over a quarter-century. Then on hanging up his boots, he ended Inter's 18-year title drought and City's 44-year wait for one. Calciopoli's aftermath and money -- lots of money -- are asterisks often placed alongside those achievements, but his work shouldn't be underestimated.

Esteban Cambiasso touched upon this after Inter won the treble in 2010. "Mourinho knew how to lead us. He understood what was missing after his first year, but before him, Mancini was very important. The true difference for a team is going from not winning to winning, not from winning to winning more: we learned how to win with Mancini."

City did, too. Though Mancini had the good grace to acknowledge that his successor, Pellegrini, is "an excellent coach," he added that "it's inevitable he'll do well. The team is at the top," implying that he already took City there.

So who would be interested in Mancini now? Going by his past, you'd have to say ambitious clubs long starved of success. Had Roma made him an offer in the summer, he claims he would have taken it into consideration, and that's despite his past at Lazio. Vast resources aren't essential either. Remember he made his name on a shoestring at Lazio and Fiorentina. But it looks like a return to Serie A might have to wait.

"I'd like to have an experience abroad again," Mancini said. "La Liga or the Premier League, who knows. I'm putting myself in the window and waiting calmly ..." How long will he be out? "Not for long, I believe. And hope. There are still directors who know football and can talk about football." One wonders who he could possibly be talking about?