Rooney mess should have a logical conclusion
Angry? Confused? Spoiled? Mistreated?

The Wayne Rooney saga rumbles on. Everybody seemingly has an opinion, and the vast majority seem to have little sympathy for the Manchester United striker. Or at least they have as much sympathy as you're bound to have for a guy who will earn $36 million in wages over the next two seasons.

One thing we probably shouldn't be doing is attaching value judgments as to who is ethically "right" and "wrong," or whether Rooney's complaints are "justified" or not.

(Oh and by the way, forget the fact that there are no direct quotes from him, his agents or his PR flacks out there. There is a reason everybody is using the same two words, "angry" and "confused.")


The fact of the matter is that this isn't about some kind of "moral judgment." It's about Rooney doing what is best for Rooney, not just financially, but in terms of his playing career, while United does the same for themselves (and their owners). It's not about selfishness or lack of loyalty; it's about "rational self-interest." It's the way the world goes, most of the time. And it has the great merit of making it easier to understand where you stand vis-a-vis the folks you're negotiating with.

Chelsea, of course, have emerged as the third actor in this drama, following reports of their (rejected) bid of $15m plus either Juan Mata or David Luiz. On paper, it actually looks like a very good deal for United. Mata is 25, Luiz is 26 -- Rooney will be 28 in October. Both earn substantially less than Rooney, so you save on wages. And, of course, there's Rooney's contract situation hovering in the background: if he doesn't secure a new deal in the next 18 months, he'll be able to sign for a new club from July 2015 on a free transfer and United will get nothing.

But the fact that this supposed bid was made public so quickly -- as was the fact that it was rejected -- should set off alarm bells. Pure speculation here, but there are three parties involved -- United, Chelsea and Rooney's camp -- and only one of the three has any interest in this being made public.

(Hint: it's not United and it's not Chelsea, though it was fun to hear Rooney's camp reportedly say that the first they had heard of the bid was when they saw it reported on TV. Because sure, a club would lodge a bid for a player WITHOUT alerting his agents. And for those who don't get it, I'm being sarcastic.)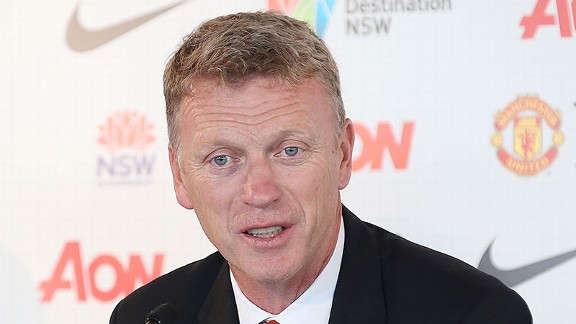 AllsportDavid Moyes' remarks about Rooney were taken out of context, doing their part to cause this frustrating mess.

Rooney's sudden "angry and confused" reaction also seems rather calculated. Out of context, it stems from David Moyes' statement implying that Rooney would be a backup: "Overall, my thought on Wayne is that if for any reason we had an injury to Robin Van Persie we are gong to need him. I want as many options as possible."

Sounds bad, doesn't it? Sounds like Moyes is saying Rooney will be carrying RVP's jock, right?

Well, this is actually what he said, in context: "I think he's got a major role to play because we need to try and get as many goals as we possible can. I think Wayne can play up top. He can play dropped in [behind the center forward]. Overall my thought on Wayne is he'll be key. If, for any reason, we had an injury to Robin, we are going to need him. I want to be able to play the two of them. I want to be able to use Danny Welbeck, Chicharito as well."

Not quite the same thing, is it?

Beyond that, Rooney doesn't need to find out what Moyes' plans for him are or might be by reading out-of-context quotes. He can ask the guy directly. Moyes went to Rooney's house, just before leaving on tour, to explain his view face-to-face. Or he can call him and speak to him. If he doesn't have Moyes' number, I'd be happy to pass it on.

The two have known each other for 12 years and there is only one possible reason this should play out via the media -- that is if one side opts to make this public.

You don't begrudge Rooney for doing what he thinks is in his own self-interest. And that, most likely, involves staying at Old Trafford and being a key part of a successful Moyes-led United side.

Commercially (which means financially), it makes sense. Football-wise, it does too. If he were unsure of his situation under Sir Alex late last season when he was often dropped or moved around the pitch -- a victim of his own versatility -- there's now a new boss in town. Keep your head down, try to impress and if you're still not happy, push for a move in January or next summer. You'll be closer to free agency and you'll be able to get a much better deal wherever you go. That would be my advice to him if the contract on offer really is so unsatisfactory.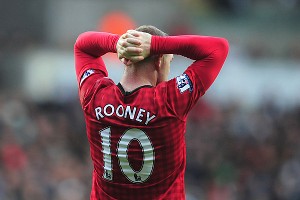 Jamie McDonald/Getty ImagesWayne Rooney's frustration is purely born from self-interest. The same goes for Man United and everyone else involved.

From Chelsea's perspective, unless there's something we don't know, this makes little sense. In fact, it smacks of that January day when they blew $75m on Fernando Torres despite the fact that the manager at the time, Carlo Ancelotti, didn't exactly push for the move, and despite the fact that they already had Nicolas Anelka, Didier Drogba, Salomon Kalou and Daniel Sturridge on their books.

Chelsea have Torres (still), Romelu Lukaku and Demba Ba. For a team that plays a lone center forward, that's plenty. And if you're thinking of Rooney as an attacking midfielder, they have Eden Hazard, Mata, Andre Schurrle, Victor Moses, Kevin De Bruyne and Oscar.

Sure, Rooney is better than most of those guys. But it's a question of opportunity-cost, and whether or not this is a good use of the club's money. (Bear in mind, too, that some of the guys mentioned above -- particularly Torres -- are on huge wages and are tough to move.) And, ultimately, whether Jose Mourinho really wants him or if this is some kind of giant smokescreen. Or worse, like the Torres deal, a vanity move by the owner. Oh, and at the risk of sounding like a broken record, we have now entered the Financial Fair Play era. So P + L reports do matter.

I argued all along that Rooney would ultimately re-sign with Man United because I was led to believe it was the logical outcome for everyone. Moyes genuinely believes Rooney can be a major contributor -- it's just a question of how and where. He's worth more, commercially, to United than any other club, and it's hard to see anyone -- at least any club that Rooney would want to join -- coming up with the kind of fee that United simply couldn't refuse.

Of course, that was logic -- as I saw it -- based on rational self-interest and what folks were telling me. Unfortunately, football doesn't always follow logic. Though I suspect it might do so yet.