Riquelme, modern football's Giant Panda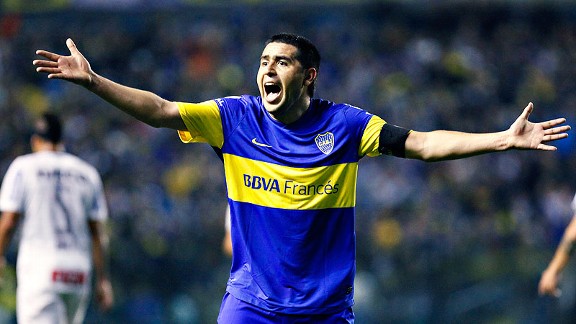 GettyImages / Gabriel Rossi/Getty ImagesRiquelme is the last of a dying breed of playmaker, one that the game is steadily passing by.
Species: Enganche
Family: Playmaker
Conservation status: Endangered
Natural habitat: South America, particularly the Rio de la Plata basin

Juan Roman Riquelme's much-anticipated press conference on Friday told us everything and nothing all at once, comprising a sequence of non-answers that only served to further shroud any departure from his beloved Boca Juniors in mystery.

The saddening reality is that Riquelme is unlikely to ever play at the highest level ever again, even in South America. There are rumors of a move across the silvery La Plata river to Uruguay, but ever since he walked off the pitch at the Estadio do Pacaembu in July and declared himself "empty," the end of "el ultimo diez" ("the last 10") was clearly upon us.

"Roman" -- the name that was draped across his hunched shoulders -- was the last of a kind, a player who many people failed to "get." What he is. What he does. What he stands for.

Boca Juniors "got" him, seeing him play for Argentinos Juniors at 17 and luring him to the Bombonera, where they soon understood his unique talent: an ability to control games, to mesmerize and to not just see the improbable pass, but complete it. Boca "got" him and he repaid them with five national titles, three Copa Libertadores and an Intercontinental Cup.

Barcelona, on the other hand, simply didn't.

Louis Van Gaal informed him on arrival in Catalonia that he wasn't a first-team player; that meeting was probably the high point of his stay at the Camp Nou.

Only a South American manager -- namely Manuel Pellegrini at Villarreal -- managed to harness Riquelme's enigmatic talent in Europe by understanding the needs of such a rare and endangered beast.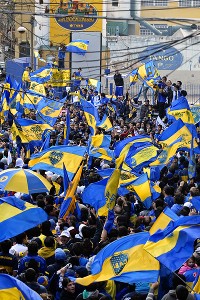 GettyImages / Alejandro Pagni/Getty ImagesLegions of Boca Juniors fans have turned out in a bid to make Riquelme stay, but it's clear his time as a player has run out.

His stay at the Madrigal was like time standing still as the wider game evolved around him. While the rampant muscularity of soccer was busy putting power and strength on a pedestal, Riquelme enjoyed some of his best seasons: a career-best mark of 15 goals in 35 games in 2004-05, a FIFA World Player of the Year nomination, two Intertoto Cups and several Champions League appearances.

As such, he was the heart of the most successful Yellow Submarine team in the club's history, a beautiful coincidence of so many South American arrivals (like Juan Pablo Sorin and Rodolfo Arruabarrena) and a manager in Pellegrini who saw (and seized upon) the team's capability to play to a different style. Dotting between staccato and legato, Europe briefly glimpsed what this frowning mastermind was about: a strolling, cantankerous genius.

However, it wasn't long before Riquelme was back in South America, where he was appreciated, respected and feared. Never a cheery character, a large carbonated beverage company made an advert featuring him that played on his noted melancholia, yet the gentle mocking of a few was of little importance to Riquelme. He was back somewhere that understood his style of football and he flourished, leading Boca back to continental and domestic glory -- restoring himself to idol status among the Xeneize faithful.

To understand Roman is to know that he always preferred the pass to the goal. Watch how he celebrates this assist for Martin Palermo's record-breaking tap-in to secure him as Boca's all-time goals leader. While it probably didn't help that the two players despised each other, the way that Riquelme sprints off to receive adulation for putting the goal on a plate speaks volumes about how he pictures his game -- even if it's all about him.

Which brings us back to his inconclusive press conference, one that was in many ways typical of Riquelme and exemplary of why he is the last of his kind. His loping style on the pitch was mirrored in his shrug to reporters, and the mystery behind his departure from Boca was not clarified but further steeped in suspicion by a series of noncommittal and nonrevealing answers. (Example: "I feel I play better than before, so if you have a team, just let me know and we'll kick a ball about.")

Riquelme also avoided eye contact with journalists and chose to explain nothing that had occurred, mumbling a few platitudes about his love for the club and leaving the burning question marks in the sky to flicker and glow when he could have ended the saga and simply returned to the game.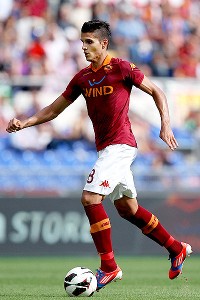 GettyImages / Paolo Bruno/Getty ImagesRoma's Erik Lamela is loosely following in Riquelme's footsteps, yet has shown the ability to evolve with the modern game.

Instead, his performance in the press conference had all of the qualities that many attribute to the playing style of the classic "enganche" -- a lazy, gloomy wanderer of occasional merit.

With managers in Europe subscribing to this point of view, it's Riquelme's (perceived) lethargy that has contributed to extinguishing any hope of the traditional Argentine "diez" (No. 10) taking hold on the old continent. With Roman arguably the purest player to ever play the position, if he couldn't conquer Europe, then who else could?

Riquelme's refusal to salvage his own career (and that of his kind) is akin to the demise of the great panda, a species endangered because the last remaining males are too idle to reproduce. Similarly, the enganche had its natural habitat destroyed in the second part of the past decade, something noted by Michael Cox in 2010 as formations stopped accommodating a central playmaker until the more recent uptake of the 4-2-3-1.

This led to the evolution of the position, with those lucky 10s crossing the Atlantic forced to appreciate that their free, creative role in Argentina simply wouldn't exist at their new clubs. After Riquelme, the next four or five players dubbed "the new Maradona" all failed to make a significant impact in the top European leagues, largely due to the death of the position. Like in nature, the need to adapt is vital, but Andres D'Alessandro and Carlos Marinelli never did and Mauro Zarate could almost claim to have done so, while Javier Saviola and Pablo Aimar have had decent careers even if they never fulfilled their full potential.

Of the next generation of playmakers, Javier Pastore is the leader but during a recent Paris Saint-Germain game, a commentator remarked that "El Flaco" had been criticized for "some rather laid-back, inconsistent and sometimes ineffective performances," analysis akin to condemning the sky for being too blue.

The slightly younger class of No. 10s, however, is showing signs of adaptation that will be these South American tyros' hope for survival. Erik Lamela moved to Roma last summer after dazzling as a central playmaker for River Plate; in Italy, he has reinvented himself as a wide player for two different managers and is becoming a more regular starter despite being just 20 years old.

Still in South America is Colon midfielder Lucas Mugni, a playmaker who has taken a slightly different path. While he plays wide for his club, his ability to tackle, play deeper and still be the creative hub of his team have marked him out as the first really modern midfielder created in Argentina.

Overall, the development of the lethargic 10 into an industrious, multifaceted player like Mugni echoes the progress seen to the north in Brazil, where Internacional's Oscar evolved from being a meia-de-ligacao (traditional attacking playmaker) model into a far more rounded footballer.

This was something that Juan Roman Riquelme never did -- and was never willing to do. People will look back on his career, a host of titles with his beloved Boca Juniors and a wealth of YouTube clips displaying his copious talents. But his refusal to adapt -- or to even try and survive in the adapting habitat of European football -- has done irreparable damage to his species, leaving the true enganche on the brink of extinction.

Ed Malyon is a freelance sports writer who has written for The Daily Mirror, The Guardian and FourFourTwo among others. He can be contacted on @eaamalyon or by whistling in F sharp on the night of a full moon.