Rooney: Will Chelsea and United do business?
After several weeks of posturing, some carefully crafted wooing and media leaks aplenty, Chelsea manager Jose Mourinho has played his hand in an attempt to sign Wayne Rooney from Manchester United.

While Mourinho did not want to publicly announce his desire to sign Rooney when those of us in the written press were ushered into a behind-closed-doors briefing following his media unveiling as returning Chelsea boss on June 10, it seemed clear the striker was the jewel he had set his heart on.

Yes, there were flirtations with Napoli's Edinson Cavani, and there continue to be rumours that Zenit St Petersburg forward Hulk was on his radar - but Rooney's suggested availability meant that, if the Chelsea hierarchy wanted to give Mourinho a welcome-home gift, it would be a 27-year-old forward who no longer appears to be wanted at Old Trafford.


With earlier reports suggesting Juan Mata or David Luiz were being offered as bait for United in a potential deal having been firmly denied by Chelsea, we are about to discover whether the eagerness of the Premier League champions to offload their No. 10 is strong enough to encourage them to do business with one of their main rivals.

Any such move would represent a huge gamble for United. If a revived, re-energised and chastened Rooney was to explode back into life and inspire Chelsea to the Premier League title next season, the haste of his former employers to sell him to a domestic challenger would be exposed as a major mistake.

On the other hand, if - as many have hinted - United officials believe Rooney's best days are behind him and the moment is right to cash in on a man who will only be a second-choice striker in the coming season, a bold and brave move to sell him to Chelsea could be imminent.

As Andriy Shevchenko and Fernando Torres have proved in recent years, big-money moves to Stamford Bridge towards the back end of a celebrated career are not always successful. The question remains, does Rooney fall into the same category as those two Chelsea disappointments?

Mourinho evidently views him as the forward who can offer flexibility in a three-man attack, with two of Hazard, Mata and Oscar providing his ammunition and a stable midfield base offered by a couple of holding players in a fluid attacking formation.

While Chelsea owner Roman Abramovich may crave fantasy football, we should not be surprised that Mourinho is following this path, as his record of success has not been built around nullifying players of impish brilliance.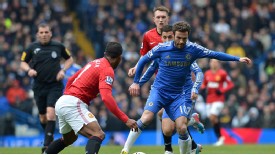 GettyImagesJuan Mata has been linked with a move away from Chelsea.
His successful Chelsea, Inter Milan and Real Madrid teams have primarily been built around well-organised, rigid formations, with two or three game-changers employed to win tight matches when the opposition has been worn down. There is no reason to believe he will change his tune at this stage in his career, and he may view Rooney as a "new Didier Drogba" in his second Chelsea team.

David Moyes has publicly insisted that Rooney is not for sale, but reports Tuesday evening that Rooney was "angry and confused" by the suggestion that he would play second fiddle to Robin van Persie suggested his will has been broken.

With options limited when it comes to finding a new club, a move to Chelsea looks the most probable choice for the England striker, and the ripples of this deal will be felt across Europe if it is to be completed.

Where would Rooney's arrival at Chelsea leave Torres as he looks to hold onto his place in the Spain side in a World Cup year? Do Chelsea look to bring in an additional forward and allow Torres to make an exit? Who do United have in mind to replace the possibly outgoing "backup" striker?

What is increasingly evident is that Rooney's position at United is now untenable. When he was demoted to second-choice striker or makeshift midfielder by Sir Alex Ferguson last season, the then-United manager looked to be paving the way for a summer sale. Now, that plotline could be being followed to a natural conclusion.

One of Ferguson's final acts as manager was to alert the world to Rooney's latest bout of discontent at Old Trafford. Ferguson may no longer be manager of Manchester United but, as Rooney might confirm, his influence over the club he ruled with an iron fist for more than a quarter of a century still resonates.

All-time Manchester United top scorers
1. Bobby Charlton (249)
2. Denis Law (237)
3. Jack Rowley (211)
4. Wayne Rooney (197)