The global domination tour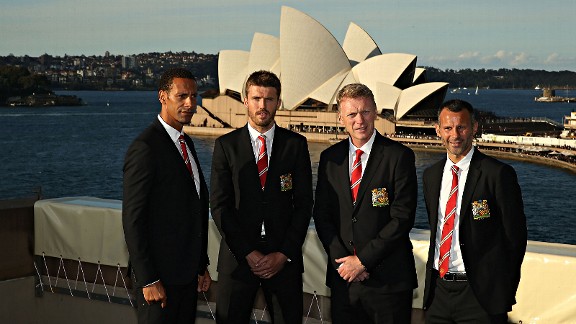 GettyImagesLads on tour: Manchester United quartet Rio Ferdinand, Michael Carrick, David Moyes and Ryan Giggs pose in Sydney, Australia.
In under 48 hours, Wayne Rooney travelled 12,000 miles. His air-miles portfolio missed out on another 11,000 when a hamstring tore in Bangkok, and a return to a physio's table in Manchester was required.

Sydney, Yokohama, Osaka and Hong Kong are denied the sight of the United No. 10. Those fans at Bangkok Airport who screamed his name never got to see the man in action. United's conquering of hearts and minds would have to do without him.

After an embarrassing defeat to the Singha All-Stars on Saturday, his team-mates might have preferred to be enjoying Manchester's current heat wave than sweltering in the Thai capital's tropical conditions. "Have United contract, must travel" is the summer routine they must endure instead.

But it's by no means unique to Manchester United. This summer, Chelsea will play in Bangkok, Kuala Lumpur and Jakarta, before their red eyes are dragged to Indianapolis, New York or Miami. Arsenal are also in the midst of an Asian tour.

Players now have an itinerary to match a rock star on a world tour. Dues are paid in emerging markets and flesh is pressed in far-flung climes. Sponsorship deals are honoured, photo opportunities are seized. The oncoming rush of Financial Fair Play means a deeper push for extra revenue streams is a requirement. A preseason tour can replenish the coffers. For administrators, tired legs and jet-lagged minds are a minimal price worth paying.

The continent-straddling football tour is hardly a new concern; it dates back to the origins of the professional game. Similar patterns were followed to rugby and cricket, sports where touring remain an integral part of the game's calendars. Indeed, the game's global spread in the early 20th century owes much to touring English teams spreading the word.

Manchester United have been travelling internationally for decades. In 1950, Matt Busby took his squad on a 12-game sell-out tour of the United States. TV news footage from the trip reveals the likes of Allenby Chilton, Johnny Carey and Jack Rowley playing in baseball stadiums where seated spectators are consuming hot dogs, a sight that would be unseen in England for years to come.

In the fashion of the Harlem Globetrotters, Brazilian club sides used lengthy tours as cash cows from the 1950s until the 1980s. The sight of Pele and Garrincha showing off their skills in Europe was not uncommon during their heyday. Sheffield Wednesday fans of a certain age still talk of Pele's visits to Hillsborough in 1962 and 1972. And one of the germs of the European Cup was the success of the types of tours that Ferenc Puskas' Honved, exiled by the Hungarian revolution, would make across the continent. A game between Honved and English champions Wolverhampton Wanderers in December 1954 at Molineux was seen as an ad-hoc European title game.

A preseason tour has long been a staple of preparation for the long winter ahead. The manager had the players to himself, and could work them through the training disciplines and check on refuelling habits. Often, though, and even for the bigger clubs, the location would be nothing more glamorous than an English seaside location like Scarborough or Great Yarmouth.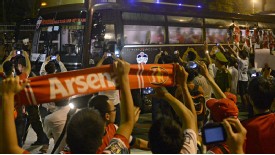 GettyImagesVietnamese football fans cheer Arsenal players on their VIP bus.
The forces of globalisation have made preseason intercontinental travel a necessity for any modern club with aspirations. Arsene Wenger used to prefer fresh air, altitude training conditions and amateur opposition in the Austrian Alps, but is leading his Gunners through Indonesia, Japan and Vietnam on the instruction of those seeking to grow the Arsenal brand.

Increasing global reach is the aim. As soon as chief executive Peter Kenyon defected from Manchester United to Chelsea in 2003, the Blues were following the same globetrotting blueprint that the Red Devils had devised for their tours. If Chelsea were ever to balance their books, then a demographic far beyond West London required chasing.

That 2003 summer was perhaps the crystallisation of the routine that the superclub follows in preseason. While Manchester United and Celtic were selling out Seattle's Seahawks Stadium in record time, Real Madrid were parading new signing David Beckham around Southeast Asia. Though South Africa and Australasia are visited often enough, America and Asia are the most heavily targeted markets.

Sir Alex Ferguson saw the Asia tour as a necessary evil that he could not avoid. The Civil War enthusiast has always preferred America, even buying an apartment in Manhattan. In New York in 2003, Ole Gunnar Solskjaer, scorer of perhaps the most famous Champions League goal of all, rejoiced in the opportunity to walk down the Big Apple streets unrecognised and hassle-free.

The globalisation of the game, thanks in some part to the tours but owing more to the ever-extending TV reach of the Premier League and Champions League, means that Solskjaer might not be so lucky these days. The concept of fandom has altered in the last decade, and especially in the eyes of the moneymen. Chelsea supporters in Malaysia consider themselves as die-hard as anyone with a season ticket in Stamford Bridge's Shed End, and are just as important to the merchandising department's bottom line too.

How best to further generate revenue from global support? Many a PowerPoint presentation has sought to answer that question. With local markets tapped to the brim, a next frontier is being sought beyond the piecemeal solution of all-too-brief tours.

Back in 2008, there was outrage at the Premier League's floating of the idea of an "international round" of competitive matches becoming part of the regular season. In England, the "39th game" was derided both for its unbalancing of a season, and its desertion of the clubs' heartlands. How could home-and-away match-going fans afford to get to Singapore, Dallas or Johannesburg?

The reaction among foreign fans was rather different; there is still no substitute for seeing your heroes in the flesh, and especially in a competitive context. The Premier League reluctantly shelved the plans having sighted gold, but there may be moves afoot to revive a similar idea.

A Qatari Dream League may have been the figment of the fevered imagination of the hoaxer who diddled The Times newspaper in March, but the newspaper's owner has been thinking along the same lines. Last month saw Rupert Murdoch linked with a 16-team summer Super League that would involve Europe's top clubs, with the circus moving through key global locations.

The tapping of foreign markets is far too lucrative for such an idea not to happen in some form. Taking advantage of globalisation is the aim of the game.