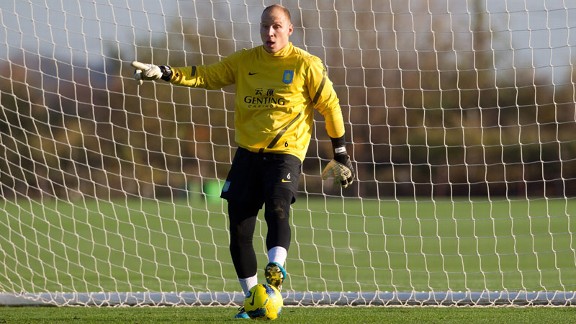 GettyImagesBrad Guzan had initially looked to make his mark as a midfielder.
Brad Guzan's weekend revelation that there was a time when he didn't want to be a goalkeeper has set us scratching our heads and coming up with a team with a difference - of players famous for switching positions during their careers.

Some of them are present-day stars, some are heroes of yesteryear and one may be regarded as obscure, but they are united by their versatility. Here they are, in something close to a 3-5-2 formation.

BRAD GUZAN: Aston Villa's outstanding last line of defence spoke in the West Midlands press of how he was once reluctant to don the gloves. He was a busy midfielder in his student days in Chicago, even playing in that role in a national final. He might have been a world-beater in the position, but Paul Lambert and the Holte End masses were relieved a thousand times over last season that he was in goal.

JAVIER MASCHERANO: The holding man in Liverpool's midfield not so long ago now surveys events expertly from quite a few yards further back - as a central defender for Barcelona. Once described by Rafa Benitez as a "monster of a player," the experienced Argentine could probably take his pipe and slippers out on the pitch now, such is his mastery of the art. Few would expect to see him embarrassed too often at the Camp Nou.

FRANZ BECKENBAUER: The Kaiser leads our team from the back. Having played as an attacking midfielder both in the 1966 World Cup and when he started West Germany's dramatic fightback against England in Mexico four years later, he became a sweeper supreme. Some say he even invented the libero role in its modern form. A sublime player, and still an icon thanks to his off-field services to the game.

BILLY WRIGHT: The Wolverhampton Wanderers legend, who was also the first man in the world to play 100 times for his country, wasn't always a centre half. He actually started out as an inside forward and then emerged brilliantly as a left half before switching to the No. 5 role. He could even feature in an alternative team of players who had brilliant careers after being advised to quit - he was once discarded at Molineux but returned to prove his doubters wrong.

GORDON NISBET: Offering a contrast to Guzan, this Tyneside-born former England Under-23 international made his debut for West Bromwich Albion in 1969 as a goalkeeper, performing shakily in a 3-1 defeat at Coventry, then had a career of about 800 games with the Baggies, Hull, Plymouth and Exeter that was spent almost entirely as a forward-thinking right back. Only in an emergency during games did he ever don the gloves again.

ASHLEY COLE: The latest addition to England's "100 Club" once shone as a striker in his youth. His magnificent performances at left back make it look like he has been in the role all of his life, but he actually banged in a lot of goals in his teenage years and might have played up front for England with Andy Cole and even Joe Cole had he not found his niche as an attacking No. 3, first with Arsenal and then Chelsea.

JOHNNY GILES: This change was perhaps more subtle, but the man who brilliantly pulled the strings from the centre of midfield for Leeds United, the Republic of Ireland and West Bromwich Albion began football life as a right winger. He filled that position for Manchester United in virtually all of his appearances in 1962-63 and played as an old-fashioned No. 7 against Leicester in that season's FA Cup final. He moved to Elland Road shortly afterwards and the rest is history.

GARETH BARRY: Do you know the sturdy left-footer only as a central midfielder? Think again. Aston Villa groomed him as a central defender and as a left back after spotting his potential early and seizing him from his local club, Brighton. They then had him operating wide on the left in midfield before encouraging him to take on a more central role.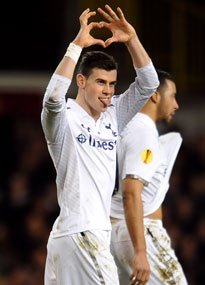 PA PhotosBale's celebration would not have been so regular had he remained a defender.
GARETH BALE: He went from hugging one part of the left touchline to another, but it's in his more recent incarnation as a midfielder with a licence to roam that the 2013 Footballer of the Year and Players' Player of the Year has wreaked absolute havoc. How many of those spectacular strikes would never have been had Wales' finest remained as a left back? The best example, perhaps, of why a player should not be pigeonholed too quickly.

JOHN CHARLES: Back to the past for our strike force: Charles was described by his contemporaries as top drawer either at centre half or centre forward. The "Gentle Giant" was blooded at Leeds United at the back but became a highly prolific goal scorer - one who was more than good enough to become one of English football's first big-money exports to the continent. He was also a colossus with Wales, whom he helped beyond the group stages at the 1958 World Cup finals.

DEREK DOUGAN: The "Doog" was not short on self-confidence and fancied himself as a young centre half back in Northern Ireland. But it was as a gangly centre forward that he made his name over almost 20 years with a long list of clubs, as well as on the international stage. Even at his peak, he answered a crisis by reverting to a defensive role at Wolves. A defeat at Oxford reminded him, though, where his talents were better suited.