Fiorentina presses right buttons with Gomez
Florence's local paper, La Nazione, felt it had a scoop. It was April 18 when it ran a story claiming Fiorentina director of sport Daniele Prade and technical director Eduardo Macia were closely monitoring the situation of Bayern Munich striker Mario Gomez with a view to making a bid. On publication, it was greeted with widespread skepticism throughout the city. "Impossible … that a player of his stature could arrive in Florence," La Nazione recalled last week.

Why the disbelief? Well, two days before the newspaper went to press, Gomez had come on as a substitute for the final quarter of an hour of Bayern's German Cup semifinal against Wolfsburg. With only four touches, he scored a six-minute hat trick in a 6-1 win. After a feat like that, snap judgements were made. Bayern won't want to let a player like that go now, Fiorentina fans said.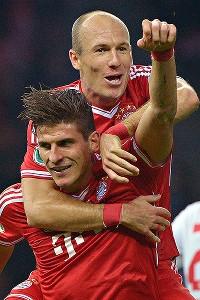 Johannes Eisele/AFP/Getty ImagesMario Gomez seemed like the type of player who always needed an arm around his shoulder, and Fiorentina was more than happy to oblige.
Earlier that month, Bayern had won the Bundesliga in record time. They were in the last four of the Champions League too, preparing for a tie with Barcelona, which it would eliminate 7-0 on aggregate. The treble beckoned for Gomez and along with it a place in posterity too as a member of a history-making side, arguably one of the greatest of all-time. Then of course there was the prospect of working under Pep Guardiola.

Nope. Fiorentina supporters weren't prepared to let themselves get carried away. They wouldn't be getting their hopes up. Not after last summer. Not after the Dimitar Berbatov debacle. They had gathered in their numbers at Florence's Peretola airport with Macia to welcome him. Fiorentina had paid for his airline tickets. The player flew to Munich but then didn't catch the connecting flight. It emerged that rivals Juventus had hijacked the move. At the end of the day, they'd be disappointed too. Berbatov decided to join Fulham instead.

The whole affair left a bitter taste in the mouth and a mental scar. These players today, they weren't to be trusted. Fiorentina fans feared a repeat. Another snub. They were cynical. If Gomez really were to leave Bayern, surely someone else would come in for him. There'd be other bigger, more illustrious suitors, and after stringing us along, he'd picked one of them, wouldn't he? In hindsight, they needn't have worried. Prade and Macia were confident Gomez would say yes.

How so? Well, let's reflect once again on that German Cup semifinal. Scoring a hat trick wasn't the most important thing they took from that performance of his. It was that he did it as a substitute. Gomez had lost his place in Bayern's starting XI.

An injury he suffered last summer meant he missed the beginning of the 2012-13 season. Mario Mandzukic stood in for him, and by the time Gomez had returned to fitness, Mandzukichad made such an impression that he was allowed to hold onto his role in the first team. Mandzukic wasn't as prolific as Gomez but the function he provided for the team -- pressing high and defending from the front -- was taking Bayern to the next level.

As a consequence, Gomez made more appearances from the bench than he did from the kickoff for Bayern in the Bundesliga and the Champions League last season. It was hard to take. You see, Gomez is a sensitive type. Don't be fooled by the cool and confident exterior. He needs an arm around his shoulder, someone to tell him not to worry and that everything will be all right. Aware of this, Bayern had apparently, in recent years, been reluctant to buy another striker of renown -- such as Edin Dzeko, for instance -- in case it disturbed or unsettled Gomez. That's kind of why they went for Mandzukic instead.

Let's make no mistake, Mandzukic was bought on merit, first and foremost, and because he fit the profile of striker Jupp Heynckes wanted. But there was also a sense that, as someone who wasn't a big name, he wouldn't be seen as a threat by Gomez. He was presented as a backup for him, below him in the hierarchy. Unforeseen circumstances -- Gomez's injury and Mandzukic proving himself to be one of the missing pieces [along with Javi Martinez] in Bayern's puzzle -- of course changed all that and it played into Fiorentina's hands.

So what did Prade and Macia do? They set about making Gomez feel what he has always needed to feel: wanted. That really wasn't as difficult as it sounds. Both had been long-term admirers of Gomez, in particular Macia. He had first wished to sign him four years ago.

Back then Gomez had just joined Bayern in a record 30m euro move from Stuttgart. Yet on arrival, he was told by coach Louis van Gaal that he did not correspond with the kind of striker he wanted up front. One imagines a lot of Gomez's reported neuroses presumably originated from that. Working at Liverpool at the time, Macia tried to take him on loan. Nothing came of it, but it was a useful thing to bring up as Fiorentina tried to convince Gomez to join them. Incidentally, it really didn't take much.

By winning the treble at Bayern, Gomez felt he had done everything in Germany. By realizing his dream of lifting the Champions League trophy, he no longer had to go chasing after that either. This greatly influenced his decision-making process. The team he chose didn't necessarily have to be a title contender or even playing in the Champions League right now. He could afford to take the long view. He could value other things. Such as how a team plays.

No one was better to watch in Serie A last season than Fiorentina. They played tiki-taka under the Tuscan sun. If you were wondering what value coach Vincenzo Montella has added to the club then this is it: A style of play so attractive that it can even persuade first-class players to reject bigger offers and forego Champions League football, which incidentally Fiorentina were only three minutes away from qualifying for last season. From a lifestyle point of view, the prospect of living in one of the most beautiful cities in the world isn't bad either.

Fiorentina, it seems, had Gomez at "Hello." "I'm going to Florence because I love the football, the attacking football," he said. "Fiorentina were the team that believed in me more than any other: I could have gone to Spain, but I chose Italy. I chose Florence."

Gomez also revealed that Napoli wanted him. It could offer Champions League football and pay him the compliment of saying it felt he was the man capable of replacing Edinson Cavani. But Fiorentina got in there first. It pressed all the right buttons. It pressed the Mario Gomez button.

Bought for 15.5m euro, which is to be paid in installments over a four-year period with an extra 5.5m euro in performance related add-ons due, he becomes the most expensive player of the Della Valle era and in Fiorentina's history as a whole. Only one move has been bigger in Serie A this calendar year and that also featured a Super Mario: namely, Balotelli's to Milan in the spring.

It has been heralded as a real coup and a statement of intent from Fiorentina. Gomez, after all, has scored 221 goals in 373 games, possesses 58 caps for Germany and turned only 28 last week. Considering how well his international teammate, Miroslav Klose, took to life in Italy, the thinking is that with his firepower, Fiorentina can push on and really shake things up at the top of the table.

Fourth last season, all it was adjudged to be lacking [aside from a consistent enough goalkeeper] was a goalscorer. Sixteen players got on the score sheet. That spoke of what a great collective they were. But not everyone agreed. Sometimes it was a strength because it wasn't reliant on any one individual. In others it was a weakness because it couldn't depend on any one individual.

Juventus, incidentally, has faced the exact same line of questioning. It has tried to answer it by signing Fernando Llorente and Carlos Tevez. Fiorentina have also responded to it by bringing in Giuseppe Rossi last spring and Gomez. Both clubs are therefore considered furthest along in their plans for next season and as such are thought of as favourite and pretender, respectively.

While Napoli has brought in Dries Mertens and Jose Maria Callejon, it remains to be seen how well it recrafts the squad following the expected sale of Edinson Cavani. As for Milan, the team that collected more points than any other in Serie A in 2013, a lot of change is perhaps unnecessary. It is active on the market, but the impression, for the moment, is that it's standing still and is even there to be overtaken. Ricky Saponara, Jherson Vergara and Andrea Poli are the only players it has unveiled so far.

Meanwhile, Inter has brought in two of the most promising young strikers in Serie A, Ishak Belfodil and Mauro Icardi, though many people are uncertain as to whether it's ready or not. This has led to the assumption that its best signing isn't a player, but the coach Walter Mazzarri.

A lot, of course, can and will happen between now and the end of the transfer window. But spirits are high among Fiorentina supporters. More than 14,000 season tickets have already been sold and there's hope that after Gomez's signing, the record of 24,645 established in 2008 -- when Fiorentina was in the Champions League and Alberto Gilardino joined from Milan -- will be broken.

There's talk of a genuine title challenge. "We'll keep our feet on the ground," Montella told La Gazzetta dello Sport. "But it's right that the people dream about the Scudetto because football without dreams would be an absolute sadness." A mere push of the Gomez button has already brought many of them instant happiness.