Quintero at the head of the class
They can hand out as many medals and trophies as they like; the true balance sheet of the Under-20 World Cup in Turkey can be written only in a few years.

• Atkins: Pogba the driving force as France claim title
• Atkins: Uruguayans help down favourites Spain

As in all youth football, winning the title should never be an end in itself. There is no point in a team doing well in an Under-20 World Cup if none of those players go on to play an important role at the senior level. Grooming players for the long term is -- or should be -- the objective. We will really know the fallout from Turkey 2013 when we study the senior World Cup squads in 2018 and '22.

And in the odd case, as soon as 2014.

The South American nations attach a great deal of importance to performances in these U-20 competitions. This tends to apply less with the Europeans; when they are looking to select players for the senior international squad, the overriding concern is form at club level.

But in South America, things can be a bit more fluid. Players tend to get sold overseas at young ages. It can be difficult to follow their progress or compare the merit of performances across a number of leagues. So those who have done well for their country at U-20 level hold something of an advantage. They have shown they can cope with the pressure of putting on the national team shirt. It is common for those who shine at U-20 level to be fast tracked to the senior squad.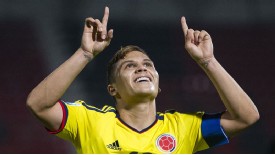 APJuan Fernando Quintero could be bound for Porto, according to reports
In this year's crop of South American U-20s, one player has stood head and shoulders above the rest -- Colombian playmaker Juan Fernando Quintero.

His talent was abundantly clear over a year ago in the Copa Libertadores. In game after game, he came off the substitutes' bench for Atletico Nacional of Medellin and lit up proceedings with his midfield prompting. Pescara of Italy were quick to swoop. Indeed, they have "out-Porto-ed" Porto at the Portuguese champion's favourite game -- picking up early on promising South Americans and selling them at a profit. Quintero is set to join Porto, who will clearly have to pay more for him than Pescara did a year ago.

That is because the player has used this year's U-20 competitions to give a succession of midfield master classes. He was magnificent in January when Colombia won the South American title and no less impressive in Turkey, where he carried the side into the second round, where it lost on penalties to South Korea.

Uruguay, which can consider themselves unfortunate to have lost the final to France on penalties, have revealed an interesting generation. As have Chile, which fell to Ghana in a wonderfully thrilling quarterfinal. Paraguay, which were solid all the way to their second-round elimination, also have some promising players, as do the likes of Peru and Ecuador, which failed to qualify for Turkey.

But Quintero, a gloriously old-fashioned number ten, is the one player from this generation who would seem capable of making an impression at the senior level as soon as the World Cup in a year's time. A factory of ideas, he has the technique, vision and intelligence to put them into mass production. He can organise from deep, playing his push-and-run short passes and using his ability on the turn to switch the point of attack. He can strike long-range balls, splitting the opposing defence with rapier thrusts along the ground or playing over the top of the back line with a precision reminiscent of Glenn Hoddle. He can create space in the tight areas around the penalty box with clever little chips or give-and-gos. And he can weigh in with important goals as well.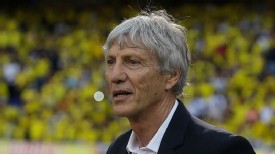 APJose Pekerman gave Juan Fernando Quintero his senior debut with Colombia.
He is a type of player who used to be found with greater frequency in Argentina. Indeed, Quintero's feel for the game personifies the debt that Colombian football owes to its Argentine pioneers. The connection will not have been lost on Jose Pekerman, the Argentine in charge of the Colombian national team. In his previous spells in charge of the land of his birth, Pekerman was a huge defender of Juan Roman Riquelme, constructing teams around him at youth and senior levels. Unsurprisingly, Pekerman was swift to spot the potential of a budding midfield maestro, drafting Quintero onto the Colombia squad last year and giving him a senior debut against Cameroon in October.

Pekerman currently has the excellent Macnelly Torres performing playmaking duties for the senior side. Indeed, since Torres was recalled, Colombia have finally managed to get the best out of centre forward Radamel Falcao Garcia. But Quintero is a useful backup, and as he showed alongside Torres in last year's Libertadores, he has the capacity to come off the bench and quickly get into the game. If it happens, and he lights up a World Cup match with a moment of inspiration, then the watching public will owe a debt to this year's U-20 competitions.