City's change of approach brings hope of success
Until he gets a new job, it seems like Roberto Mancini will be making a nuisance of himself. A hefty pay-off from Manchester City has not bought silence. He has continued to rail against his sacking and made no bones about taking credit for this summer's transfer activity too.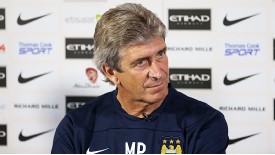 GettyImagesManuel Pellegrini exuded calm as he faced the press for the first time
"I have personally picked Fernandinho," Mancini told Corriere dello Sport last week in an interview that also dismissed City CEO Ferran Soriano for a lack of footballing knowledge, before laying down a conspiracy theory over why chairman Khaldoon Al Mubarak dismissed him.

- Jolly: Pellegrini takes place in 'holistic' hot seat
- Curtis: Pellegrini focus

"A great person," Mancini said of his former employer. "But obviously someone, every day, for many months, has put situations in his head that were false."

Grapes are being served sourly by Mancini, but Pellegrini has diplomatically sidestepped the question of his predecessor. Instead, down to business. A new maturity is being embraced. August will mark five years since the Abu Dhabi takeover. They are not new kids in town any more.

The setting was low-key, the tone lacked bombast and Manuel Pellegrini's first press conference of Wednesday was the opposite of the aspirant excitability that Manchester City have too often embodied since they became "richer than God."

No more galacticos?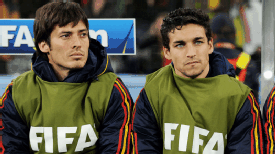 GettyImagesSpain internationals David Silva and Jesus Navas will now be reunited at City
The days when £100 million was waved at AC Milan for Kaka are long gone. Though a club that has already lavished over £45 million on Fernandinho from Shakhtar Donetsk and Jesus Navas from Sevilla is hardly embracing parsimony, both are signings that make sound tactical sense. City lacked dynamism in midfield last season when Yaya Toure was out of form and at the Africa Nations Cup. The Brazilian's energy should solve that problem.

Perhaps the finest group game in last season's Champions League was Shakhtar's visit to Chelsea. Fernandinho dominated the occasion for 70 minutes. That night, he looked made for the Premier League.

Meanwhile, Navas is a player to effect a change of pace. Too often last season, City twinklers like David Silva and Samir Nasri got bogged down when moving into central areas. Down the flanks, Navas is far more direct. He is the type of winger City wanted last summer. They bought the swiftly forgotten Scott Sinclair instead.

Malaga's Isco may have been missed out on, but rather than the gnashing of teeth that used to happen under Mancini, City accepted the young Spaniard's decision and quietly moved on.

Instead of buying stars that their rivals want, or stockpiling players they barely need from way down the wish list, as happened last year in the summer of Sinclair, the signs are of a coherent transfer policy finally being prescribed and followed.

Chaos no longer reigns

If anyone knows how to work in a football madhouse, it is Pellegrini. He dealt with haughty, power-broking aristocrats at Real Madrid, and at Malaga the club was falling down around his ears - unpaid players, stars being sold and UEFA sanctions. He maintained an outwardly zen demeanour in both cases.

Contrasts with his predecessor are highly apparent and City have been at pains to release pictures of the new man smiling in training with his players. The aloof Mancini was hardly known for laughing and joking with those in the ranks.

Public rows like Mancini's with Carlos Tevez, Mario Balotelli and Vincent Kompany are expected to be consigned to the past. City are taking steps to reduce the ammunition for laughs at their expense.

Changing of the guard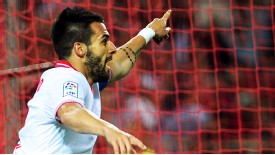 GettyImagesAlvaro Negredo has shot to the top of City's wanted list after other targets fell by the wayside
Mancini's moans had credence, to a certain degree. Last season, City paid the price of standing still. A group that won the 2011-12 title in the very last minute of the season was never sufficiently strengthened to fight off a United team with revenge as its motivation, and in Robin Van Persie, the striker who would make the difference whoever signed him.

Considering their six-month standoff after a row over a warm-up in Munich, it is a stretch to think of Tevez as a Mancini man, but his stagnation last season was a key indicator of a group losing its way. Having got his wish, and settled his debt to Cheshire society after his repeated driving offences, the Argentinian has joined Balotelli in Italy.

A new striker is being sought to replace them, and though Robert Lewandowski and Edinson Cavani will not be the new men coming in, the move for Alvaro Negredo suggests that Pellegrini and director of football Txiki Begiristain are using their knowledge of the Spanish game to find a forward whose skills can transfer to the Premier League.

Gareth Barry was a trusted Mancini lieutenant, often to the exasperation of supporters, and others who just did not understand his importance. City are prepared to listen to offers for him, and others like Joleon Lescott and Aleksandar Kolarov too. The problem is, of course, that such players are on the high wages that attracted them to City in the first place. That will probably grant them a very low resale value but this squad is most definitely being refreshed and honed down.

Champions League specialist

Pellegrini's CV has been too easily dismissed for its lack of trophies in European football yet he suits his new club's needs almost perfectly. For a club still searching for credibility among the game's elite, a decent season in the Champions League is a priority.

The Chilean's record with lesser, lower-seeded concerns is exemplary. Villarreal were a Juan Roman Riquelme penalty kick away from reaching the 2006 final, and Malaga a Borussia Dortmund miracle from last season's semi. After consecutive City disasters in the group stage, where winning positions were too often conceded in farcical fashion, a steadiness of hand is required. Pellegrini offers plenty of evidence to suggest he possesses such qualities.

The rivals

Pellegrini probably spoke from a prepared script when voicing his desire to beat United but next season presents a prime chance to achieve that end.

United were runaway title winners, but, already Ferguson-less, are yet to do enough business this summer to stay away from the pack. While City have landed two leading men already, United's moves for Thiago Alcantara and Kevin Strootman lie in dust. Arsenal have also been slow out of the blocks, with confusion reigning over their interest in Luis Suarez and Gonzalo Higuain and very little else happening with other key positions that need strengthening.

Jose Mourinho may yet return the Midas touch to Chelsea, but his current squad is still in need of far better balance to sustain a title challenge in the dominant fashion his teams usually display.

A reinvigorated and less chaotic City can compete with all of the above. A considered and careful approach could pay decent dividends.