The prodigal son's path to success
Chelsea manager Jose Mourinho and Blues owner Roman Abramovich hardly boast a track record suggesting they are natural candidates to promote calm stability within an organisation. Yet the two top men at Stamford Bridge claim to have seen the light at last.

Given the revolving door policy Abramovich has employed with his managers during his first decade as Chelsea's owner, and Mourinho's failure to hold down a job for more than three years in his colourful career, it is hard to believe these two are about to set out on a long relationship after their uneasy alliance was renewed in June.


Yet, as Mourinho welcomed the Chelsea players for their first day of preseason training on Monday, he insisted the club that has promoted a brutal blueprint for hiring and firing managers is hoping to enter a tranquil period.

"What was the big word we spoke about when I sat down to talk through plans with the Chelsea people? It was stability, stability," Mourinho said last month.

Even so, he and the club owner with whom he fell out six years ago will need to work together through both highs and inevitable lows if they are to enjoy the enduring success they seem to crave.

After Carlo Ancelotti, Andre Villas-Boas, Roberto Di Matteo and Rafael Benitez played their part in remoulding Chelsea since Mourinho's first stint in charge, the slate is partially wiped clean for the returning legend to put down some roots he hopes will extend beyond the four-year contract he signed in June.

Who's in

Even though it is suggested Mourinho pushed hard to secure Frank Lampard a new one-year contract when he agreed to become Chelsea's manager, the veteran midfielder may not be in his side each week, with the next generation being slowly nurtured through by the Blues' boss.

New signing Marco van Ginkel is something of an untested commodity at the highest level of the game, yet the 20-year-old has been compared to Lampard and he can expect to get his chance to prove his worth, even if it is from the bench.

Chelsea nearly signed German striker Andre Schurrle in January and he will add some competition in the striking positions, while Mourinho has made it clear that he is a big fan of Oscar and Eden Hazard. Expect those two to be given prominent roles in his lineup.

Also look out for Michael Essien to be given an enhanced role as a utility player in the Chelsea side. His future at the club looked doomed when he was sent out on loan a year ago, but his old boss remains a firm admirer of his talents after working with him at Real Madrid last year.

Who's out

Persistent rumours that Juan Mata and Fernando Torres do not fit into Mourinho's plans have been rebuffed by the Portuguese tactician, but it will be interesting to see whether both are first choice starters when the campaign gets underway in mid-August.

It will be fascinating to see how Mourinho handles a fading John Terry. The skipper may not be a first pick for every game, but expect him to appear in more big games than he did last season, even if his body is not up to the strains of playing three times a week.

Mourinho still has several issues to consider, and a chief priority in the coming weeks must be resolving the future of striker Romelu Lukaku, who looked impressive while on loan at West Bromwich Albion this season. Many Chelsea supporters would like to see a striker so often compared to Blues legend Didier Drogba given his chance in a new look team, yet rumours persist that Mourinho is less convinced.

As for marksman Demba Ba, the expectation is that he will leave the club this summer. The same fate may well befall Brazilian defender David Luiz, who is being strongly linked with a move to Paris Saint Germain despite his impressive displays in this summer's Confederations Cup.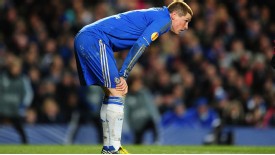 GettyImagesFernando Torres needs adequate support if he is to build on what was a mediocre season last campaign
Transfer targets

Mourinho needs to find a solution to Chelsea's striker crisis if he is to succeed in his second coming as Blues boss as, while the previously ailing Torres has shown signs of life in recent months, he clearly needs support from one of these marksmen in the upcoming campaign.

Edinson Cavani: The most talked about striker in European football is a target for Chelsea, but they are not willing to match Napoli's grossly inflated value of the Uruguayan hit man. For that reason, Paris Saint-Germain may beat them to the punch on this deal.

Wayne Rooney: Mourinho has talked up his hopes of bringing Rooney to Chelsea, and if he is to leave Manchester United, the Blues are one of the few clubs in the world who could afford to buy him.

Robert Lewandowski: With Chelsea's bid for Cavani apparently floundering, there have been suggestions in Germany that Borussia Dortmund forward Lewandowksi is a backup option. The striker favours a move to Bayern Munich, but his current employers won't sell him to their domestic rivals.

Christian Benteke: News that Chelsea may be tempted by a move for Benteke came as a surprise to many, as his inflated value and solitary season of success do not suggest he is a safe bet. Is he that much better than Lukaku?

Luis Suarez: Liverpool's bad boy striker insisted he wanted to quit English football, but then seemed to suggest he was not averse to a move to Arsenal when they made a bid for him. Could Chelsea take that as a hint that he could move to Stamford Bridge?

The biggest challenge

Many struggle to believe Mourinho can flourish in a club structure that effectively sees Michael Emenalo employed as a spy in the camp for owner Abramovich. While the Chelsea manager seems content to work with the Nigerian for now, that relationship could become strained if the club's transfer targets are not successfully recruited.

The role of chief executive Ron Gourlay is also viewed as pivotal as he was the front man explaining the reasons for the sacking of Ancelotti, Villas-Boas and Di Matteo and is believed to carry plenty of weight when offering opinions to Abramovich on football matters. Mourinho would be wise to build up a solid relationship with this key decision-maker.

The calming influence of Chelsea chairman Bruce Buck may well be crucial in holding the Abramovich-Mourinho partnership together, as it is believed the American was key in bringing the "Happy One" back to the Bridge. Buck's long-standing working partnership with the Chelsea owner ensures he has long had his ear.

In essence, Mourinho is walking back into a structure he ultimately failed to work within six years ago, but his belief that the club is "more efficient" than it was when he arrived in 2004 suggests he feels he can work within this framework now. It remains to be seen whether the fault lines that ended his first reign will open up all over again.

The game plan

Mourinho likes to build teams around a solid defensive base, with a lead striker and two creative support acts backed up by a powerful midfield.

The pieces of the jigsaw he is inheriting at Chelsea may not fit his favoured master plan, so don't expect midfield wizards Hazard, Mata and Oscar to feature in the same starting lineup very often. A rotation policy should ensure all three get plenty of game time, with Victor Moses and Ramires also in the mix in an evolving team.

Mourinho is likely to employ a three-man attack featuring a lead striker -- who may well be his big summer signing or Torres -- while a combination of Hazard, Mata, Oscar, Ramires, Van Ginkel and Victor Moses will battle it out for the other two positions.

Two holding midfielders will be a key part of his setup and the returning Essien offers competition in that position, while Lampard may be used after proving his worth in a conservative role in the past 12 months. Doubts remain over Jon-Obi Mikel's future at Chelsea.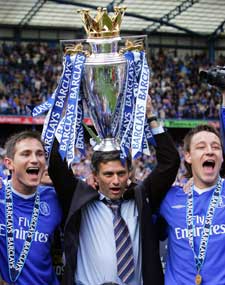 GettyImagesJose Mourinho won back-to-back Premier League titles in his first stint.
Will it work?

If stability and patience are buzzwords Chelsea owner Abramovich has come to appreciate in recent weeks, then Mourinho's return to Stamford Bridge could well be a storming success.

The trouble is, the initial harmony between the two parties could fracture if results are not flowing in Mourinho's direction by mid-February, as history confirms that this is the time in a season when Abramovich goes in search of his over-used panic button.

So until the season gets underway and we see what kind of players Chelsea have signed, the personnel Mourinho relies on and how well they start in what will be a hugely unpredictable Premier League, we cannot predict whether the fragile peace declared between a manager and owner will hold for the long-term.

That said, wherever Mourinho has been, success has tended to follow and few would be surprised if this compelling personality etches himself even more deeply into Stamford Bridge folklore with more trophy success his second time around.