Controversial Katidis seeks refuge in Italy after 'Nazi salute'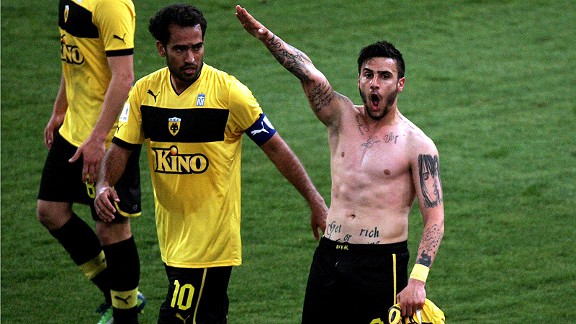 GettyImagesGreek footballer Giorgos Katidis was banned for this fascist salute
One day, Giorgos Katidis will have time to sit down and reflect on one of the most controversial careers of any Greek footballer.

Older and wiser, he will perhaps regret the moment he celebrated his goal against Veria in the Greek Super League with a Nazi salute. And also regret the series of bizarre quotes and excuses that followed.

The gesture, made back in March 2013, attracted global attention, earned the player a lifetime ban from representing his country and contributed to the relegation of his club - AEK Athens - for the first time in its 89-year history.

Persona non grata in Greek football, Katidis is now hoping to rebuild his career, and his life, at Italian Serie B club Novara. But controversy has followed the move to Italy and the fascinating utterances that Katidis proffered in the aftermath of his regrettable action are back in the headlines.

His three-month media silence was broken last month in an interview with People magazine, in which he claimed to have had no knowledge of who Adolf Hitler was at the time of his ill-advised Nazi-style celebration.

And although October 28 is a day of national celebration in Greece, commemorating Prime Minister Ioannis' Metaxas defiance of fascist Italian dictator Benito Mussolini during World War II, Katidis said he thought it was "just a day I didn't have class".

When quizzed about any potential support he might have for far-right Greek political party Golden Dawn, Katidis said of the group: "I didn't have anything to do with politics. What I see Golden Dawn doing is trying to kick out from Greece those who are not Greek. They argue that immigrants are to blame for everything. That is not the case."

Then, to top it all off, he went as far as to tattoo the date of his controversial celebration on his body, with the title "MY MISTAKE".

His apologies have certainly been contrite and he has pointed out that his own parents are migrants and that, upon returning home from the Veria match, his mother was beyond consolation and apparently in tears.

German coach Ewald Lienen - AEK manager at the time gesture was made - grabbed the player by the scruff of the neck and demanded to know if he was a Nazi, according to Katidis himself. When he explained his complete ignorance of the historical context of his actions, Lienen apparently offered his support.

The problem for Katidis though, is that his story is dogged by inconsistency.

For one, he initially admitted a complete ignorance of the Greek political landscape when he first spoke out after the salute, saying he had no idea about the Golden Dawn party. Yet in a later interview he said he copied the gesture from a YouTube video satirizing the party, though he simply thought it was an action that beckoned people to "stand up".

Perhaps realizing this, Katidis has since apologized for misleading people immediately after the celebration, citing the pressure and panic that surrounded him as the reason he was forced into doing so. Yet his insistence that he had no knowledge of Hitler, Nazis and effectively of World War II is difficult to believe given he has grown up in a country that has a particularly sensitive history with regards to fascism and dictatorship.

Katidis says that the gesture was made in an attempt to lift the crowd up from their seats after he scored what was a potentially crucial goal in the club's season. Yet how many players in world football - or indeed world sport, or in any walk of life for that matter - have been seen to beckon people to stand up by extending a stiff right arm in such a manner? And to have absolutely no knowledge of Hitler having grown up in Greece, a country that took years to recover after a truly devastating invasion that lingers fresh in the memory of a generation of parents and grandparents?

This intriguing story has a further twist now that Katidis, who has effectively been banned from Greek football for life - the player himself has said that people will be waiting "with a gun to his head" if he tries to play for another club in his homeland - has found refuge at Novara.

Unsurprisingly the move has already stirred up controversy in Italy, with Tuttosport calling Katidis the "Di Canio of Greece" in one of its recent headlines - in reference to Paolo Di Canio's fascist Salute whilst playing for Lazio. The Italian Maccabi Federation (the Italian branch of a worldwide Jewish sporting and cultural organisation) has warned that the player's arrival could set a dangerous precedent, while the transfer has even been questioned by members of parliament and a criticized by a number of political figures.

The lone voice in support of Katidis has been that of Novara CEO Massimo De Salvo, who has reiterated the club's willingness to give the player a second chance, pointing out that his youth and ignorance had more to do with the gesture than any inherently fascist leanings.

"We have no intention to minimise the gesture, which we condemn," De Salvo said. "The player deserves a second chance because he is now well aware of the meaning [of his action] after the drama [it caused]."

One wonders however whether the justification will wash and from this point it will be interesting to gauge the reaction of fans across Italy as Katidis travels with the team. Should they return to Serie A, and should Katidis still be at the club, what would happen if he were to play in games against both Lazio and Roma, for instance?

Underlying the political controversy surrounding the young man is the fact that what we have is an extremely talented footballer, who barely a year ago captained Greece to the finals of the U-19 European Championships. He would have been a definite starter at the U-20 World Cup in Turkey and had he not been banned by AEK, would probably have helped them to avoid a catastrophic relegation.

His future is unlikely to hinge on his ability with a ball at his feet over the next few years, however. How he handles continued allegations of fascist sympathies and how these affect a potential return to Greek football will be the foundation upon which he builds the rest of what will be an intriguing career. And what of American History X being his favourite film?

"I can't be compared with the protagonist [a violent Neo-Nazi played by Edward Norton]," says Katidis. "Because he knew [about history] and he made his choice. He followed that path and later changed it.

"I don't think I belong to the same path."