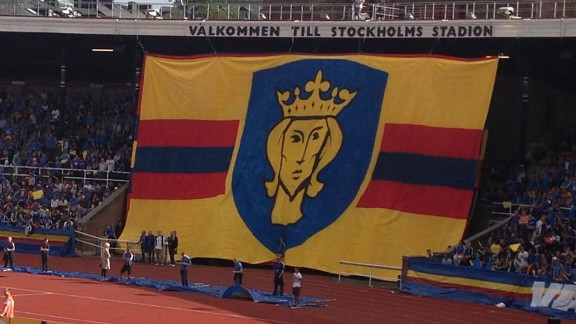 OtherDjurgarden fans say goodbye to the Olympiastadion on June 30.
Coventry City used to be somebody. They were in English football's top flight for 34 consecutive years and won a classic FA Cup final in 1987.

Now, their opponents will no longer even be sent to Coventry - next season, Northampton's Sixfields Stadium will be a Sky Blue foster home of sorts. The club's dwindling support, which has suffered 12 years of decline, is having its loyalty tested to the breaking point by having to play "home" games 31 miles away.

This is perhaps the most cautionary tale yet of the pitfalls that can happen when a club decides to move home.

Once, Coventry's old ground, Highfield Road, was the most modern stadium in British football. In 1981, when Jimmy Hill, one of the game's great revolutionaries, was chairman, it was the first ground in England to go all-seater. Then came an ill-fated 2005 move to the Ricoh Arena, built for England's staging of the 2006 World Cup. Spot the mistake. Germany hosted the tournament and City became the ill-fitting tenants of a 32,000-capacity stadium they did not own, never sold out and could not afford the rent on. Highfield Road had been sold to property developers.

All that unpaid rent - £1.2 million of it - meant Coventry's owners, SISU Capital, decided to abandon the Ricoh. Talk abounds of a new stadium being built, but the club's future is desperately uncertain. There is no money to build a new stadium. Home was where the heart was. That heart has been ripped out.

Football fans are derided for not moving with the times or appreciating the commercial realities of the game, but the money men who live off the loyalty of supporters too often dismiss the sentiments that keep families coming back for generations.

Progress rarely takes such sentiments into account. There can be no more picturesque stadium in Europe than Stockholm's Olympiastadion. With turrets in each corner decorated by ivy leaves, its architecture is almost medieval; it looks far more ancient than its 1912 opening date. It was here that Jim Thorpe, to this day regarded as perhaps America's finest-ever athlete, won gold medals in both pentathlon and decathlon.

A running track circles the pitch, but the atmosphere rarely suffered when Djurgarden IF played at home. UEFA regulations mean top-division clubs can no longer seat fans on the type of benches the Stadion offers. Its status as a listed building means no renovations can be carried out. The Stadion is preserved in aspic, but Djurgarden can no longer play there.

They have been forced to move to the ultra-modern Tele2 Arena, eight metro stops south of the club's well-appointed inner-city heartland. Worse still for Djurgarden fans, they must share with Hammarby, a club drawn from a very different demographic, and a bitter rival.

The early signs are that the neighbours are not ready to be good friends just yet. A Djurgarden veterans match at the new stadium was cancelled last month when a box with the tell-tale word "bomb" was left outside the Tele2. Hammarby's ultras did not want Djurgarden to get the first run of the shared home. Neither side is happy with the new arrangement. Desperate measures have been taken.

"It's like if they made Chelsea share with West Ham," says Mark Dunnell, a 40-year-old schoolteacher from West Yorkshire who now calls Stockholm home and has adopted Djurgarden as methadone for his Leeds United addiction. The date is June 30, and Mark is at the Olympiastadion for the last-ever home game. Fans have been at the stadium since mid-morning for a 5.30pm kick-off.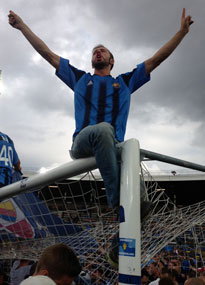 OtherA Djurgarden fan climbs atop the goalposts after his team's final ever match at Stockholm's Olympiastadion.
A beautiful midsummer's evening fills with smoke from burning flares. Fans sing constantly while hardly paying any attention to an easily negotiated victory against fellow strugglers Oster. Once the final whistle sounds, fans stream onto the pitch, some running through the Olympic long jump pit, to gather pieces of the pitch as mementos. Some of the younger fans climb the goalposts, until, in the style of Scotland's Tartan Army at Wembley in 1977, they collapse under the weight. Fathers and sons embrace. This will be the last time.

A reluctant new world of slick concourses, plastic seats and tannoy systems belting out Europop awaits the Jarnkaminerna (Iron Stoves). More comfortable, perhaps, but it could take years for the new place to feel anything like home.

Arsenal fans might sympathise. The Emirates has still to celebrate a trophy since its opening in 2006. For many, state-of-the-art facilities would be readily swapped for success and the type of atmosphere Highbury could generate on its glory nights. New does not necessarily mean successful.

In England, very few clubs have moved ground and prospered. Southampton, Derby County and Middlesbrough followed similar patterns to Coventry. All soon suffered relegations. Manchester City have done just fine out of being handed the 2002 Commonwealth Games Stadium, but it still took Abu Dhabi money to make them contenders.

West Ham move to London's own Olympic Stadium in 2016. A recent viral video of local boy Mark Noble making his way to Stratford on the Tube is the club's latest attempt to take fans' hearts with them. There remains considerable resistance among a group who feel Upton Park is the only place to be a Hammer.

Liverpool and Everton's agonies over their homes continue: We still await the fulfilment of George Gillett's promise that a spade would be in the Stanley Park soil within six weeks of his and Tom Hicks' takeover of Liverpool in 2007. Plans for a new stadium have been abandoned, Anfield will be extended, but not without collateral damage to the community living around the ground.

Everton, with Goodison Park similarly preserved by planning acts to Stockholm's Stadion, continue to seek a new home, vainly keeping the idea alive of a groundshare with their rivals in red. A club on such a financial tightrope risks going the way of Coventry if any move is mishandled.

The continent throws up both worrying and heartening tales. Valencia's status as the third force in Spain was destroyed by the financial meltdown suffered from building the still-unfinished Nou Mestalla.

However, perhaps the case of a club being happiest in its new home is Juventus. The inhospitable Stadio Delle Alpi, built for the 1990 World Cup, has finally been replaced with the more compact Juventus Stadium. The Bianconeri's house-warming party was an unbeaten Serie A-winning season and Scudetto in 2011-12.

At long last, Juve were enjoying home comforts. For Coventry City, any road back to somewhere they can call home looks long and bleak.