Russia's transfer gravy train putting clubs on wrong track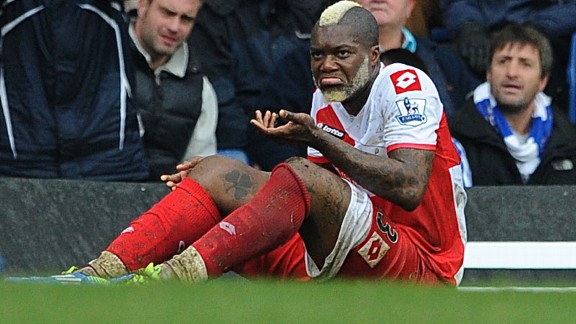 PA PhotosDjibril Cisse's move to Russia is representative of a wider malaise.
"I'm really glad to have completed my move. I've heard a lot of good things about Kuban," Djibril Cisse told the press a week ago. Even as he spoke, a smile played on his lips. Having been released a year early from his 60,000-pounds-a-week contract at QPR last month, then opting to join Russian side Kuban Krasnodar in the apparent absence of any serious offers elsewhere, the 31-year-old striker himself seemed to recognise how hollow the compliment sounded.

Two seasons back, while Cisse was representing Greek side Panathinaikos in the Champions League, pitting his wits against eventual champions Barcelona in the group stage, Kuban were toiling away in the Russian second tier, facing such luminaries as Irtysh Omsk and KAMAZ Naberezhnye Chelny. These days Cisse's career looks on the decline -- one suspects he is concentrating much of his energy on his fashion label, somewhat suggestively named Mr Lenoir -- and although Kuban have qualified for this season's Europa League after an impressive fifth-placed league finish last term, the transfer arguably says more about Cisse's lack of ambition than Kuban's audacious transfer policy.

The deal, which brought the former France international to Russia's southern city of Krasnodar, rather neatly sums up the current predicament afflicting the country's top football league. For an all-too-brief period in the mid- to late-2000s Russia became a serious destination for foreign talent. Yes, there were expensive flights of fancy -- remember the 80 million pounds Dynamo Moscow splurged in 2005 to sign Maniche, Costinha, Seitaridis and Thiago Silva? -- but there were also some wise purchases. CSKA Moscow signed Brazilian striker Jo for a relative pittance in 2006, and ended up selling him on to Manchester City three years later for 24 million euros. Similar success stories included Milos Krasic, Alejandro Dominguez, Danny and Anatoly Tymoshchuk, all fine players who showed a capacity to develop.

So far this summer, the biggest imports to Russia have instead been what one might charitably call over the hill, and what others might less kindly refer to as rejects. Once again, the league is living up to its popular stereotype in the West as a place where old footballers go to earn a pension.

Joining Cisse, of course, is former Arsenal playmaker Andrey Arshavin, a man whose biggest contribution last season was arguably being caught on video attempting to drunkenly enter a London night club. Now 32, he has been offered a lifeline by his boyhood club, Zenit St Petersburg, interpreted by most as a sop to their alumnus rather than a rational footballing decision. The fact that, when asked whether Zenit coach Luciano Spalletti had given his blessing to the transfer, Arshavin himself could only answer that "at the very least he wasn't against it," underlines the political, rather than sporting, motivations behind the deal.

Alongside Arshavin in Zenit's midfield this season will be another old boy, 34-year-old Anatoly Tymoshchuk, who has joined from Bayern Munich. Meanwhile, Anzhi Makhachkala repaid QPR the 14 million euros they received to bring back defender Chris Samba, 29, who hardly covered himself in glory in the Hoops' relegation from the EPL last year.

All three are unquestionably fine players on their day, but these transfers, alongside Cisse's, do not bode well for Russia's capacity to attract players with long-term prospects. The fact that all four will line up for the start of the Russian season this weekend alongside other big names who failed out west (Zhirkov, Pavlyuchenko, Bilyaletdinov), plus more 30-somethings past their best (Voronin, Kuranyi, Eto'o), underscores the point.

Furthermore, another potentially harmful aspect of Russian clubs' transfer policies this summer has been a willingness to part with silly money for homegrown players. Chief culprits have been Anzhi, who spent a combined 34 million euros to sign Russian internationals Igor Denisov and Aleksandr Kokorin from Zenit and Dynamo, respectively.

Denisov is a real midfield terrier, but at 29 is no spring chicken and has a reputation for bad behaviour, having spent some time in Zenit's reserves last year after a spat over money (not something, one assumes, he'll have a problem with in Makhachkala). Kokorin is a more sprightly 22, but with a single goal in 13 international appearances for his national team, there are plenty in Russia who argue that his rumoured salary of 4 million euros a year is incredibly generous for a player of his standing. Website sports.ru published a feature last week entitled "13 Serie A forwards who learn less than Kokorin," a list that included Stephan El-Sharaawy, Erik Lamela, Antonio di Natale and Miroslav Klose.

The clubs themselves blame the game's lawmakers for tying their hands in the transfer market. UEFA's financial fair-play regulations were always going to curb Russian teams' thirst for top talent, no matter at what price.

Furthermore, UEFA and Russian Premier League rules stipulating the need for clubs to include a minimum number of homegrown players in their matchday squads (eight in a 25-man squad for European competitions, and no more than seven foreigners on the field at one time for Russian league games) have certainly inflated the price of domestic talent.

But the clubs are fighting back. Reports in the Russian press surfaced this week that Premier League clubs would be seeking to negotiate a softening of the rules governing debt levels, including an increase from 45 million euros to 60 million in the budget deficits allowed to clubs by UEFA for the three years to 2014. Russia's clubs argue that their inability to sell TV rights for the sums reached in England, Spain or Italy hampers their competitiveness -- for comparison, cable provider NTV+ picked up the rights to screen the Russian Premier League for the next three years for 110 million euros, while in Britain Sky and BT paid English clubs a combined 3.52 billion euros for the EPL over the same period. Meanwhile, the limit on foreign players in Russia remains the subject of debate, and pressure continues to be exerted on the Russian Premier League to relax its rules.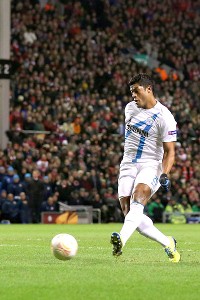 Alex Livesey/Getty ImagesHulk was linked to a number of Europe's top clubs before moving to Zenit.
The clubs may well win those battles, but to do so would be to miss the point -- many Russian teams do not spend their resources wisely. The 100 million euros Zenit splashed on Axel Witsel and Hulk last year was not only grossly extravagant but counterproductive, too, causing a dressing-room split, which arguably cost them the title. The riches doled out by the likes of Anzhi, Spartak, Dynamo and Lokomotiv have in many -- though not all -- cases bred complacency among players. These clubs' new arrivals this summer don't suggest lessons have been learned.

The one exception, though, is CSKA Moscow, who continue to show their rivals what a progressive transfer policy looks like. They have picked up 21-year-old Bulgarian midfielder Georgi Milanov from Litex Lovech for 2.75 million euros, and Steven Zuber, another 21-year-old who has impressed on the wing for Grasshopper and the Swiss Under-21s, for a rumoured 3.2 million euros.

Those kind of purchases -- of young talents eager to make a name for themselves -- certainly stood CSKA in good stead last year. Then they signed Nigerian Ahmed Musa, 19, from Venlo, and Swedes Rasmus Elm and Pontus Wernbloom, both in their mid-twenties, from AZ Alkmaar, all for minimal fees and on relatively modest wages, and promptly won the league title. Last season's success, combined with those shrewd reinforcements during the off-season, should make CSKA favourites for the championship again this time around.