Pellegrini takes place in City's 'holistic' hot seat
The contrast was as stark as it was striking. Without saying it was his aim and while being careful not to criticise his predecessor, Manuel Pellegrini came across as the antithesis of Roberto Mancini. Where the Italian's rhetoric was often recklessly entertaining, the Chilean was cautious in his comments. While Mancini was often happy discussing his transfer targets, Pellegrini was eager to avoid naming anyone employed by another club.

-Curtis: The master's voice
- Pellegrini targets firepower
- Man City rejection in 2007
- Pellegrini keen on spending cuts

After the manager Manchester City sacked had been rather too vocal about some of Etihad Stadium's power brokers, the one they appointed was quick to shut down a discussion about sporting director Txiki Begiristain.

Indeed, after Mancini made then-chief executive Garry Cook appear foolish on his unveiling in December 2009 by revealing he had been in talks with the club long before Mark Hughes was dismissed, Pellegrini maintained the pretence that his conversations with Begiristain began when there was already a vacancy.

Yet there is a further comparison, one that will be pertinent as long as Pellegrini's wait to bring trophies to City lasts. Mancini won the Premier League and the FA Cup in England, to add to three Serie A titles and four Coppas Italia he secured as a manager in his homeland. Pellegrini's nine years in Europe have produced the Intertoto Cup but nothing resembling a major honour.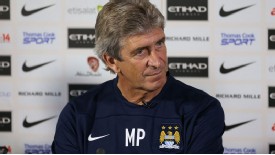 PA PhotosPellegrini is planning for his first season in charge of City.
And so Pellegrini was asked a relevant question: Why should City fans believe he is the man to bring silverware to a club that was starved of it until Mancini's arrival? In the sweltering heat of a crowded room, he didn't lose his cool. Nevertheless, he was irritated that his credentials were in doubt. A vehement defence of his record followed.

"I won a lot of trophies in South America," he said, and indeed he did with titles in Argentina and Ecuador and cups in his native Chile. He ran through his record in Spain in rather greater depth. "To win the title with Villarreal is impossible. It is also difficult for Villarreal to arrive in the semifinal of the Champions League. It is very difficult with Villarreal to arrive in second place in the league," he explained. That finish as runners-up, like their appearance in the last four of the Champions League in 2006, are the high watermarks of Villarreal's history.

So Real Madrid beckoned for the overachiever. "With 96 points it was the most important league [season] in the history of Real Madrid," he continued, citing a then-club record points tally. "We played a whole year against a great Barcelona with [Pep] Guardiola. We couldn't win the title in just one year. I am sure if we continued at Real Madrid we could win a lot of trophies."

But he was confined to a solitary season at the Bernabeu. Instead, he headed south. "Malaga is exactly the same as Villarreal," Pellegrini said. "You can't win the Champions League or the Spanish league with Malaga." Instead, however, he took a cash-strapped club to the quarterfinals of Europe's biggest competition. Only a contentious injury-time winner for Borussia Dortmund denied them a place in the last four. "Ask the referee," Pellegrini muttered darkly.

His European record is far superior to Mancini's, something Pellegrini was too diplomatic to state explicitly, though he did say: "I know in the last two years Manchester City was not very good playing Champions League." It also means he is unbeaten against Manchester United, drawing 0-0 in all four encounters, spread across the 2005-06 and 2008-09 seasons and, as he noted, Villarreal progressed while Sir Alex Ferguson's team were eliminated in the earlier campaign.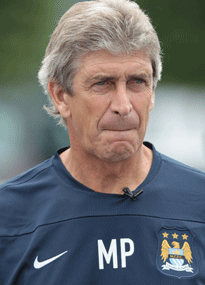 GettyImagesManuel Pellegrini has had four 0-0 draws in previous meetings with Man U, all while he was at Villarreal.
The retirement of the Scot and the sacking of Mancini mean managers with 20 league titles in Europe have been replaced by two with none. Pellegrini, however, sees a man with a similar background at Old Trafford. "David Moyes has [spent] 11 years working at Everton," he explained. "It is very difficult to win trophies at Everton."

It should be simpler to win them at City. Yet as Mancini was sacked after finishing second in two competitions and chief executive Ferran Soriano spoke of City winning five trophies in as many years, the pressure is on immediately. "I am not concerned by that," said Pellegrini, arguing he will be judged in part by his record bringing through younger players. This is the "holistic" approach that City were mocked for invoking in their rationale for Mancini's departure.

"It is impossible to buy three, four or five players every year," he explained. "We need a mix with young players." They weren't words the demanding Mancini, forever seeking solutions in the transfer market, was likely to say. But then Pellegrini, less quotable and charismatic but bringing the promise of more attacking football, was chosen in part because he is the opposite of Mancini. He has started as he means to carry on.