New arrivals look to make statement of intent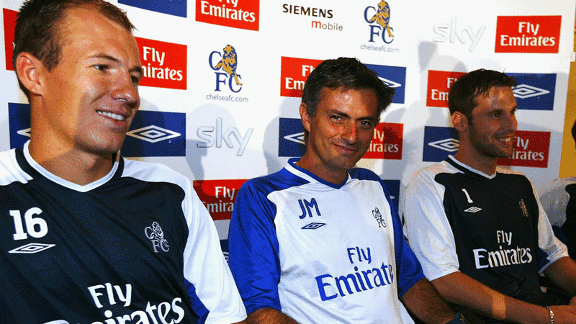 GettyImagesArjen Robben and Petr Cech were among the successful arrivals at the start of Jose Mourinho's first Chelsea spell.
The tone for a managerial reign can be set before a ball is kicked. When unveiled, Jose Mourinho and David Moyes produced the sound bites they hope will help explain their excellence at Chelsea and Manchester United, respectively. The Portuguese, harking back to his first introduction at Stamford Bridge, proclaimed himself "the happy one." The Scot declared that, at United, "success is tattooed right across the badge of this club."

The rhetoric was impressive but actions speak louder than words and summer appointments have the opportunity to define a new manager's tenure before it has begun in earnest. For Mourinho and Moyes, plus the other recent appointments Roberto Martinez, Mark Hughes and Manuel Pellegrini, it is the chance to shape their side. A glimpse at recent history indicates that many a managerial stint began on the right or wrong path before a maiden win, draw or defeat.

Chelsea are the prime case study, with Mourinho the most obvious example of a manager whose path to glory began in the transfer market. The summer of 2004 saw Chelsea remodeled to his design: the spine was strengthened with the arrivals of Petr Cech (though his signing was arranged before the Special One took over), Ricardo Carvalho and perhaps the most influential player in the 21st century at Stamford Bridge, Didier Drogba. Factor in the flair Arjen Robben brought and, albeit at considerable cost, Chelsea had been transformed into ruthless winners with a maverick winger.

In contrast, the swift and undignified demise of two of his successors dated back to their early dealings. Jose Bosingwa proved a microcosm of Luiz Felipe Scolari's Chelsea, starting brightly but fading quickly as his shortcomings became apparent. Deco, the supposed flagship signing, hardly merited a place in the team. At a stroke, Chelsea were being piloted in the wrong direction. For Andre Villas-Boas, the problem was not so much who he did sign but who he didn't: with the club's power brokers uncharacteristically hesitant, Juan Mata was the only major recruit who could be parachuted into the team straight away and the Portuguese, lumbered with the old guard and denied his preferred players, was immediately rebranded from revolutionary to uneasy evolutionary.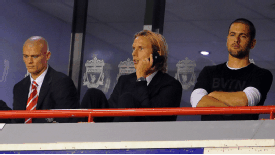 GettyImagesIll-fated trio: Paul Konchesky, Christian Poulsen and Joe Cole were disastrous signings for Roy Hodgson at Liverpool.
If new managers are often afforded the benefit of the doubt, minds can change quickly. Consider Roy Hodgson's brief time in charge of Liverpool. The summer of 2010 brought Joe Cole to Anfield -- with competing factions trying to blame others for his arrival -- plus Christian Poulsen and Paul Konchesky, definitely among Hodgson's disciples. It was an injection of mediocrity that revealed the manager had underestimated Liverpool.

Recruiting familiar faces is a recurring theme among summer appointments at Anfield. Last year, the false start to Brendan Rodgers' time in charge followed the buys of Joe Allen and Fabio Borini: if they are to succeed on Merseyside, their careers will be deemed slow-burners. So, too, Rodgers', on the back foot from the beginning.

Meanwhile, while Mourinho had his pick of Europe's elite nine years ago, Rafa Benitez's attention was focused solely on his native Spain. His startling triumph in the following season's Champions League owed much to the signing of Xabi Alonso and still more to the introduction of Luis Garcia, scorer of five goals in the knockout stage. Yet the same summer yielded Antonio Nunez and Josemi, two of the usually cheap and underwhelming players who soon had to be shipped out, and setting the scene for six years of debate about Benitez's prowess in the transfer market.

His fellow Spaniard, Martinez, began his time at Wigan by enlisting two of his Swansea players, Jordi Gomez and Jason Scotland, with mixed returns. The former eventually proved his worth but the latter was an abject failure. As Martinez has now started his time at Everton by securing a reunion with a trio from Wigan -- Joel Robles, Antolin Alcaraz and Arouna Kone -- the hope must be that history does not repeat itself.

Rather, for the quintet of newly-appointed managers, the aim should be to emulate the men who were in their position 12 months ago. Not so much Villas-Boas -- Tottenham chairman Daniel Levy has considerable input in their dealings anyway -- but Paul Lambert, Chris Hughton and Michael Laudrup. Each made his mark in the space of a few weeks, giving his new club their manager's stamp.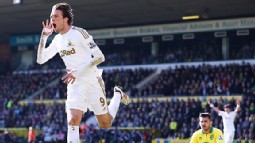 Matthew Lewis/Getty ImagesMichael Laudrup hit the jackpot with the signing of Michu for £2M last summer.
Lambert's fondness for the youthful and the untried was apparent before his Aston Villa team had played -- even if his crucial buy, Christian Benteke, arrived a couple of weeks into the campaign. Low-profile competence has been Hughton's stock in trade during his managerial career and, although his first game at Norwich ended in a 5-0 defeat, his August arrivals -- Sebastian Bassong and Alexander Tettey in particular -- brought solidity to the side. Laudrup, meanwhile, established himself as the Premier League's foremost bargain hunter with the £2 million deal for Michu. His success at Swansea began off the pitch.

The Dane set the tone with a transfer immediately after his arrival. Rarer still is the manager who began a remarkable makeover of his club before he was appointed. Arsene Wenger did not become Arsenal manager until September 1996; before he took office, however, Patrick Vieira had signed, giving the Highbury faithful a pointer to their future. It inverted the usual order in which business is done but it illustrated that, for a new manager, the initial signings are about more than simply filling a hole in the team. They impact upon morale and expectations, they shape a side and an era and help define the new man in the dugout.