All of a sudden, big-spender PSG finds itself scrambling
Projects, eh?

Twelve months ago, Paris Saint-Germain had Carlo Ancelotti as manager and Leonardo as director of football, and Thiago Silva -- probably the best central defender on Earth -- was on his way.

Now, Ancelotti is at Real Madrid. Leonardo, who announced his resignation Wednesday, will be going at the end of the transfer window. And, while it's by no means certain, don't be surprised if Silva moves on too.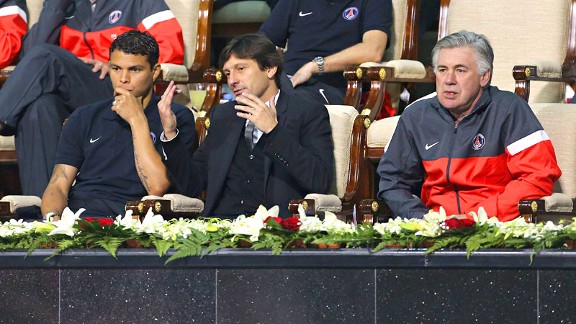 John Berry/Getty ImagesIn more stable times, PSG had Thiago Silva, Leonard and Carlo Ancelotti on board. The latter two are now gone, and don't be surprised if Silva bolts as well.
Meanwhile, PSG are trying to sign a big, prolific center-forward for the fourth-highest fee in the history of the game, which would be great if not for the fact that they already have a big, prolific center-forward who carried the team last season, has two years left on his contract, and is the third-highest paid player in the world, making him nearly impossible to sell. (But we'll get to Edinson Cavani and Zlatan Ibrahimovic in a bit ...)

And the manager now in charge is a guy who was passed over for the Roma job just over a month ago. (Note, with all due respect, we're talking Roma, not Barcelona.) And the fact that Laurent Blanc was even talking to the giallorossi in early June tells you PSG was not an option for him at the time. And that, in turn, offers crystal clear confirmation that the club had no idea who their next boss was going to be as late as early June. Which, simply put, is a shoddy way to run a club, let alone one of the best-resourced and best-funded in the universe.

Having a near-limitless budget to lavish on transfer fees and wages isn't enough to become a perennial European force, which is what PSG ought to be, given their spending and geography. You need a plan too. And what is becoming increasingly obvious is that either PSG has none or chose the wrong one and now has to scramble to come up with something new.

-- Leonardo to resign from PSG role

It begins, obviously, with the manager. Ancelotti, hand-picked by Leonardo, seemed an enlightened choice at the time. Proven winner, record of playing attractive football, nice guy, and the ability to handle outsized egos and personality. PSG duly won Ligue 1 and even gave Barcelona a scare in the Champions League. But you could tell things weren't clicking. On the pitch, things were Ibra-centric to the nth degree, which is never good. PSG struggled on an almost weekly basis in Le Championnat, huffing and puffing to blow down the defensive barricades of smaller clubs that treated games versus the Parisians as if they were mini Champions League finals.

Whatever the case -- and PSG mastered the art of winning ugly -- by April it was obvious that Ancelotti wanted to leave. He had been approached by Real Madrid to be Jose Mourinho's successor and, having already turned down the Bernabeu once before, wanted to take the job. Common sense suggests you don't try to keep a guy -- especially someone with as much power as your manager -- against his will. While PSG were right to try to extract maximum compensation from Real Madrid, they knew nearly three months ago that they would need to find a new manager for 2013-14.

What happened? They were linked to everyone, it seemed, but failed to land anyone -- which is why, ultimately, they turned to Blanc. And, make no mistake about it, they only moved for Blanc once they had exhausted their other options, which is why he was still talking to Roma in June.

We're not clear on the specifics, but this whole affair with the manager seems particularly ham-fisted. Selling someone on PSG should not be difficult. Great stadium, big fan base, enormous resources, wealthy owners and the chance to live in Paris, one of the most desirable cities in the world.

Who is to blame for all this? The owners? Nasser Al-Khelaifi, their man in Paris (and most other places)? Leonardo? Jean-Claude Blanc, the club's chief executive?

It's tough to tell. But you hope that the people in charge are apportioning blame and learning from their mistakes.

Leonardo's departure must be viewed in the same light. Leonardo was the perfect face-man for PSG: charismatic, multilingual (he speaks five languages), articulate and a former PSG player to boot. What's more, he's one of those executives who is generally liked even by opponents, and that was important for a club like PSG, whose owners and sheer financial might were inevitably going to make them a club easy to dislike.

Yet Leonardo's time as PSG's director of football was hardly a rip-roaring success. The club spent enormous amounts and achieved the bare minimum. Leonardo himself, in an uncharacteristic loss of cool, was given a nine-month ban (later increased to a year, just to add insult to injury) for barging into a referee. How bad was it? You be the judge.

Whatever the case, after that incident, you would have expected the club to come up with some kind of Plan B, especially since rumors were circulating three weeks ago that he was packing his bags (funnily enough, right around the same time that Laurent Blanc came on board).

And yet, we got nothing. Not just that, but Leonardo is sticking around to run the club's transfer operations this summer. You can imagine just how effective his recruiting spiel is going to be in those circumstances.

"Hey, Edinson/Wayne/Cesc/Robert, come to PSG! We have big plans for you and for the club! What's that? No, I won't be around. I'm getting the heck out of Dodge and, no, I have no clue who's going to replace me, but don't worry, come on board! You'll love Laurent Blanc!"

What you'll end up with is folks joining for money and money alone. Now, some will argue that this was the case ever since the Qataris bought PSG and went on their spending spree, but at least with Ancelotti and Leonardo the club could say they had a plan.

As for Cavani and Ibrahimovic, as I wrote Monday, it makes zero sense. But when you think about it, PSG's whole approach doesn't quite add up, starting with their willful determination to pretend there is no such thing as Financial Fair Play. Or, if there is, their belief that UEFA won't enforce it.

Blanc -- as in Laurent -- may yet deliver another Ligue 1 title this year and maybe even a run in the Champions League. But more important to PSG's future is what the other Blanc -- Jean-Claude -- delivers. He, together with his boss, Al-Khelaifi, needs to conjure up some kind of coherent three- to five-year plan, one that will allow PSG to attract and retain the right people to build sustainable success.

Otherwise, the only ones who will benefit are the guys getting rich off the Qatari money. And there are plenty of those.