Chelsea puts down a marker against Arsenal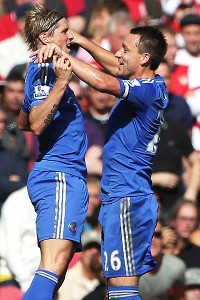 GettyImages / Richard Heathcote/Getty ImagesFernando Torres and John Terry celebrate El Nino's goal.
Last week, Arsenal put in a tremendous showing against Manchester City. So tremendous, in fact, that the 1-1 draw had people coming out of dark corners of pubs around the world to suggest –- out loud, mind you -– that maybe, just maybe the Gunners have title credentials. But after hosting Chelsea at Emirates Stadium and losing 2-1 to a Blues side, you have to wonder: Is this new-look Arsenal really the same-old Arsenal?

Some thoughts:

Chelsea put down a marker
The subplot of this match was indeed sizing up each side's title credentials; there can be little question that the Blues -- still sitting atop the table -- are demonstrating the sort of balance around the pitch that wins you hardware. With Juan Mata, Oscar and Eden Hazard operating in attack, with Fernando Torres up top, Chelsea has all sorts of options to unlock defenses with slick interchanges of play. We saw that in the 37th minute when Mata played in Hazard on the overlapping run, only for the Belgian to caress the ball with his left foot, then right foot, to leave Thomas Vermaelen sliding in his wake. Nothing came of the ensuing cross –- Laurent Koscielny headed the ball away –- but it was a further example of what Roman Abramovich's wealth has brought to the side.

Chelsea's front three midfielders, along with Torres, allow John Obi Mikel and Ramires to stay rooted in midfield. Indeed, there was virtually no reason for them to burst ahead -- not that Mikel ever really does as he's still searching for that elusive Chelsea goal, but Ramires did a fair bit of that last season.

This season (so far), it's rarely needed, although, to be fair, Arsenal lost the battle of the midfield once Abou Diaby hobbled off in the 17th minute. And Mikel Arteta was quietly good. But the Gunners, whose soft center was exposed on the day, were ultimately no match for the Blues, who were hardly at their best aside from Mata. But then, next time around, it may be at Hazard shines, or Oscar.

Simple mistakes cost the Gunners
Arsenal assistant manager Steve Bould, the former Gunners center back who's been given plenty of credit for buttoning down the side's defense, must have been horrified at what he saw Saturday. Slice and dice the analysis all you want, but the two goals came down to poor defending. Vermaelen gave away cheap free kicks, including the one on Hazard in the 19th minute after a nice one-two with Torres, then the Verminator took out Torres on the break in the 52nd minute. There wasn't much in the first challenge; the second was a bit cynical, but the result was the same: Chelsea, which hadn't scored on set pieces in the league coming into this match, scored on both. In the first, Koscielny turned his back on the ball, allowing Torres to volley home a beautifully timed shot. Hardly Bould's fault. In the second, Mata –- who was my man of the match -– curled the ball past Vito Mannone from long range; Koscielny might have gotten a touch on the ball, but he certainly confused his keeper.

Giroud's turn to play the goat
Last week, Gervinho got stick for not finishing his chances, and rightfully so. This time, he came through, receiving an excellent pass from the Oxe, turning and shooting in the box as John Terry and David Luiz were playing too deep. Zero to hero. Olivier Giroud, who scored and missed a penalty midweek in the league cup, had a chance to tie the match in stoppage time, but his shot in the box (one he should have taken first time) was woeful and wasteful. Arsene Wenger has said Giroud will come around, but misses like that don't instill any confidence.

Sexy football is great, but wins are better
We've been reading reports that Abramovich is still a bit unhappy at the fact that Roberto Di Matteo still doesn't have his side playing Barcelona-style champagne football. It's a bit of a silly argument, isn't it? Chelsea is top of the table, and it got the business done with two set pieces and a dominant midfield. The backline, including Luiz and Terry, put in a strong shift, and Petr Cech came up with two world-class saves: one on a Giroud shot that deflected off Luiz in the 73rd minute, plus Lukas Podolski's header to the far post in the 59th minute.

We might have been treated to another wonderful passage of play when Torres broke free in the 62nd minute. Soon after Carl Jenkinson tripped over ... himself (or was that a dive? you be the judge), Torres broke free. But his attempted back-heel pass led to El Nino tripping over ... himself. Champagne football will have to wait a bit more, but is there any doubt that Chelsea has put down a serious marker?