A matter of timing for Bale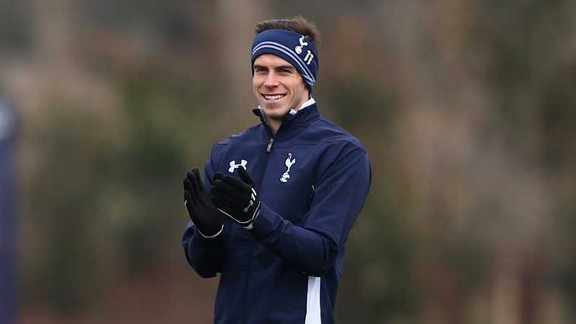 GettyImagesTottenham's Gareth Bale is coveted by Europe's biggest clubs.
In Madrid, the mood has changed.

Just over a month ago, virtually everyone around the Santiago Bernabeu was sure that Gareth Bale would be arriving this summer in another blockbuster deal for the La Liga club. It seemed only a matter of time. Club officials were saying as much in private, Zinedine Zidane was even more public. Only providing further intrigue, then, the player's representative, Jonathan Barnett, was appearing on Marca TV to openly discuss the player's future. That it was with a media outlet so long associated with Real made it all the more conspicuous.

Except, now, they're all a little more reticent. First, Barnett went back on Marca TV last week, but this time with comments that were more conservative.

"There's no offer from Madrid; they have to talk between themselves and we will see what happens. Bale has not said no, nor yes."

Since then, Real have altered their tone, and are briefing that the purchase of Bale this summer will be a "tall order." There is a growing realisation they may have to accept waiting until 2014, with Bale reportedly happy to stay at White Hart Lane for at least another year.

Because, finally, there was Tottenham's new kit launch on Monday. The club were sufficiently confident of their position to use Bale in all publicity. It was quite the statement, particularly when you consider that the player's image in a new Tottenham shirt was beamed across Times Square.

Except, on the day, Bale himself wasn't able make a real statement of his own. Spurs' press office would not sanction any interviews with media, other than a brief clip for broadcasters. His eventual comments were encouraging for Tottenham but not exactly definitive.

"I am hoping to improve from last season," Bale said. "Every season I want to keep improving and keep becoming a better player.

"I think everyone at the club wants us to finish in the top four, the club wants to be be in the top four, and we need to go one better this season and finish in the top four."

Reading between the lines, then, the situation still remains somewhat open and relatively delicate. Reading the responses, though, it is possible that the wrong questions are being asked.

Perhaps it should not be about whether Bale is going to Real Madrid, but whether it is really right for him to go to Real Madrid right now.

Amid all the fevered speculation, this aspect is being somewhat overlooked. Does a mere 24-year-old - as Bale will become on 16 July - with the world at his feet need to be in that much of a rush? Here, we attempt to pick apart the different aspects of the transfer, which are a little more complex than just presenting the opportunity to join one of the world's biggest clubs.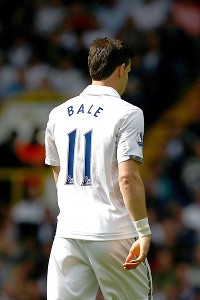 Jan Kruger/Getty ImagesThe timing of Gareth Bale's move away from White Hart Lane could prove pivotal in his career.
Ambition
In the summer of 2011, Andre Villas-Boas faced a very similar dilemma. He could either try to properly build something hugely distinct at a team with a lot of potential in FC Porto, or he could jump at the chance to join a well-defined superclub at Chelsea. The coach ultimately chose the latter, which makes it somewhat ironic that he is now hopeful that Bale will do the opposite.

In the meantime, a number of people in the player's camp have been encouraging him to make the leap, impressing on him the importance of taking such a chance when it comes and how a footballer's career can be cruelly capricious.

For all the perceptions of such external influences on a player, too, decisions like this do not always amount to greedily taking what comes at the first opportunity. While it is obviously noble for an individual to stay loyal to any club, the notion of being loyal to your talent is often overlooked. If a player has the ability to be a genuine world great - as opposed to just a club great - he surely has a duty to make the most of it. As such, if that talent truly belongs in the Champions League - as Bale's does - why wait? Why not maximise your time at the elite level in order to achieve as many of the game's finest honours as possible? As a consequence of their resources, Real will always be a club there or thereabouts at that level. There are no such guarantees with Spurs.

Circumstance
At the same time, it is not as if we are talking about Matt Le Tissier and the Southampton side of 1995 here. Tottenham are a team that genuinely look on the verge of a vibrant new era. Even this season potentially carries so much hope. One superb signing in Paulinho has already arrived, and another may well come in Christian Benteke.

Should Bale stay, you suddenly have the framework of a very exciting team. Even more importantly, there is a clear design to all this. As illustrated by Villas-Boas' own decision to spurn Paris Saint-Germain this summer and his insistence on appointing a director of football, the coach has a distinctive plan for the team. The same cannot quite be said of Real Madrid, regardless of their size.

It could even be argued that they are starting to resemble the latter days of the first Galactico project, given their seemingly scatter-gun approach to targeting a variety of attacking players this summer. Where will they fit? Although the club have admittedly purchased promising young Spanish players further back to apparently signal a different approach, there is still something of a contradiction here because of the absence of an overall plan. Is that conducive to Bale's improvement? Should he join Real at this point, too, he would only be another in a series of expensive signings at a club preconditioned to success. Any trophies, at least at this point in his career, would not feel quite as sweet as truly building toward something with Tottenham. By contrast, were he to wait at Spurs and then remain unfulfilled, there would be even more emotion to any future big medal at Real.

Dreams
There's no arguing with this one: Ultimately, it is Bale's long-term aspiration to one day play for Real. For him, it goes way beyond the opportunity of just turning out for one of the game's elite institutions. Think Cristiano Ronaldo's obsession. No other club comes close, and it is understood that a handful of Premier League suitors were told as much when they made informal enquiries. The other side of going now and at this age, too, is that it means enough time to become one of the club's truly historic players - as opposed to just a star briefly stopping along for a few years such as Ruud van Nistelrooy, or even Kaka. That, understandably, holds enormous sway.

There's also the strong possibility that simply being around a higher level of player and more rarefied surroundings could enhance Bale even more. As with Ronaldo as he approached his peak, we might not yet have seen the finished article. Real could complete Bale. It is more doubtful that Tottenham will ever offer the prospect of such a rate of evolution.

Happiness
Bale, however, is no longer a young player so readily able to follow his dream. He is a young adult with a family to consider. The winger has recently had his first child, finds himself extremely happy in London and enjoys a fine relationship with his boss at a club where he is loved.

There's also the fact that, for all his previous stellar performances, the 2012-13 season was his first truly complete campaign at a consistently world-class level. His personal happiness may well have been a huge factor in such professional satisfaction. Would he be potentially disrupting that development by immediately moving to such a pressurised environment? Perhaps, for that evolution, it is more prudent to maintain that form at Spurs for another season or two before he eventually gets very itchy about joining Madrid, or feels he is going stale. It could be the difference between a merely high-quality career and a truly high-achieving one.