Lack of star signings skews perception of EPL foreign takeover
Everything you know is wrong. Well, not wrong, necessarily, but certainly exaggerated, and, most likely, a little skewed. Some people might suggest you're living in a fantasy world, but that's a little harsh. You probably just holiday there regularly. You've maybe got a timeshare and several local restaurant recommendations.

How misguided you -- we -- are is substantiated by a rather neat survey by Ipsos Mori, a British polling company, on behalf of the Royal Statistical Society, which shows the gaping chasm between what we think is true and what is actually true.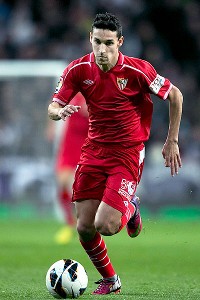 Gonzalo Arroyo Moreno/Getty ImagesApart from Jesus Navas, the Premier League has failed so far this summer to attract a showstopper. But the EPL has a reputation for making stars rather than signing them.
The examples are stark: As a nation, England thinks 15 percent of girls under the age of 16 get pregnant every year. In reality, it's 0.6 percent. We believe 31 percent of the population is made up of immigrants, when, in fact, it's 13 percent. A personal favorite: We think £24 of every £100 spent on benefits is claimed fraudulently, by some undeserving charlatan. It's actually 70 pence.

The disparity between reality and perception is easily explained: We overestimate the prevalence of what we are worried about, and what we are worried about is defined by politicians eager to be seen doing something, anything, and by a media which has worked out that fear -- even more than sex -- sells.

Newspapers yelp consistently about immigration and teenage pregnancy and benefit fraud. They loom large in our national conversation. They become the stuff of nightmares. But that is what they are: nightmares, hallucinations induced by a 24-hour news cycle and the vapid sound bites of transient, ineffectual politicians.

There is no fear more potent in football than the idea of the Barclays Premier League being overrun by foreign players, that our obsession with imported talent is irreparably damaging the English national side. Here, the figures match the theory: Just 38 percent of the players in England's top flight are eligible to play for Roy Hodgson's brave squadron of magicians and sorcerers.

Next season, that figure might be even lower, judging by the events of the transfer window thus far. The 20 Premier League clubs have already bought some 52 players. Thirty-six of them have come direct from abroad. A further four are foreign players transferred between two English sides. In this way, almost 80 percent of transfer activity in the past six weeks has involved imported talent.

And yet, so the theory goes, not one of those players can be considered an elite name, the sort of signing that captures the imagination of a club's fans and strikes fear into the hearts of their rivals.

All of the biggest stars have eschewed England's advances: Falcao, of course, moved to Monaco. Edinson Cavani seems set to opt for Paris Saint-Germain. Karl-Heinz Rummenigge and Jurgen Klopp have both confirmed that Robert Lewandowski is so desperate to play for Bayern Munich that he will wait an entire year to fulfill his dream. David Villa, the subject of long-standing interest from Arsenal and a late push from Tottenham, has gone to Atletico Madrid.

In their stead, a phalanx of players from the second tier remain. When one newspaper ran a piece, early in June, bemoaning the nobodies who had landed on these shores -- "hands up who has heard of Razvan Rat, Ricky van Wolfswinkel, Jesus Navas, Modibo Diakite, Guillermo Varela, Aleksandar Tonev, Jose Canas and Fernandinho" -- it was widely mocked for its little Englander isolationism. Navas has won the World Cup, for a start. Fernandinho and Rat were stars of the wonderful Shakhtar Donetsk team that qualified ahead of Chelsea in last season's Champions League; van Wolfswinkel is a Dutch international. They are not exactly nobodies.

But, amid the derision, the central tenet of the argument stood up to scrutiny. Navas apart, the Premier League has singularly failed so far this summer -- and it might change, of course -- to attract a showstopper. By that measure, it is fair to conclude -- as that piece did -- that the Premier League has lost its luster.

Perception, though, is not the same as reality. For that theory to be correct, the Premier League must have been the first-choice destination for the world's best players at some point in the past. That has never been the case. Even as it has become ever more saturated with wealth, England's top flight has always created stars. It has rarely bought them.

Of the myriad foreign players who have illuminated the Premier League in the past 20 years, only four -- by my reckoning -- have arrived as genuine stars: Hernan Crespo, Andriy Shevchenko, Juan Sebastian Veron and Marc Overmars. Only the latter could be considered an outright success.

All the others fall, broadly, into three categories: young hopefuls (Cristiano Ronaldo, Cesc Fabregas); players from second-tier clubs or second-tier leagues with something to prove (Juan Mata, David Silva, Fernando Torres, Sergio Aguero, Ruud van Nistelrooy, Eric Cantona); and those deemed failures in other countries (Thierry Henry, Patrick Vieira, Dennis Bergkamp). This summer has simply conformed to that pattern; maybe Varela, Iago Aspas and Andre Schurrle did not arrive as stars. That might well change by the time they leave.

But that is not to say what has happened in the past few weeks is not significant. It is, inordinately so. The decisions made by Cavani and Falcao bear testament to France's newfound status as the game's financial powerhouse. Chelsea's refusal to pay the asking price for either player shows how seriously England's clubs are taking Financial Fair Play. Lewandowski's desire to stay in Germany is proof of the appeal of the Bundesliga.

These decisions should lead to greater league parity as well. The productive summers enjoyed by the likes of Norwich and Swansea suggest that the new television deal will have a more dramatic impact on the midtable clubs than on the elite. That might make the Premier League a more egalitarian place, and all the better for it.

That Premier League clubs are investing abroad is important, too. It is easy to bemoan the acquisition of cheap foreign labor. But it is much more difficult to ask whether, perhaps, England's clubs are serious about generating English talent. Someone needs to do something about the absurd English Tax which forces teams to look at other markets. Until buying home grown makes economic sense, clubs will try to avoid it. The perception is that there is an obsession with the exotic. The reality is rather different.