Crowd favourites Iraq hope to seal final ticket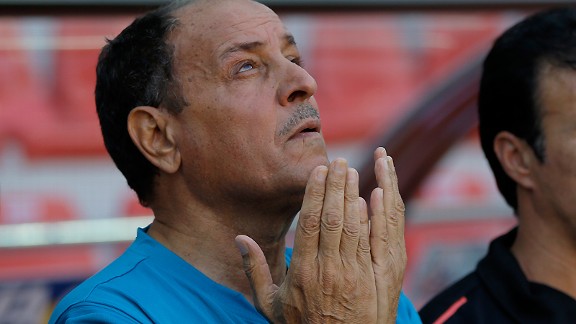 GettyImagesIraq's head coach Hakeem Shaker prays before the Under-20 World Cup quarter-final match against South Korea.
ISTANBUL, Turkey -- A healthy dose of surprises makes for a good tournament, with some of the favourites bowing out early and other teams playing above expectations. At the 2013 FIFA Under-20 World Cup, Iraq have been responsible for both occurring. And although they are underdogs heading into their semifinal clash against Uruguay, the Iraqis will be the favourites of the crowd.

Hakeem Shaker's side are the only unbeaten team that remain in the tournament in neighbouring Turkey, but really had to battle their way through. First, they staged a remarkable comeback against England; the Iraqis scored two goals in the last 15 minutes to grab a valuable point in their first game.

- Moonda: Black Satellites fly African flag

After the group stage, it got more dramatic when they played two 120-minute games. An extra-time goal from Farhan Shakor gave Iraq a 1-0 victory over Paraguay in the round-of-16. The quarterfinal match, however, was something else. Iraq had to withstand pressure from a resilient South Korean team, which fought back three times to draw 3-3 in extra-time, in a manner that was reminiscent of last year's AFC Under-19 Championship final.

On that day in 2012, South Korea forced the game into extra-time with a late goal and eventually won the game via the penalty shootout. But on this occasion, at the Kadir Has Stadium, Iraq refused to allow the same thing to occur, kept their nerves during the shootout and booked their place in the U20 World Cup semifinals in Trabzon.

Having lived their adolescence years in a war-torn country, Shaker's boys are already toughened survivors. And the 50-year-old coach says that his team has a responsibility to their nation and the region.

"As ambassadors for Arab football at this great competition, we will need to rise to the occasion and present a good image," he told the FIFA website. "All eyes will be on this new generation, which has taken Iraq back to the FIFA U20 World Cup for the first time in more than a decade since Argentina 2001."

Last year, Shaker was named the caretaker coach of the senior team following the departure of the Brazilian Zico and held duties at both age levels concurrently. During that brief period, he promoted several U20 players to the senior squad for the West Asian Football Federation Championship and the Gulf Cup. He had to step down from the senior team amid the controversial appointment of Vladimir Petrovic, but knows the country's football enough to be confident about its progression and young talent.

"We've developed a training programme and we must now follow it," Shaker said. "I hope our team will earn everyone's admiration for its technical ability and spirit, while achieving good results along the way."

The current U20 squad could be considered the second generation of Iraqi football since the start of the war in 2003. The first generation finished fourth at the 2004 Olympic Games and went on to claim the team's maiden Asian title in the AFC Championship three years after.

"This victory is most important for the Iraqi people. Not for me or my CV," then-coach Jorvan Vieira of Brazil would say after the dramatic 1-0 win over Saudi Arabia, which marked the greatest achievement for the country. "I will never forget this because it was a special situation in special circumstances."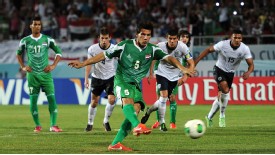 GettyImagesIraq's stunning comeback against England provided the country with belief early in the tournament.
However, even as the country celebrated its greatest success, there were twin bomb attacks in Baghdad, killing more than 50 jubilant supporters on the streets. Even to this day, guns and bombs are not silenced. A series of deadly bombings in the last few months have claimed the lives of hundreds in the country. As a result, FIFA banned Iraq from hosting games, only three months after it lifted a suspension. In the last two years, Iraq have only played two friendly games on home soil.

Despite this, football writer Simon Kuper and sports economist Stefan Szymanski argued in their 2009 book "Soccernomics" that Iraq, along with the USA, Australia, Japan and Turkey, are destined to be "the kings of the world's most popular sport."

The duo came up with a formula that a country's football performance is closely linked with its population, its income per capita and its football experience.

"Iraq does brilliantly relative to those factors," Kuper told the Boston.com website in 2009. "So if Iraq becomes a normal country, a bit richer and playing more games, you would expect it to get even better."

Shaker's sentiments echo Kuper's thoughts. He believes that his crop of young players are capable of challenging for a place at the 2018 World Cup in Russia, but only if the management team creates "the right conditions for preparing this young team."

Shaker is confident about the technical ability of his side, the discipline and the fighting spirit. And he is right. As eccentric as he is, goalkeeper Mohammed Hameed is a big presence, left-back Ali Adnan has already started making fans in Turkey, Farhan Shakor continues to find the net and Ali Fayez is a commanding defender. As a team, they are compact, but when the right moment arrives Iraq can be dynamic in attack.

Shaker is in confident mood ahead of the final, despite the quality of their opponent. He said: "Uruguay are one of the best sides in South America if not the best, and they've just beaten Spain. It's going to be tough but we're looking to turn in a great performance. I'm convinced we'll make the final."

After their 2007 victory, a few hundred Iraqis took to the streets of Istanbul to celebrate. If they continue their fairytale through to Sunday's final at the Ali Sami Yen Arena, it will be no surprise if plenty of neutral fans join them in celebration.