Embracing past glory doesn't guarantee continued success
Continuity, stability, tradition -- three watchwords of football's greatest dynasties. Manchester United are attempting to follow them in their near-impossible quest to live beyond Sir Alex Ferguson.

Ryan Giggs might just end up being Manchester United for life and his recent appointment as player-coach suggests that a future far beyond playing has been mapped out.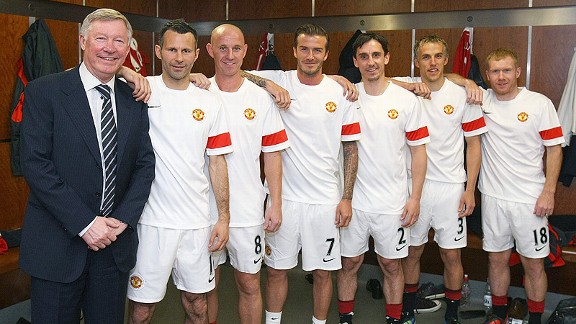 John Peters/Man Utd via Getty ImagesThe fabled "Class of '92" has produced three members of the current Man United coaching staff. Ryan Giggs (second from left), Nicky Butt (third) and Phil Neville (sixth) are the ties that connect United to the Ferguson glory days.


He joins two former teammates on United's coaching staff. Nicky Butt, Giggs' closest friend from the "Class of '92" that formed the backbone of two decades of United success, has been a reserve-team coach since 2012. And Phil Neville has returned to provide a bridge to David Moyes, his manager at Everton. It could have been three as Paul Scholes was also offered a similar position, but he turned the chance down. His discomfort with coaching was a prime reason for his decision to come out of retirement, though there will always be a place for the midfielder at Old Trafford.

Giggs was an obvious choice for his new job. He has been leading training warm-ups for years anyway. His longevity at the club precedes all save Ferguson. He knows the routines, having first learned them among a group of teammates who are now well into their fifties. Who knows? Maybe one day Giggs will become United manager, though the trend of great players being equally fine managers is not a strong one -- perhaps only Johan Cruyff and Franz Beckenbauer have truly bucked it in the last 30 years.

Ultimately, the retention of Giggs and his contemporaries is an obvious attempt to keep the winning formula in the bottle. Retaining the spirit of the past is seen as key to a bright future, though many other clubs have faltered when trying to do so, including United themselves in the post-Matt Busby era from 1969 until Ferguson's arrival in 1986.

Indeed, United can look to the past for plenty of cautionary tales of others hoping that sentiment would save the day, only for disaster to strike.

Consider their archrival, Liverpool. Kenny Dalglish is regarded as Liverpool's greatest player, and a good manager in his first spell. His second spell ended abruptly but correctly by the club's American owners last summer -- it was proof that living in the past can often be a crashing disappointment.

Liverpool is the club most accused of trying too hard to relive the glory days. The watershed moment of their decline was Dalglish's first departure and his replacement by Graeme Souness in the spring of 1991. Souness was a former club captain but crucially not part of the cabal that controlled the club's fortunes for 30 years.

The Boot Room was the crucible, a fabled cupboard in which Liverpool's coaches -- past, present and future -- kicked around the ideas that made the club dominant in both England and Europe. There, the Liverpool Way was founded. Dalglish was not a member of this exclusive club, but his closest advisor in his early years of management was Bob Paisley, who had been player, physio, coach and manager. Meanwhile, Souness was of revolutionary zeal. He had turned Scottish football upside down at Rangers, and the Boot Room was knocked down to become, of all things, a press room.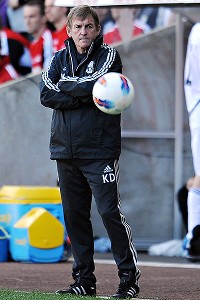 Andrew Powell/Getty ImagesKenny Dalgish's managerial stints at Liverpool offer cautionary tales about becoming too attached to past glory.
Souness was eventually removed in January 1994, replaced by Roy Evans, the final graduate of the old school. Liverpool played entertaining football, won the league cup in 1995, but Evans was not Bill Shankly, Paisley or Joe Fagan, and the club was losing its way too. Grasping so hard onto tradition while other clubs modernised mortally wounded Liverpool's ability to consistently compete at the top.

Leeds United were Liverpool's predecessors as England's leading club and spent years trying to live up to Don Revie's legacy after his departure in 1974. After the 44 days of Brian Clough's regime that framed David Peace's "The Damned United" and two unpopular managers in Jimmy Armfield and Jimmy Adamson, Leeds United repeatedly tried to re-conjure the magic, fading from view after consecutively turning to Revie's former players in Allan Clarke, Eddie Gray and Billy Bremner. The club only recovered its step once Howard Wilkinson, an outsider from Sheffield, arrived in 1988. Among Wilkinson's first moves was to remove memorabilia that celebrated the reign of "The Don." Leeds were title winners by 1992.

A similar tale is told at Nottingham Forest from the 20 years since Clough left the City Ground. Frank Clark, Stuart Pearce, Paul Hart and Gary Megson had all played for Clough; none could ever equal his success.

The continental model of clubs integrating former legends into the mix is rather different. Greats are welcomed home, but they are not necessarily offered the coaching reins. Most famous and long-serving of all is Uli Hoeness at Bayern Munich. In 1979, at 26, a knee injury finished his playing career and he became the club's commercial and general manager, remaining president to this day. He is joined in governance by former teammate Karl-Heinz Rummenigge, and until 2009 by Beckenbauer, with Paul Breitner, former Bayern defender, still serving as an advisor.

Real Madrid and Barcelona have found similar upstairs roles for their heroes. Until Jose Mourinho blazed in to the Bernabeu, Souness-style, Jorge Valdano was a director general at Real, and his former strike partner Emilio Butragueno remains vice president. Zinedine Zidane is the current director of football.

Yet Barca are the club that has probably made the most success of promoting from within. Pep Guardiola's first two titles as coach were won when working alongside Txiki Begiristain, the director of football who used to receive Pep's passes on the wing when they played for the club's "Dream Team" of the early 1990s.

It is difficult to imagine many British players of the present generation assuming quasi-corporate positions. However, the likes of Giggs, whose longevity surely owes much to an innate intelligence, might establish a new successful trend of clubs embracing the past to move with the times.