Eredivisie's finest a strikingly mixed bag
A couple of years back, Dutch forwards Klaas-Jan Huntelaar and Ricky van Wolfswinkel took part in a series of viral videos in which the two "punk" one another. In the first, Huntelaar kicked a ball up a ventilation shaft, and it dropped out of the other end to decimate van Wolfswinkel's full dinner tray.

Subsequently, van Wolfswinkel got his revenge by kicking a ball around a tree before it boomeranged and hit his Netherlands teammate in the face, and so on.

The videos were meant to poke fun at the pair's reputation at home; as center forwards who could score goals but do little else of value on the field. Outside the Netherlands, the reputation question is less nuanced: Can the Eredivisie's regular goal-scorers reproduce in Europe's more high-profile leagues?

That question also applies to Vitesse Arnhem's Ivorian striker Wilfried Bony, who could become the next Eredivisie alumnus in England. After rattling in 31 goals in 30 league matches last season, Bony has been closely linked with Swansea and West Ham. Given his mobility and fine all-rounded game, he should do well there.

However, history tells us that success is not a given. Middlesbrough's purchase of Afonso Alves is fresh in too many minds to mistakenly jump to that conclusion. Outside of the most exceptional talent to have come through the Netherlands in recent years, Luis Suarez, forwards that have left Eredivisie are a distinctly mixed bag.

Afonso Alves (Heerenveen to Middlesbrough, 2008)

Brazilian striker Afonso Alves arrived at the Riverside on the back of astonishingly prolific stints at three clubs in Sweden and the Netherlands, with Boro shelling out a club record £12.7 million for him.

You could see why – he had rattled in 28 goals in 39 games for Orgryte, 29 in 55 for Malmo and a ludicrous 45 in 39 for Heerenveen, where he was helped by the creativity of a teenage Miralem Sulejmani. During his spell in Dutch football, he made his debut for Brazil against England at the new Wembley, where some journalists from his homeland were unsure of who he actually was. But never mind that - what could go wrong at Boro?

Well, a bit, as it turned out. The more rumbustious style of defending in England seemed to throw him almost completely off his stride and, despite the promise indicated by two goals in a draw with Manchester United and a hat-trick in the 8-1 destruction of Sven Goran Eriksson's Manchester City, his time on Teesside ended with only seven goals in his last 33 games as Boro slid out of the top division. They sold him to Qatari club Al Sadd in 2009, making a significant loss on their initial outlay.

Verdict: Miss.

Ruud van Nistelrooy (left PSV Eindhoven for Manchester United, 2001)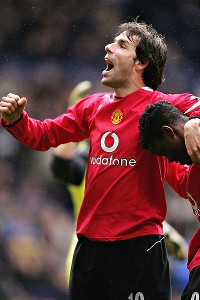 Michael Steele/Getty ImagesRuud van Nistelrooy overcame fitness concerns to bag 150 goals for Manchester United.
When van Nistelrooy finally arrived at Old Trafford in summer 2001, it must have been a huge relief for him. He had been set to complete a transfer from PSV Eindhoven 12 months earlier, but fitness concerns culminated in a serious knee injury and scuppered the deal -- anybody who saw the video footage of it will never forget his excruciating cry as the joint gave way.

The £19m fee eventually paid seemed a risk at the time, but van Nistelrooy quickly rubbished such concerns. He scored 36 times in his debut season and won the PFA Players' Player of the Year award. By the time he left for Real Madrid five years later, van Nistelrooy had bagged 150 for United.

Originally, van Nistelrooy had been another player criticized for having little to his game outside the box. It was actually his apprenticeship as a winger at Heerenveen that helped him develop his stellar movement. He later won two La Liga titles at the Bernabeu and spent time at Hamburg before retiring after a disappointing year at Malaga.

Verdict: A hit, simply.

Mateja Kezman (PSV to Chelsea, 2004)

Having broken the 30-goal mark in each of his last two seasons at PSV, Kezman arrived at Stamford Bridge to some anticipation. There was a sense that his £5m transfer fee could be a real bargain, especially considering that he would once again be paired with Arjen Robben, with whom he meshed so successfully in the Eredivisie.

Pure poachers had flourished on Jose Mourinho teams before -- notably the Brazilian forward Derlei at Porto, whose penalty winner at Deportivo La Coruna sealed the team's passage to the 2004 Champions League final -- but Kezman suffered at Stamford Bridge. He scored just four Premier League goals, and his heavy first touch seemed to indicate that he struggled to keep up with the Portuguese's training regime.

A series of unfulfilling moves followed, including loans to Paris Saint-Germain (which became permanent) and Zenit St Petersburg. To be fair, Kezman is still fondly by Fenerbahce fans, particularly for his role in the 2007 Super Lig triumph. Overall though, his performance has left something to be desired.

Verdict: Miss.

Klaas-Jan Huntelaar (Ajax to Real Madrid, 2009)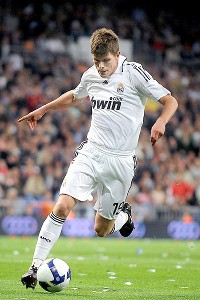 Denis Doyle/Getty ImagesKlaas-Jan Huntelaar didn't prove to be much more than a trick-shot artist until after stints at Real Madrid and Milan.
After failing to break through at PSV, with whom he made his professional debut, Huntelaar began scoring prolifically with Heerenveen after joining the Frisian club in 2004. Ajax spent an initial €9m to bring him to Amsterdam in early 2006, and he flourished, first alone and then in tandem with Suarez when the Uruguayan joined from Groningen 18 months later.

Three years and 105 goals later, Huntelaar joined Real Madrid but failed to make much of an impression in eight months there. He has rehabilitated his reputation at Schalke, particularly on the back of an astonishing 2011-12 season in which he hit 48 goals after building up his physique considerably.

For much of 2012, Huntelaar was linked with a move away from northwest Germany -- and potentially to Arsenal -- as his contract ran down, but signed an extension shortly before Christmas, tying him to the club until 2015. Huntelaar did, however, miss big chunks of last season because of injury.

Verdict: Qualified success.

Luuk de Jong (Twente to Borussia Moenchengladbach, 2012)

Blessed with considerably more craft inside and outside the penalty area than some of the other strikers to have graduated the Eredivisie, de Jong finished 2011-12 as one of the top scorers in the league, second only to Bas Dost of Heerenveen. His 32 goals in all competitions (25 in the league) earned him a long list of suitors. Gladbach eventually outlasted competition from Newcastle United and a protracted financial wrangle with Twente to sign him for a record €12m.

De Jong had a tough baptism with the Bundesliga side, getting stuck on the periphery of matches and scoring an unfortunate own goal in the Champions League qualifier loss to Dynamo Kiev. He told ESPN FC in February that he had found it difficult adjusting to the "pace and power" of Germany. But at just 22, with finishing versatility and flourishing technical gifts, de Jong could see a strong improvement in the coming season.

Verdict: More to come.