Reina must rediscover form or seek new challenge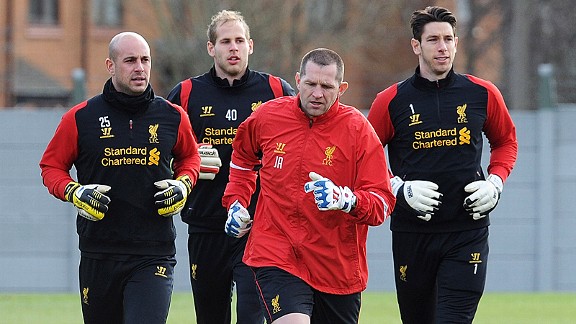 GettyImagesLiverpool goalkeeping coach John Achterberg has been unable to help Pepe Reina rediscover his form
Sometimes, it is possible to glean as much from what a person doesn't say as what they do. In assessing his goalkeeping options during the past week, Liverpool manager Brendan Rodgers left something very significant unsaid.

Rodgers has declared that he signed Simon Mignolet from Sunderland for £9 million to provide competition for Pepe Reina, not necessarily to replace him. The departure of third-choice Peter Gulacsi, Rodgers said, left him with only two keepers -- Reina and Brad Jones. "I felt we needed another one," he added.

There was something missing, though. Something that Rodgers said several times when Reina missed seven games with a hamstring injury last autumn. At that time, Jones impressed as a deputy, leading reporters to ask if the Australian might keep his place when Reina was fit again. "Listen, Brad's been terrific," Rodgers said on November 19 last year. "I've said before, and I'll repeat again, Pepe Reina's our No. 1 goalkeeper."

Rodgers isn't saying that now. And the subtle shift in his public position is not the only warning sign for Reina. Few observers expect Rodgers to stick a new £9 million goalkeeper on the bench. It seems unlikely that Mignolet would have left his regular first-team berth at Sunderland to be second choice at Anfield -- not when the Belgium international is almost certain to have a World Cup in Brazil to think about next summer. For the first time in his eight-year Liverpool career, Spain's number two goalkeeper is having to face the possibility of life as a back-up at his club too.

Even among those connected with Liverpool who acknowledge that Reina has had two poor seasons, there will be mixed feelings. With Jamie Carragher's retirement, the goalkeeper has become the second-longest serving member of the first-team squad at Anfield, behind only Steven Gerrard. And the Liverpool faithful do not need long memories to recall some outstanding Reina moments; a club-record eight successive Premier League clean sheets in his first season; penalty shootout heroics against West Ham in the 2006 FA Cup final and Chelsea in the following year's Champions League semifinal. In his first three seasons at Anfield, Reina won the Premier League's Golden Glove award, given to the top-flight keeper with the most clean sheets.

But Reina's form has dipped. There is a credible theory that he has suffered since the departure of Rafa Benitez in 2010. Benitez employed the two goalkeeping coaches who helped Reina to blossom during his first five years at Anfield; with Jose Ochotorena guiding him from 2005, and Xavi Valero from 2007. Neither Mike Kelly, who came to Anfield with Roy Hodgson, nor John Achterberg, promoted from the position of reserve and Academy goalkeeping coach in the summer of 2011, have been able to help Reina regain his best form.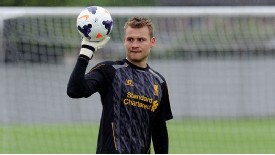 GettyImagesSimon Mignolet is hoping the move to Liverpool will help him to improve as a goalkeeper.
And yet a study of the mistakes Reina made last season suggests that a return to form should be possible. He is only 30, young in goalkeeping terms. His early season errors against Hearts and Arsenal appeared to be a result of concentration lapses rather than any decline in physical fitness or agility. And it was the same when he raced needlessly from his line at Manchester City in February, allowing Sergio Aguero to clip in an equaliser and salvage a 2-2 draw. Those are the type of errors that a top-class goalkeeping coach ought to be able to sort out -- if the will of the player is there.

Whether Reina can do that at Anfield is a question to be answered. Whether he wants to is another. His repeated flirting with Barcelona throughout the spring appeared to be as much about an understandable search for guaranteed first-team football in a World Cup year as it was about any romantic attachment to the club with which he started his career. With Barca's first choice Victor Valdes indicating that he will see his contract through to 2014 rather than leave this summer, that door has closed to Reina for now.

Rodgers has clearly not closed the door on him completely, though. The Liverpool manager, showing a flair for diplomacy that has served him well during his first 13 months at Anfield, has gone to great lengths in public to avoid casting Reina out into the wilderness, despite the signals sent out by Mignolet's arrival.

"Simon comes in and we've got great competition -- and when you've got great competition, it pushes everyone to perform," Rodgers said last week. In the manager's ideal world, an in-form Reina will be battling Mignolet all the way for a first-team spot. But only one of them can play -- and Reina is unlikely to settle for being a long-term spectator.