Time is right for Negredo to step up with City
For years Alvaro Negredo has been on the verge of many things: a move to England, a starting place in the Spain team and becoming a world-class striker. But so far none have come off.

Manchester City are currently weighing the option of taking the striker to the Etihad Stadium and they must be wondering why, at 27 years of age and after banging in 31 goals in 41 starts for Sevilla in all competitions last season, Negredo isn't on the shopping list of more big teams.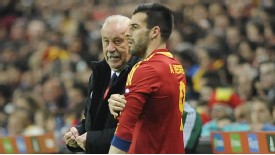 GettyImagesAlvaro Negredo has failed to fully win over Spain boss Vicente Del Bosque
On paper, he is a top striker and arguably he should have had more opportunities with La Roja. Since making his La Liga debut with Almeria in 2007 he has averaged 20 goals a season and been Sevilla's top scorer in the past three league campaigns. Negredo finished last season seventh in the list of Europe's top scorers behind Messi, Ronaldo, Ibrahimovic, Cavani, Falcao and Van Persie. Not bad company to keep. The difference being that Negredo's 25 league goals were scored for a mediocre Sevilla side that finished ninth in La Liga, and netted a total of 58 goals.

But as strange as it may sound, there won't be too many Sevilla fans disappointed to see the back of Álvaro Negredo, should he depart. Because, despite scoring nearly half of Sevilla's total goals tally last season, the striker has never really hit it off with the Sanchez Pizjuan faithful.

"Fans have always got on my back, not just here but throughout my career. I think that's just the culture in Spain. In England the fans are much more respectful, they don't insult their own players so much."

This is what Alvaro Negredo told me last season when I asked him about the Sevilla fans whistling him during home games. We were at the club's training ground on the outskirts of Seville. It was before Manchester City had made their interest in the goal scorer official, but Negredo was happy to talk about the possibilities of a move to the Premier League.

He said: "There was interest from England when I left Almeria, but at that time I wanted to carry on playing in Spain and making my name here. I didn't want to go from a team battling to stay up, straight to a big team in England. I wanted to take a step up and play in Europe first and if everything went well then who knew what would follow."

Negredo is good in the air, strong on the ball and deadly in the area so it's hardly a surprise that he's been continually linked with a move to England ever since he first started scoring goals in Spain's top flight. And it seems the striker himself believes that a move to the Premier League could benefit his game.

"I wouldn't mind playing abroad," he said. "I like the Premier League, I think it's a great league and I think my style of play is well suited to England."

Before the interview, while waiting to speak to Negredo, I started chatting to a couple of the Sevillistas who were watching the team train on a sunny Wednesday morning.

"Negredo just isn't as good as Luis Fabiano or Fredi Kanoute," I was told by a fan in sunglasses and a vest. "I just hope he doesn't beat either of their goal-scoring records. He doesn't deserve it."

While a bizarre and counterintuitive stance to take against your own player, this wasn't just the opinion of a Sevilla fanatic who'd turned up to watch a training session on a weekday, this really is what a large percentage of Sevilla's fan base thinks.

Part of Negredo's problem is the big boots he's had to fill. Kanoute is considered to be the best signing Sevilla have ever made and was a fan favourite after his arrival from Tottenham Hotspur in 2005. The former Mali captain had bags of class, an incredible first touch and appeared to have so much time that he often looked like he was controlling a balloon at a kids party, rather than a leather ball in front of 45,000 fans.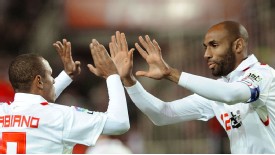 GettyImagesLuis Fabiano and Fredi Kanoute are held in higher regard than Alvaro Negredo among Sevilla fans
Luis Fabiano was hugely popular at the Sanchez Pizjaun too and both men led Sevilla to back-to-back UEFA Cup wins in 2006 and 2007. But that team was miles better than the current Sevilla side – Barça players Dani Alves and Adriano were still there for starters.

Negredo's arrival coincided with Sevilla's slip down the table and, as club president Jose María del Nido has recently been forced to admit, some bad signings. But despite the quality level around him dropping, Negredo continued to do the business. After scoring 14 times for Sevilla in a fairly average first season, the striker almost doubled that tally in his second campaign, smashing home 27 goals.

But it's not just the fans whom Negredo's been unable to convince; he hasn't managed to win over Spain manager Vicente del Bosque either. Despite scoring six goals in 14 games for La Roja, it seems the Sevilla striker is a long way from being a regular starter. But Del Bosque does seems unsure who should lead the line for Spain and you get the feeling that an exceptional season by one of their No. 9s - Villa, Torres, Soldado or Negredo - could see any one of them starting for Spain at the World Cup in Brazil.

Negredo can be frustrating and he will miss chances. He's certainly got a blunder or two in his locker, but he's also got goals to make up for it. If City fans get behind the striker, should he complete his move to the northwest of England, the 27-year-old could finally prove beyond doubt that he is world-class. And he might even get the chance to fire Spain toward another World Cup win next summer.