Fergie's shadow looms large for Moyes
OLD TRAFFORD -- It is a unique pressure on David Moyes. When he takes his touchline seat at Old Trafford for his first Manchester United home game, he will be able to look across the pitch and see a roof bearing the words, "Sir Alex Ferguson Stand."

The reminders are everywhere. Moyes is replacing the most successful manager in British club football history. A summer hip operation is likely to keep Ferguson away from the early matches of the new United era. But even if he isn't there in person, he will be there in spirit -- and Moyes knows it.

"Sir Alex will never go away," he said. "You can see his stand. You can see his statue. He's always going to be here."

How do you follow the man who managed Manchester United for 26-and-a-half years? How do you compete with a man who has 13 English league titles to his name -- as many as Arsenal have managed in their entire history? A man who has won the Champions League twice? Who has been the Premier League Manager of the Year 11 times?

In short, you don't. You can't. "Impossible," Moyes said. "To manage at this level for 25 years and have his success? I don't think there will be any other manager that does 25 years at a club such as Manchester United."

And yet Moyes must, at the very least attempt to continue the astonishing run of success that United have enjoyed under Ferguson. Otherwise, why take on the job?

As he faced his first press conference as United manager on Friday, Moyes explained exactly why he took it on. He wants to win trophies -- something he was never quite able to do despite overachieving on minuscule budgets in 11 years at Everton. He wants to test himself at the top table of world club football. He also took the job for another reason -- because Ferguson ordered him to.

In the first week of May, while preparing his Everton side for the Merseyside derby at Anfield, Moyes was summoned to Ferguson's home, in the Cheshire town of Wilmslow, unaware that he was about to get a job offer.

"I had no idea whatsoever," Moyes said. "A lot of people thought I'd known something about the job. I knew nothing at all about it until Sir Alex gave me a call and asked me to come to his house.

"I was expecting him to say: 'I'm going to take one of your players, or I'm going to do something else.'

"And we went in, and the first thing he said to me was: 'I'm retiring.' And I said: 'Yeah? When?' Because he was never retiring, was he?

"And he says: 'Next week.' And his next words were: 'And you're the next Manchester United manager.'

"So I didn't get a chance to say yes or no. I was told that I was the next Manchester United manager by Sir Alex.

"As you can imagine, the blood drained from my face, and I was really shocked -- more shocked that Sir Alex had chosen to retire.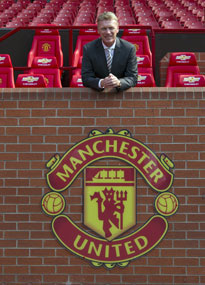 AssociatedDavid Moyes poses at Old Trafford after being unveiled as Manchester United manager.
"But inside, I was incredibly thrilled that I was going to be given the opportunity to manage Manchester United."

Moyes' work ethic, his ability to plan for the long term and his knack of building teams greater than the apparent sum of their parts have all been cited as factors in his emergence as Ferguson's choice for the job.

But it is a step up for him. His highest league finish with Everton was fourth, in 2005. His only Champions League experience was a two-legged qualifier against Villarreal that same year. The expectations at Old Trafford will be far bigger than they ever were at Goodison Park.

"All I can do is what David Moyes has done before," he said. And then, later: "I'm driven to try to succeed. But I'll not change myself. I hope I'll be the same person I was."

There was a sense, though, of Moyes reining himself in at his first press conference; of something approaching a charm offensive. When he was asked nine successive questions about Wayne Rooney's future, he patiently and articulately answered each one.

Those used to dealing with him during his Goodison days will know he has not always been so calm in such situations. For instance, after Everton's 1-1 draw at Stoke last December, Moyes responded to a reporter asking him a second question about Marouane Fellaini's off-the-ball headbutt on Ryan Shawcross with the riposte: "How many more questions do you want to ask me? What I don't want to give you is f****** two full pages of it. I've answered it as straight as I possibly can."

Some might call that rudeness, but it is the kind of steeliness that served Moyes well at Everton. That force of personality will be crucial to his survival in the Old Trafford cauldron.

In the meantime, he can call on Ferguson for advice. "I actually hope he is sitting in the directors' box, because he's been so good," Moyes said.

"I've already called him two or three times for some advice on matters."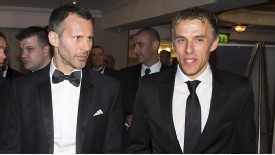 GettyImagesNeville retired at the end of last season, while Giggs will play on past his 40th birthday
The new manager has looked for continuity too, giving Ryan Giggs a player-coach role, bringing Phil Neville back to the club as part of his backroom team and offering Paul Scholes the chance to stay on.

Scholes turned down a coaching role in order to spend a bit more time with his family, but Moyes is keeping the offer open.

"Yeah. I've got to say that when I spoke to him, he was absolutely fantastic on the phone," Moyes said.

"He wanted to give me as much help as he could, he gave me some direction on some things, and I spent maybe an hour or two on the phone with him.

"He wants to give his family some time. But there will be a place for him. We'll look to bring him back in when he's ready."

Moyes' challenge is to respect Manchester United's past without being overwhelmed by it, and then to build their future. And as far as he is concerned, he has the support of the man who matters.

"I'm inexperienced in a lot of ways," Moyes said. "There were some brilliant managers who could have quite easily taken this job.

"But the biggest confidence boost I got was that Sir Alex Ferguson said to me: 'You're the next Manchester United manager.'"

United's supporters will hope that the blessing does not become a curse. But if Moyes gets it right, his own status as a managerial great will be assured.