Brazilian stars begin to embrace Premier League
Taking into account the recent additions of Fernandinho and Paulinho, although the latter's signing is yet to be made official, there are currently 17 Brazilian players plying their trade in the English top flight. When you consider that it was only with the arrival of Mirandinha at Newcastle United in 1987 that a Brazilian first graced English football, the upturn is quite remarkable. Indeed, it would take until the 1995 arrival of striker Isaias at Coventry City for a Brazilian to set foot in the Premier League - three years after its inception.

Iconic Middlesbrough attacking midfielder Juninho Paulista would change the perception of Brazilian players in the late 1990s, becoming the first of his countrymen to leave an indelible mark on the English game. However, while the likes of Edu and Gilberto Silva would continue his good work in the following years, the tales of high-profile failures such as Branco, Emerson, Mario Jardel and Kleberson would continue to give life to the myth that Brazilians were somehow unsuited to life in England - despite succeeding in virtually every footballing nation on the planet.

That situation, though, has changed somewhat over the last few years, with a raft of high-calibre players joining in a relatively short period of time. Since the arrivals of highly rated young midfielders Denilson, Lucas Leiva and Anderson in the space of 12 months in 2006 and '07, the tide has begun to change. English clubs were now signing players directly from the Brasileirao, while also securing what was considered top-level young talent. The moves represented a major shift in the relationship between English clubs and Brazilian players, with the likes of Robinho, Elano, Rafael, Fabio and even Jo all arriving in England over the next couple of seasons.

It is a trend that has continued, to the point that any given Brazil squad in recent times has been virtually guaranteed the presence of multiple Premier League players. Besides the three who played at the recent Confederations Cup, the likes of Ramires, Rafael and Sandro could all feel unlucky not to have earned a place in the squad for varying reasons. Beyond that, box-to-box midfielder Paulinho will also add to the ranks of Premier League players in Luiz Felipe Scolari's plans for the 2014 World Cup. So just what has changed to make the English league a viable destination for some of Brazil's leading footballers?

Firstly, there is an element of prestige involved. The Champions League continues to grow in importance and, over the past 10 years, the record of English clubs in reaching the latter stages has been highly impressive. The Premier League, also, has been relentlessly marketed the world over, making its brands (or clubs, as they were once known) and players some of the most recognisable in football.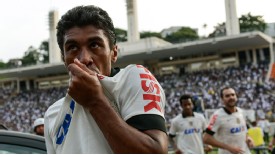 APPaulinho kissed goodbye to Corinthians and joined Tottenham in a £17 million deal.
As a consequence of that success, the Premier League has become the most financially powerful division in European football. While Spain and Italy would once have been automatic destinations for many Brazilian stars, all but a handful of clubs now find themselves unable to compete with the Premier League in terms of either wages or transfer fees. It is also worth remembering that the strength of the Brazilian domestic market has also increased in recent years, meaning that the fees involved have also markedly increased. Brazil, as a footballing power at club level, is beginning to hold its own once more.

The money in England has attracted some of the biggest agents in world football to establish strong roots in the Premier League, and Brazilian agents are no exception. Indeed, Brazilian football writer Paulo Freitas believes that this has now become the major reason behind the continued migration of Brazilians to the English top flight. "A new generation of agents has emerged with strong connections with England," he noted. "Giuliano Bertolucci is the most famous of them all, and he was involved in the negotiations of Ramires, David Luiz, Oscar and Lucas Piazon [all to Chelsea], as well as the arrival of Paulinho at Tottenham." Bertolucci and Portuguese super-agent Jorge Mendes, in particular, have certainly played their part in the increase in Brazilians arriving in England.

Agents, though, are largely interested in progressing their clients' careers, and thus future earning potential. For England to be considered a viable destination would indicate that either a change of style or attitude has occurred. In truth, it is a bit of both. Success stories such as Gilberto Silva have opened the minds of many to the English market, while the technical standards of the Premier League are certainly on the rise. This recent article by Miguel Delaney highlights the changing face of the Premier League, all of which only serves to make the division more attractive to Brazil's numerous technically gifted but physically slight attacking players. As the league evolves, the likes of Oscar and Philippe Coutinho have come to demonstrate the possibilities for like-minded players to reach the top of the English game.

So what is the dividing line between success and failure in England? A certain amount, of course, comes down to the approach of the respective side and its suitability for the player. But much of the battle is also inside the head of the player.

"An important aspect is professionalism. The Brazilians who are succeeding in England are highly professional," notes Luiz Paulo Chignall, agent of Tottenham midfielder Sandro. "I never worried about Sandro's adaptation. The biggest concern was to find him a good place to live, where he could be close to everything, and good food, to help him adapt to the culture and language." Sandro, who has become an important figure in Spurs' midfield under both Harry Redknapp and Andre Villas-Boas, is a player seen by many in his homeland as ideal for the English game, given his imposing stature and powerful approach. However, as with Gilberto Silva before him, he has helped to show that a side's defensive midfielder can be a player blessed with impressive technical ability - which has not always been the case in England.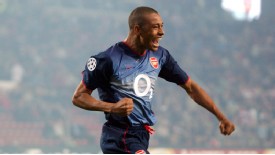 PA PhotosGilberto Silva's impact at Arsenal proved something of a catalyst for his Brazilian compatriots.
Indeed, it is Gilberto Silva whom Chignall cites as the inspiration for Sandro. "He is a person who was the same both on and off the pitch, and this is what the English like," he commented of the former Arsenal man. "Gilberto was a star in England, and that is what we hope Sandro can achieve also." Indeed, while it was Juninho who "opened the doors" to Brazilians in England, it appears it was the prolonged success of Gilberto with a side challenging for titles that really inspired his compatriots regarding moves to the British Isles. Indeed, Liverpool's Lucas has previously commented that it was Gilberto who "really confirmed that Brazilians could succeed in England."

The tide of Brazilians arriving in England has been led by these strong, powerful defensive midfielders - with Juninho being the one obvious exception. However, their success, as well as the highlighted changes in English football, have now opened the door for wing backs, attacking midfielders and even the country's much-maligned central defenders to try their hand successfully in the Premier League. It is now becoming more accepted that it is not the style of Brazilian footballers that prevents their success in England, but rather their ability to adapt to a change in wider culture - as Chignall suggests.

The one remaining box for English football to tick, then, is the arrival of a true Brazilian superstar. Robinho should have been that man, but saw his form dip substantially after what had been a bright start. While Neymar would appear to be off limits following his move to Barcelona, there is no doubt that the Premier League's biggest clubs will be keen on capturing his successor. Manchester United's partnership with the respected Desportivo Brasil academy clearly shows their intent, while Chelsea have also laid down a marker with the capture of Brazil youth internationals Lucas Piazon and Wallace. With the clubs more than aware of the potential commercial windfall that securing a world-leading Brazilian star could bring, there is little doubt that their hunt for the best talent in South America will continue to gather pace for some time yet.