U20 starlets strive for more attention in quarters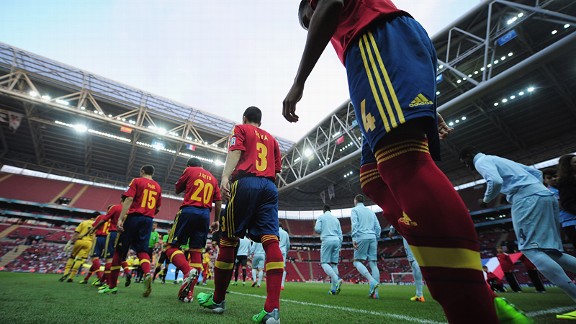 GettyImagesSpain and France walk out in front of a smattering of fans at the Ali Sami Yen Arena during the U20- World Cup.
ISTANBUL, Turkey - A new generation of political activists pouring onto the streets coincided with a new generation of young footballers bursting onto the international scene at the FIFA Under-20 World Cup in Turkey. But while the streets are full, there are not too many people heading to the stadiums to witness the latter.

Only 2,841 fans turned up at the Ali Sami Yen Arena for the tournament's opening game between France and Ghana on June 21. And although that number would double for the next game on the bill later that night, when favourites Spain faced the USA, it was still far too few in a 52,000 capacity stadium for what FIFA labels as its second most important tournament.

- Bate: U20 WC showcases best and worst

In fairness, football was hardly the most important item on the host's agenda in June, with the Gezi Park protests - which started out as a peaceful sit-in against a controversial city centre renovation plan and turned into widespread anti-government rallies after a heavy-handed police crackdown - taking precedence.

Furthermore, the U20 tournament had to share the headlines with another international event in Turkey, the 2013 Mediterranean Games in Mersin; a multi-sport event which started only a day before the World Cup. Then, in only a few days, the two events lost their already limited media coverage to the UEFA match-fixing hearing, and eventual bans for Fenerbahce and Besiktas, from the Champions League and Europe League respectively.

The numbers slowly improved over the course of the following match days and by the time Spain beat France 2-1 in the final round of group games the attendance figures had swelled. But that match was the most anticipated clash of the U20 World Cup and the Ali Sami Yen Arena was still only one-fifth full.

Home team support is crucial in these tournaments and Turkey's positive start helped the organizers' cause at first. Only a handful of people were there to witness Feyyaz Ucar's boys' 3-0 drubbing of El Salvador in Trabzon on June 22, three days before they lost to Colombia by one goal in Rize, in front of some 11,000 people, the tournament's biggest attendance until that day.

The fans came to support Turkey, but they stayed to watch Colombia's Juan Quintero. The classy attacker, who is on the verge of making his leap to the big stage with a move to Porto, delivered a beautiful performance to remind the watching few what this tournament is really all about.

And there is no shortage of other class acts at this U20 World Cup. France's Paul Pogba is an easy choice, but Les Bleus had Geoffrey Kondogbia and Yaya Sanogo as well; an intimidating line-up of threats for the opposition, but a joy to watch for football fans.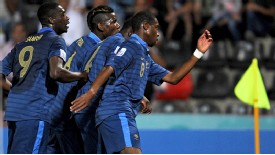 GettyImagesGeoffrey Kondogbia and his fellow Frenchmen will face Uzbekistan in the quarter-finals of the U20 World Cup.
However, the French team did not seem to click until the 4-1 round-of-16 victory over the hosts, which was played to a tournament-high 15,000 crowd in Gaziantep. Against Spain, for instance, the Frenchmen looked troubled and struggled to create chances, although happens to most sides that play Spain, at every age level.

La Rojita, whose U21s won the European title in Israel last month, look like continuing their domination, and rightly so. The continuity in their game is so impressive that one could easily mistake this youth team for the seniors, before paying closer attention. Jese is a fantastic finisher that could take Fernando Torres' spot in a year or two; Oliver Torres is a stunning midfielder in the blend of Xavi and Andres Iniesta and Suso is looking like a younger version of Xabi Alonso, unlike the energetic winger he is deployed as at Liverpool. Spain will meet free-scoring Uruguay in the quarter-finals, an unfortunate fixture for La Celeste.

While Spain and France look strong candidates to make their second meeting in the final on July 13, some other teams made strong impressions in terms of their young stars and the structure of their set up. Ghana upset Bruma-led Portugal 3-2 in probably the best game of the tournament, thanks to a late winner from Richmond Boakye. The Ghanaian player is one of the best forwards at the tournament, after leading Serie B side Sassuolo to top-flight during his season on-loan from Juventus. Coach Sellas Tetteh did not start Boakye, but the young player made the difference in only 15 minutes. Ghana face Chile in the quarter-finals, in a fixture that's tough to call.

South Korea, Iraq and Uzbekistan are surprise quarter-finalists and are products of good coaching rather than extraordinary talents. Whereas South Korea are already continuing success proven in senior World Cups, Iraq and Uzbekistan show signs of becoming potent forces.

Iraq combine a solid defence and an exciting goalkeeper in Mohammed Hameed with a brave attacking mentality. Uzbekistan boast a class midfielder in Jamshid Iskandarov, a solid defender in Maksimilian Fomin and an eye-catching in forward Igor Sergeev. The Uzbeks struggled to utilize all their weapons due to injuries and suspension but even if they all return it still may not be enough when they face France in the quarter-finals. The Iraq versus South Korea game promises to be the most entertaining quarter-final and will lead the way to an Asian semi-finalist.

Eight countries from four confederations promises to make for a great finish to an exciting tournament. Here's hoping that there will be more people in the stands to witness the starlets as they strive to make an impression on the big occasion.