Summer of opportunity beckons for Arsenal
Arsenal may never have a better chance of reclaiming the Premier League title than they do in the upcoming season. By May, a decade will have passed since their last top-flight crown, the unbeaten season that was one of English football's greatest ever achievements.

From invincibility to the ignominy of becoming an also-ran has been the downward trajectory. This was once considered unacceptable in the club's Marble Halls, but it has become so. The celebration of last season's fourth place was unseemly, even if it was an opportunity to lord it over Tottenham Hotspur. For a club like Arsenal, fourth is a bare minimum. Finishing a place below that all but constitutes relegation for a club of such scope.

- Mangan: Arsenal's land of new hope

London's Gunners are even more the establishment club now that Manchester United are under new management, and Chelsea have turned back on themselves with the return of Jose Mourinho. Manchester City are now led by Manuel Pellegrini, a coach without a trophy in Europe to his name. Stability has a chance to strike against the force of change but it will cost serious money to achieve that.

One of the calendar events of the London-based football reporter in recent years has been Arsenal's October Annual General Meeting. It becomes a stormier event year on year. Shareholding fans ask why their club is no longer competing for honours, as majority shareholder Stan Kroenke and chief executive Ivan Gazidis skirt the issues with evasive business-speak. Wenger, still beloved by the majority, has twice had to stop the event descending into a cat-calling rumpus by employing the common-sense diplomacy that marks him out from most in football.

Last October's AGM saw Gazidis plant a seed that needs to grow fruit.

"The landscape of football is moving in our direction," he said. "We are at the forefront of clubs across England and Europe striving to bring the pointless spending race of recent times to an end. Financial Fair Play [FFP] principles are gaining ground not only at European level but also within the Premier League itself.

"As a result, I am able to state with confidence that as a consequence of this ambitious transformation in the next two years Arsenal will have the financial resources to be able to sit and compete among the leading clubs in the world."

A recent kit deal with Puma, worth a potential £34 million a season, and a sponsorship renewal with Emirates which increases from £5.5 million per season to £30 million, places a total extra £50 million in the coffers each term. These are the type of transactions that Gazidis has spoken confidently of landing for a couple of years, but such are the economies of scale in European and English football that those funds must be spent to sustain competitiveness. Other clubs are already spending far beyond Arsenal's new riches.

Events at PSG and Monaco would bring into question that FFP can ever gain the ground to be a cast-iron guarantee of Arsenal's future success. Manchester City, the club whose Arab cash injection baulked Arsenal down a level, have already spent £45 million on Fernandinho and Jesus Navas, missed out on paying for £23 million for Isco, and circle megabucks acquisitions like Edinson Cavani and Robert Lewandowski.

The rhythm of an Arsenal season has become predictable. Hope and expectation burn brightly, only to be slowly extinguished. The calls for Wenger to finally vacate his position grow louder as each trophy chance is squandered, only for him to engineer a redemptive run to the safe European home of a top-four position. He is nothing if not consistent. Last August, some fine defensive performances had many vouching for Arsenal's challenge, before a late-September defeat to Chelsea signalled old problems that would derail a title push.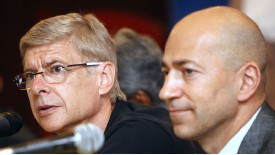 APArsene Wenger and Ivan Gazidis have not delivered what they promised at the start of the summer.
This time, there is a variable. PSG have made little secret of their aim of luring Wenger to the French capital. It is suggested as the reason they struggled to replace Carlo Ancelotti until Laurent Blanc was handed a one-year rolling deal. Wenger was evasive when asked about PSG in April; he has a contract, he said simply and pointedly.

He has completed one purchase so far, if a free transfer can be considered as such. Auxerre's France youth international forward Yaya Sanogo, while sounding like a Hall & Oates-sampling De La Soul hit, is a classic Wenger signing; a rough diamond from Ligue 2 requiring industrial polishing.

Sanogo is neither Wayne Rooney nor Luis Suarez, to name two linked star players in a summer when we are assured Arsenal will at last break their transfer record. Bordeaux's Sylvain Wiltord, in 2000, cost an initial outlay of £13 million, a summer when Wenger was among the biggest spenders in the game. Lauren, Robert Pires and Wiltord arrived in a spree barely emulated since, the financial reasons lying in the luxury Emirates Stadium that Wenger's team call home.

Gonzalo Higuain is the player to break the Wiltord threshold. A gold-standard goal scorer has been missing since the departure of Robin van Persie. Theo Walcott, Santi Cazorla, Olivier Giroud and Lukas Podolski shared 48 Premier League goals between them to replace the Dutchman's hauls, but better finishing is definitely required.

Higuain, whose move to Arsenal will crash the £20 million barrier, presents some risk. The Argentinian has an excellent strike rate at Real Madrid, but do Real ever let players they want to keep go? Higuain is a pure finisher in the sense that he rarely over-involves himself in build-up play. Wenger has not been so lucky with the type of forward he gifted the term "fox in the box." Eduardo suffered a broken leg, and Francis Jeffers was an expensive flop.

Deeper reinforcements are required beyond the strike force: Thomas Vermaelen's decline hastens the need for a commanding centre half; a central midfielder with bite is needed now that the Abou Diaby experiment is surely at an end; a title-challenging team needs a goalkeeper of greater mental strength than Wojciech Szczesny; Bacary Sagna, a decent servant reaching his end, needs a more reliable replacement. Perhaps most of all, after years of painful brain drain to Barcelona, City and United, stardust is required to lift the habitual gloom of resignation that can too often fill the Emirates atmosphere.

Such an expansive shopping list will cost serious investment of the type not yet lavished by Arsenal. This must be the summer that the club strike for credibility, to send a message to fans and rivals alike of a readiness to challenge for top honours once more.