Neymar's unique style a welcome change for Barca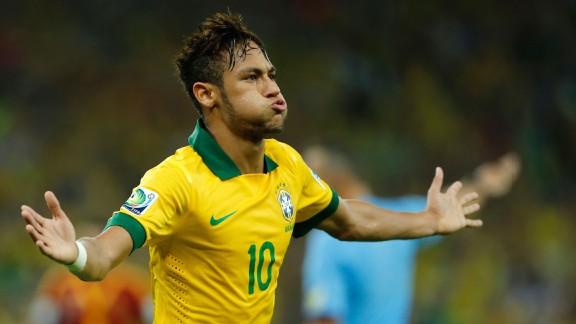 APNeymar's performance in the Confederations Cup final removed any doubts about his potential to perform on the world's biggest stage.
In a single moment, the most significant question of all was crystallized. As Neymar powered the ball past Iker Casillas in the 44th minute of the Confederations Cup final, in fact, it was amazing to think that the Brazilian's mentality against the elite international sides was once debated. This was a strike of such stunning ferocity that it was clearly devoid of doubt or hesitation.

• Marcotti: Brazil's travel challenge
• Duarte: Deal with Brazil hosting World Cup
• Tomas: Barca's defensive dilemma
• Vitoria: Barca's next evolution

It was the ultimate statement of intent, beautiful in its sheer brutality.

It was also, most importantly, in stark contrast to the ponderousness at the other end of the pitch.

While Spain kept waiting for the right moment, Neymar simply went and made his own. The difference was illustrated in the minute before that goal. Whereas Pedro had squandered the opportunity for a Spanish equaliser by allowing David Luiz to get back and clear, Neymar promptly took everyone else out of the equation.

The most intriguing aspect of Brazil's 3-0 win in the long term, though, was how it immediately inverted the entire narrative.

Prior to that showpiece in the Maracana, Spain were the benchmark, Neymar the pretender. Now, questions abound about whether the Spanish style has finally been figured out, while the Brazilian has seemingly answered every criticism.

Except, in a few weeks, we will reach the next twist in that narrative. Neymar is set to be integrated into that style, at Barcelona. The most controlling team in the world must incorporate the game's greatest wildcard.

It was a contrast alluded to in Johan Cruyff's otherwise contentious comment about the €57 million signing.

"No, I wouldn't have signed Neymar," the Dutch master said recently. "With Neymar on board, I would [have] planned for the possibility of selling [Leo] Messi."

While Cruyff's words have been interpreted as everything from a dark indication about the Argentine's future to a sly dig at Barca president Sandro Rosell, he did touch on a fundamental truth about the Catalan side's style.

Messi's focal position in that team is essentially the ultimate evolution of Cruyff's ideal of Total Football. He is the finest example of an individual able to express himself within a defined collective structure.

That is evident in virtually everything Messi does. As much as the Argentine astounds with his ability, it could not be said he is flashy or indulgent. He doesn't so much beat players with tricks, but with purposeful and efficient moves forward. Every touch has a design. It is what Dennis Bergkamp once described as the "difference between skills and functional skills." There is a hermetic and clinical nature to Messi's play.

The same could never be said of Neymar. In fact, one of the lingering fears in Brazil about the move is that the European game may prematurely take that rousing rawness off his style. In that, it's intriguing to think where he'll fit in.

There is a possibility, it must be admitted, that the transfer will represent another Zlatan Ibrahimovic for the Catalans: an individual who too greatly distorts the team's style to the detriment of both.

Alternatively, this may end up fulfilling the intentions of the Ibrahimovic transfer four years later.

At that time, for all the eventual issues with the Swede, there was a logic to Pep Guardiola's purchase.

Anticipating the way in which opposition sides were starting to adjust to Barca's passing-pressing game with deep defending, the coach sought to pre-emptively outmaneuver teams with another angle of attack. It was the same rationale that led to Vicente Del Bosque experimenting with no identifiable forward at Euro 2012.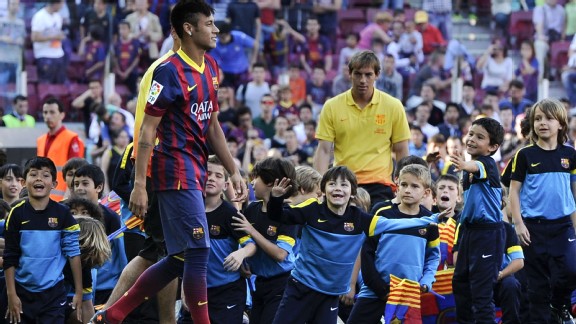 GettyImagesNeymar's celebrity is as alluring as his talent at Barcelona


The issue was that Barca's game was still functioning so well, with Ibrahimovic's manner of playing only disrupting the flow. Quite simply, they looked much more dynamic when he wasn't in the team, with the supreme 2010-11 season illustrating how the Catalans should have gone for David Villa in the summer of 2009 instead.

Now, that same flow is no longer evident in Barca's game. Although an inherent rhythm to their approach ensured they still won the domestic league, a drop in their overall level was repeatedly revealed in Europe.

This is the point being missed in the sweeping pronouncements about the demise of the Spain/Barca philosophy. It is not that opposition sides have worked them out, it's that they are no longer applying their approach with the same intensity. Five years of continued success at all levels have inevitably led to a certain staleness, removing that extra edge and resulting in the ponderousness shown when many of them played for Spain.

It is the dilemma that every coach of a successful squad has faced, and one that Sir Alex Ferguson and Bob Paisley proved particularly adept -- and brave -- at handling. There is a fundamental risk in attempting to make the changes required to reinvigorate a team but instead removing the qualities that make them fundamentally competitive. The big problem for Barca is that risk is even more pronounced than for Ferguson in 1995 or Paisley in 1981. It is extremely difficult to make alterations of sufficient depth without doing the unthinkable and removing one of Xavi, Andres Iniesta or Messi.

That, however, is why Neymar's signing may prove so significant.

The Brazilian allows Barcelona to retain their overall structure, but still offers sufficient spark and unpredictability to restore the vitality of the team. He is that much of an innovator. What's more, he offers the first true variation in the club's attack since a fully-fit Villa proved so important in that 2010-11 campaign.

With opposition sides having increasingly focused on Messi in the past two seasons -- to different degrees of success -- they now have a completely different outlet.

As proved in the Maracana, meanwhile, Neymar also poses a completely different question.