Brazil-Spain final revealing in many ways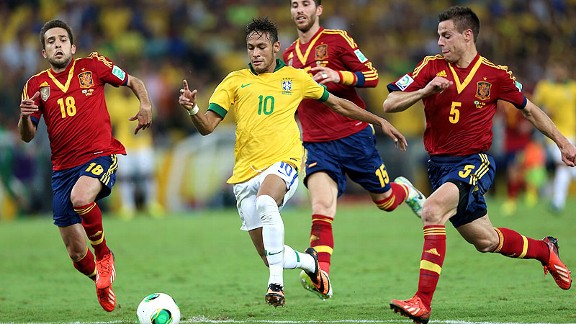 Jasper Juinen/Getty ImagesSpain's defense has some catching up to do if they want to possibly avenge their defeat to Neymar and Brazil next summer.
Easy to pour cold water on Brazil's triumph over Spain amid protest and unrest outside on the streets of Rio last Sunday.

After all, it was "only the Confederations Cup". Right?

Brazil were swept along on a tide of emotion and a burning desire to prove they are back swimming with the big fish of world football. Right?

And Spain were tired and had fans back home saying the players should have been resting this summer. Right?

Wrong.

While this was supposed to be a dress rehearsal for next year's World Cup, Spanish coach Vicente del Bosque must have flown home with several worries nagging in his mind about his champions.

Brazil (and to some extent Italy before them in the semifinal) provided a template for coaches all over the globe on how to go about disarming the pass masters.

They were bold, aggressive, and showed a healthy desire to ruffle some aristocratic feathers.

Pressing with great energy and biting into tackles high up the pitch, the Brazilians simply refused to let Spain pass their way out from the back.

- Cox: Brazil-Spain a lesson in tactical fouling

They turned every blade of grass into a battleground and won.

And in doing so, they demonstrated that Spain's rarely-tested defence is really quite fragile when attacked by a potent attack, including the in-form Fred and Neymar, who lived up to all the hype in a stellar tournament.

Perhaps Sergio Ramos and Co are out of practice at having to man the barricades -- but they struggled badly.

Right back Alvaro Arbeloa, in particular, looked vulnerable and might do well to hold his place after a nightmarish display in Rio.

Further forward, the normally imperious trio of Xavi, Sergio Busquets and Andres Iniesta were harried and hassled out of the game. You can bet on the fact that other teams will be encouraged to do the same.

Plus, Spain still can't decide on what to do up front. They abandoned the "false 9" tactic from the successful Euro 2012 campaign in Brazil.

Valencia's Roberto Soldado started the tournament and scored, then picked up a knock and Fernando Torres returned with some cheap goals against Tahiti. But in both the semi and final he continued to look half the player he once was.

In short, Spain have lost that aura of invincibility and Del Bosque can no longer sit and watch the bus drive itself.

You can argue that this was a blip. But it looked like something more significant, even if other less talented teams than Brazil will struggle to make the risky "high pressing" game work in the same way.

As for Brazil, the pressure is off coach Luis Felipe Scolari and the nation believes this team might be able to provide the home victory a troubled nation craves next year.

The blend of silk and steel looks good with the impressive Spurs-bound Paulinho and Bayern's Luis Gustavo providing the base for the front four of Hulk, Oscar, Neymar and Fred.

A defence of Dani Alves, Thiago Silva, David Luiz and Marcelo looks good enough, if not exactly water-tight.

Some stats lie. Others don't.

I suggest the one that says Brazil has not lost a home competitive game since 1975 is one well worth heeding in any assessment of what might happen at the World Cup.

What happened at the Confederations Cup, played at high intensity by all the teams, might prove a turning point in the history of world football in the modern era.