Lyon's Aulas confident his new maths will add up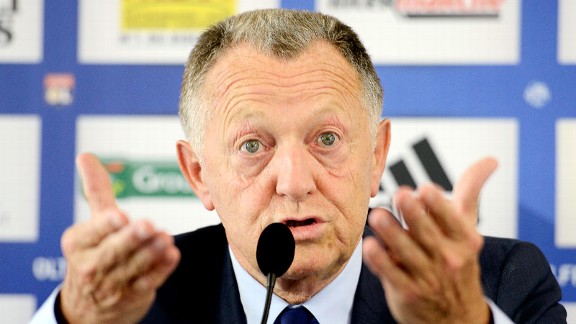 PHILIPPE DESMAZES/AFP/Getty ImagesLyon president Jean-Michel Aulas has no doubt his financial management will ensure the club remains a force in Ligue 1.
When Lyon took a €5 million cheque from Monaco last weekend for Anthony Martial, a 17-year-old striker who had been lighting up their youth team, it appeared a classic case of a club with the finances of a sovereign state lauding it over a needy rival.

In a sense, it was. Lyon required funds before the close of the financial year June 30 to satisfy the stock market. However, the club's unusual step of issuing a press release to justify the controversial sale was not only an immediate attempt to appease the passions of outraged fans, but also reaffirm "its determination to continue its sporting development around young players who have come out of the youth academy".

The new policy has been instigated by club president Jean-Michel Aulas, who took OL from Ligue 2 also-rans to Ligue 1 frontrunners since taking over in 1987 upon the recommendation of Bernard Tapie. Having made his fortune producing software for business accounting, Aulas, 64, is a man who knows his profit-and-loss columns. He is determined the clubs' books, which he admitted were some €25 million in the red in October, will now be balanced by careful husbandry and homegrown talent.

It is a stark contrast to the first decade of the millennium, when OL not so much dominated French football, but ruled autocratically over it. The brightest and best of their Ligue 1 rivals were cherry-picked, such as Michael Essien, Florent Malouda and Eric Abidal, before being sold on handsomely, with their talents complemented by Brazilians of the ilk of Juninho Pernambucano and Cris.

It was a recipe that supplied seven successive French titles, and installed OL as perennial participants at the 'squeaky bum' end of the Champions League.

Any binge is followed by a time of necessary fasting, though, and Lyon's drastic diet arrived after the three-year tenure of Claude Puel. Though the spending did not stop -- €70 million was splurged in summer 2009 alone after the sale of Karim Benzema, one of the rare youth academy talents to establish himself in the first team during the decade, while Yoann Gourcuff joined a year later for €22 million -- the success did. The waning fortunes on the pitch mirrored those in the club's accounts just when la crise -- 'the crisis', and catch-all French word for the global financial meltdown -- was biting.

The turning point came with Puel's unsightly departure in summer 2011, and the appointment of former Arsenal midfielder Remi Garde, who had no previous coaching experience but had been at the club for eight years, most recently as youth academy director. Who better to know who to bring through from the club's kindergarten to play with the big boys, and when?

A Coupe de France triumph followed in Garde's first season, which was followed by Aulas' now legendary Cantona-esque declaration about "pharaohs and dinosaurs" who had poisoned the dressing-room atmosphere and contributed largely to OL missing out on Champions League football for the first time in more than a decade, hurting those precious finances further. Departures, notably those of Hugo Lloris (not targeted by Aulas' criticism) and Cris, Kim Kallstrom and Aly Cissokho (who were) followed, and Garde's youthful side showed no ill effects as they deservedly claimed third place and a return to European football's top table.

That success has only strengthened Aulas' resolve to stick to his party line, one that he already enjoyed a reasonable rate of return from in establishing OL in Ligue 1 in the 1990s with the likes of Florian Maurice in the team. Lyon were even named the club with the best youth policy four times in the early years of Aulas' 26-year presidency. But the last of those came in 1997, though with €7 million now being pumped into the club's youth structure annually, he may not have to wait much longer for further recognition.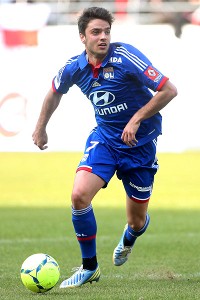 John Berry/Getty ImagesAulas has made it clear Clement Grenier is one of Lyon's core players.
Prime examples of the direction in which the club is now headed are Bafetimbi Gomis and Clement Grenier, who find themselves at opposite ends of Aulas' 'back-to-basics' philosophy this summer. With youngsters such as Yassine Benzia and Clinton Njie waiting to make a name for themselves in the first team the way another youth academy product, Alexandre Lacazette, did last season, and Lisandro Lopez eager to revert to his favoured central striking role, Aulas wants to cash in on Gomis -- last season's leading scorer, with a year left on his contract -- and get a return on the €15 million paid to Saint-Etienne for him in 2009.

Incredibly, the club even went as far as to blame Martial's sale on Gomis' refusal to leave the club in a tone that mirrored that used when they publicly regretted Jimmy Briand's mooted move to Monaco breaking down in January.

Grenier was almost sold to Nice last summer in an attempt to encourage Gourcuff into recapturing the form he showed in inspiring Bordeaux to the 2008-09 title and finally allow OL to claim they had not overspent in signing him. Instead, it is Gourcuff who had to fit into the team around Grenier last season, and could well find himself leaving the Stade de Gerland this summer.

While Aulas has openly criticised Gomis via Twitter and elsewhere, he has been equally outspoken in his determination to persuade youth academy graduate Grenier, whose performances last season earned him international recognition and an offer from Arsenal, to extend his contract beyond 2014. Captain Maxime Gonalons, who joined the club at 11, had an equally protective paternal arm thrown round him when reports surfaced of interest from Napoli last month.

Not that Lyon have entirely turned their back on experience, though this summer's acquisition of Gael Danic, a solid if unspectacular Ligue 1 performer, for less than €1 million and last year's free signing of Steed Malbranque -- actually an OL youth academy player -- are indicative of the tight grip Aulas now exercises on the purse-strings.

It is also no coincidence that Aulas' Realpolitik is being employed just as his pet project, Lyon's new stadium, the Stadium of Lights, also requires financing, a healthy chunk of which will come out of the president's own pocket. However, Aulas' track record means he is confident in shrugging off criticism, as he did via Twitter following the sale of Martial.

"If it allows us to keep Clement, [Gonalons], Samuel [Umtiti], Alexandre, Gueida [Fofana], Yassine and the others... You have to be lucid and choose," he tweeted, betraying the implacable logic that, the Puel years aside, has been the hallmark of his presidency. "I think that I've shown in the last 26 years that the mistakes were rare and the success recurrent. I'll thank you to trust me."