Brazil 2014's travel challenges will offer lesson in distance learning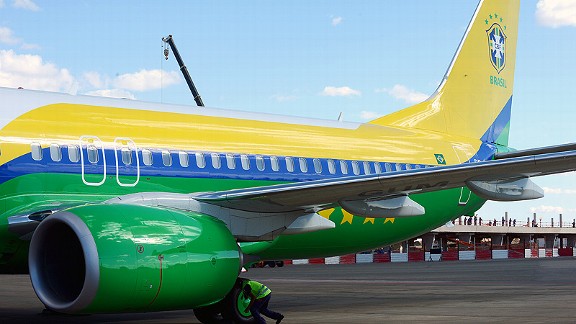 Evaristo Sa/AFP/Getty ImagesBrazil 2014 has the same number of host cities as did Germany in 2006, but day trips will be out of the question.


With the Confederations Cup dress rehearsal over, it's as good a time as any to reflect on some of the challenges the 2014 World Cup will present to fans and teams alike.

First, a caveat. There is no such thing as an "ideal" World Cup in terms of playing conditions and logistics. In fact, it's not really the point. The idea is that the World Cup should reflect, to some degree, the host nation, while also maintaining certain minimum standards as far as facilities and infrastructure are concerned.

With that in mind, Brazil will still be very different from South Africa 2010 or Germany 2006. There are no two ways about it.

Brazil will feature 12 host cities, only three more than South Africa and the same number as Germany. But there's a major difference.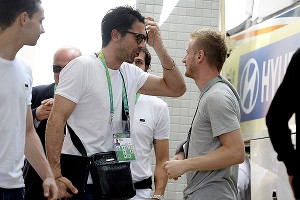 Claudio Villa/Getty ImagesTeams such as Italy should prepare for plenty of air time at next year's World Cup in Brazil.
In previous World Cups, the venues were clustered. There were two venues in Johannesburg and another in Pretoria, just an hour away. In Germany, you had Gelsenkirchen, Dortmund and Cologne all within an hour's drive. Frankfurt and Kaiserslautern were eighty miles apart.

The shortest distance between venues in Brazil will be the 250 or so miles that separate Curitiba from Sao Paulo. (Sao Paulo to Rio de Janeiro and Rio de Janeiro to Belo Horizonte are marginally farther apart.) That may take a little over four hours on a German Autobahn and a little less than that on a high speed train, but neither applies to Brazil. Realistically, you're looking at more than five hours (sometimes much more, depending on traffic) which rather rules out the possibility of a day trip. You have to fly.

Indeed, this won't exactly be an environmentally friendly competition, as you'll need to spend a lot of time in the air to get to games. This is also why, incidentally, a lot of time and money has gone into upgrading airports.

The reason for this layout was to ensure that the more far-flung parts of Brazil were represented, which meant building entirely new stadiums in Cuiaba, in the Western edge of the country, and Manaus, up in the Amazon rain forest.

You can see both sides of the argument. On the one hand, had Manaus and Cuiaba not been included, a huge chunk of the country would not have been involved in the World Cup. Nearly two-thirds of Brazil would have been nowhere near a game.

The flip-side, though, is whether this matters. The biggest club in Manaus -- and the team that will move in to the Arena Amazonia when it's finally complete -- is Nacional, who are outside the first four tiers of Brazilian football. That means there are at least 100 clubs above them in the Brazilian pyramid. They finished last in Serie D, the fourth tier, in 2011. Cuiaba's biggest clubs, Cuiaba Esporte Clube and Mixto Esporte Clube, are in Serie C and Serie D, respectively.

The game is obviously as popular in these parts of the country as it is elsewhere. But if you value history and heritage, these are backwaters by Brazilian standards.

To be fair, the history of the game in Brazil is heavily skewed toward certain parts of the country: Sao Paulo and Rio states, Rio Grande do Sul, Parana and Minas Gerais. Sixteen of Brazil's 20 top-flight clubs hail from one of these regions.

What this means, though, is that 2014 will be more like
a qualifying campaign for most teams, albeit one where you never play at home. They'll stake out a training base somewhere and then simply fly between the different venues. Because it's unlikely anyone will play in the same city more than twice (and, in many cases, just once) you won't really have a "home ground." Instead, you'll have to deal with travel and differences in climate.

Take whichever nation gets drawn as team "F4." They get to play at 4 o'clock in Curitiba on June 16, where average temperatures for that time of year range from 10 to 19 Celsius, or 50 to 66 Fahrenheit.

Their next game is in Cuiaba on June 21, a two and a half hour flight away (actually, there are no direct flights, but you assume they'll sort out a charter), where the average temperature ranges from a low of 19 to a high of 31 Celsius, 66 to 88 Fahrenheit. And then it's back south on June 25 to Porto Alegre, where the average temperature ranges from 8 to 19 Celsius, or 46 to 66 Fahrenheit.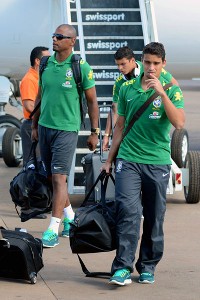 Evaristo SA/Getty ImagesEven host Brazil would deal with a minimum travel distance of 250 miles, which is why choosing the right World Cup base is essential.
Or how about the lucky folks currently known as E4? They get to swap the chilly confines of Curitiba for -- after a five hour flight -- Manaus, where the humidity is 99 percent and the temperature ranges from 23 to 32 Celsius, 73 to 90 Fahrenheit.

It's easy to say it will be hot (or cold) for both teams. Easy and true. But a team going from hot to hot will suffer less than one going from cold to hot. And that's before you throw in the fact that some teams will have an extra day of rest, simply because of the way the schedule works.

From my, albeit limited, experience at the Confederations Cup -- eight flights in 18 days -- I don't share the concern some have over Brazil's aviation and airport infrastructure. Most have been refurbished and those that haven't seem to be in good shape. But obviously, it will be a different experience from the easy train rides of Germany or the relatively brief hops in South Africa (especially given that the latter is a far smaller country, which not only means shorter flights, but less crowded airports).

All this points to one key fact for the 32 participants in the World Cup. Choosing the right base for training camp will be essential. Get it wrong and you could pay a high price, the kind that costs you dearly on the pitch.