Summer business better never than late?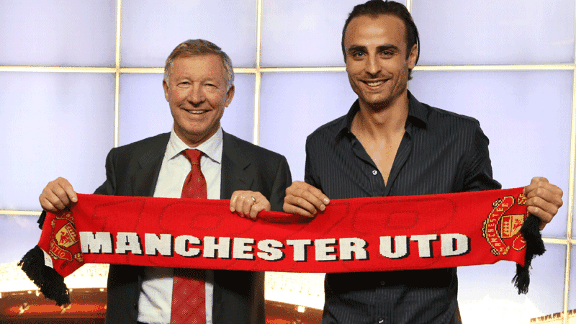 GettyImagesSir Alex Ferguson's signing of Dimitar Berbatov was one of the most dramatic end-of-window signings ever seen back in August 2008.
The transfer window is rarely convenient. Its closing summer madness takes place when a season is already in full swing, and January's desperate supermarket sweep is yet more distracting.

When it blasts open in July, pre-season training is just beginning. A manager may find himself alternating between overseeing shuttle runs and reaching for his BlackBerry to find out the latest from a target's agent, but the aim of most clubs is to get business done as early as possible. He who hesitates is often lost.

David Moyes is now in situ at Manchester United's Carrington training ground. The new club released those rather rictus PR pictures of him sitting in an airy new office, with his window overlooking the training pitch. The first press conference is keenly awaited, but there is likely to be something missing.

To take the heat off, United's aim had been to unveil Moyes at the same time as a couple of big signings. The labyrinthine tax and legal machinations that surround the Thiago Alcantara deal have prevented that, as has PSV Eindhoven digging in their heels to keep Kevin Strootman.

As it is, Moyes may be accompanied only by Wilfried Zaha, a player he did not actually sign, and whom it is rumoured may even go back out on loan. The best-laid plans of Moyes and his men have hit a snag.

The widely accepted practice of leading clubs is for a manager to draw up a list of transfer preferences. Roberto Mancini's constant grumbles last season drew from Manchester City's failure to land his A-list. Robin van Persie had been shown round Alderley Edge and Prestbury, the Cheshire villages of choice for millionaire footballers, and was expected to sign once he returned from Euro 2012.

It did not come to pass. Van Persie does now live in Cheshire but does not play in blue. Mancini harrumphed his way through last season, having to settle for a strike force that, between Mario Balotelli, Carlos Tevez, Edin Dzeko and Sergio Aguero, cost around £140 million. The likes of Scott Sinclair, Javi Garcia, Jack Rodwell and Maicon were all signings from the C-list and possibly below. Garcia and Rodwell were not Daniele De Rossi, whom Mancini wanted most of all in midfield. Sinclair and Maicon in particular had the look of late-night impulse purchases, and were treated largely as unwanted tat too.

The dream ticket is to get the big signings done, unveiled at the press conference and into the first day of training camp. Next comes bedding them with the lads and the banter on the pre-season trip that every major club must undertake. Moyes will not be accompanied to Asia and Australia by either Thiago or Strootman, and Arsene Wenger, who resisted these gruelling trips for years, preferring Alpine retreats, finds himself on a third consecutive Asian tour, hoping to get Gonzalo Higuain signed in time for a flight to Jakarta.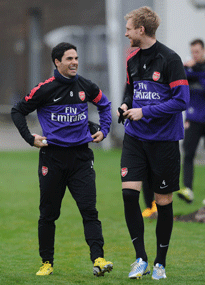 GettyImagesTrolley dash: Mikel Arteta and Per Mertesacker were among Arsene Wenger's glut of deadline day signings in 2011.
Wenger knows well the pitfall of the trolley dash. The great panic of late summer 2011 that followed an 8-2 defeat at Old Trafford saw the scattergun signings of Mikel Arteta, Per Mertesacker, Yossi Benayoun and Andre Santos. Arteta slotted pretty much straight in, but Mertesacker took his time, as foreign defenders arriving into the Premier League often do.

It took the German 18 months to settle into English football, but that development would surely not have been hindered by a pre-season with his new club before being thrown into competitive action. Back on the transfer window's craziest day of dealing in England, the evening of August 31, 2008, the headline-makers were Robinho, to Manchester City for £32 million, and Dimitar Berbatov, to Manchester United for £30 million. Neither could be said to have enjoyed wholly successful 2008-09 seasons. Both players started well enough, only to fade later on.

Can a player, no matter how gifted, buy into his new club's philosophy at such short notice? Compelling evidence suggests not. Even Van Persie, who joined United just three days before his debut at Everton on August 20, 2012, eventually faded. At United, he had missed the conditioning training, developed by Rene Meulensteen, engineered towards players hitting their peak in that March-April-May business end when trophies are secured.

Below the elite, certain managers have a propensity to leave their business until late. Martin O'Neill was such a manager, going back to his time at Celtic, where group-stage European qualification was a prerequisite for a transfer budget. By the time O'Neill was at Sunderland, leaving it late proved to be a dangerous ploy. He entered the 2012-13 season with only Carlos Cuellar as a new addition, before then splurging £22 million on Adam Johnson and Steven Fletcher once the season had already kicked off.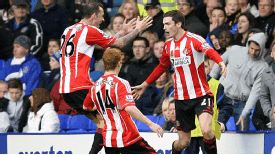 PA PhotosSteven Fletcher and Adam Johnson are two of a handful of players that deserve to stay.
Fletcher hit the ground running but Johnson, a player whose application had been questioned by Mancini at City, never hit his straps, always looking something of a misfit. O'Neill paid for a poor campaign with his job and much of his reputation.

Last season's crisis club were QPR, whose chaotic decision to both buy early and late caused a Frankenstein squad to be doomed from the start. Rob Green looked a steady enough addition as goalkeeper, if on the big wages of a Bosman transfer, but then found himself competing with Julio Cesar, tardily signed alongside Stephane Mbia and Esteban Granero, a midfield pair who never looked suited to playing in the Premier League.

This summer's prime early movers have been Liverpool. Brendan Rodgers and his shadowy transfer committee have already added four new players in Luis Alberto, Iago Aspas, Simon Mignolet and Kolo Toure, and made a significant play for Henrikh Mkhitaryan. The lessons of last summer's mistakes are being acted on, when Clint Dempsey did not arrive, and Daniel Sturridge was passed over.

In the murky world of the transfer window, saving the best until last can be a dangerous and misguided game.