Is Neymar a clown or a maestro?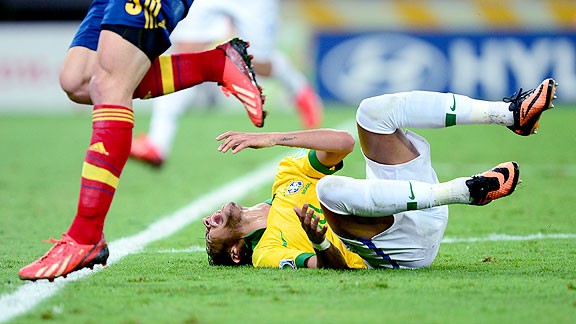 Christophe Simon/AFP/Getty ImagesNeymar gestures after being fouled by Spain's Piqué in the Confederations Cup title match.

RIO DE JANEIRO -- Overrated, theatrical, cheat, crybaby. These are Neymar's new surnames. They must, however, be placed after these new given names: "Confederations Cup champion" and "tournament MVP."

Those who relished with Neymar in full during the Confederations Cup have faced the brutal shock of marveling about a footballer with considerable talent and being scandalized by a clown of notorious theatrics, to state both extremes between which the Brazilian striker, recently signed by Barcelona, oscillates.

Let us move to Neymar's calamities. True, he is a terrible actor. He earns the labels of fake and cheat when, suddenly, without any physical contact, he is capable of performing a showcase, carnivalesque maneuver, a contortion act worthy of the Bolshoi or Cirque du Soleil.

Without a foul to justify it, this harlequin is capable of staging, with disgraceful histrionic expressions, the death of Bambi's mother, complete with simulated shotgun wound, even though the opponent's leg had passed two meters away, with the referee's short-sightedness as accomplice to the deed.

Yes, he is a regrettable returning client of the deceptive stunt, a vulgar fiasco of simulation, but that can be cured. It is cured by force of yellow cards; it is disinfected by unindulgent refereeing and even by biased indulgence.

And then it will be removed from Neymar's system, as it has been removed by other divers of the deep gorge of treachery, even though there are unrelenting offenders, cynical parodists of murder without a corpse, such as Luis Suárez and Fernando "Niño" Torres.

But even in the most childish examples, we see someone as Chicharito Hernández, who would take eight plunges per game with Chivas and now has discovered that simulating phonies are deterred and detested in the Premier League.

Not to mention, to come to a more fascinating scenario, the case of Mario Balotelli's progress from ladylike swooning to an arrogant, rebellious player, but no longer an opportunistic falsifier.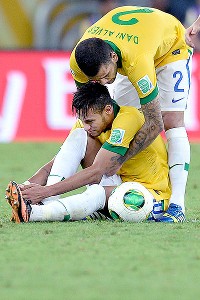 Lluis Gene/AFP/Getty ImagesDani Alves helps Neymar after yet another foul in the championship game.
Yes, these bad habits have a vaccine that can be inoculated. But what remains untouchable, undeniable and hard to be immune to is Neymar's footballing genius. A turning point must be marked in his career and in a very clear way. Scolari's Neymar is very different to his previous versions.

Neymar's coaches have had a tacit agreement with him. He may do whatever he pleases, provided that he contributes with important victories for the club or national team. In plain language, this means fielding 10 players, which become 11 only when Neymar so chooses. The fault is evident.

With Scolari, Neymar retains his marquee player status but as a centerpiece of leadership, not making the team vulnerable to the fortuitousness of his mojo or mood swings.

On one occasion, Mexico assistant coach Yayo de la Torre was spying Neymar before Mexico's victory over Brazil at a friendly match played in Dallas. He explained that the forward was running with Brazil less than Bofo Bautista against Argentina, who in turn had run less than the Mexican goalie Óscar "El Conejo" Pérez.

Different times, different coach. A different discipline, perhaps? Different words, different attitude.

Neymar ended the Confederations Cup as the player with most fouls. In the group phase, he committed 13 fouls in three matches against Japan, Mexico and Italy.

It is clear that he was also the most targeted player by predators, and to the above number should be added the fouls he simulated and did not exist, being no more than a Chaplin-esque stunt that fooled the referee.

This means Neymar already has another role in Brazil: He fights, defends, shadows and challenges.

The fact is, just as he got favorable decisions for simulations, there was also pushing, tackling and pulling that he did commit and got allowed, to which referees were not used.

Neymar is a complete footballer. He is fast, skillful, clever, deep and courageous, a good dribbler with a powerful sprint and capable of scoring with both legs. Nothing new there.

The merit of Scolari is that if the game lasts for 90 minutes, Neymar's real, efficient activity is not reduced to five minutes, as was the case before his arrival to the South American powerhouse.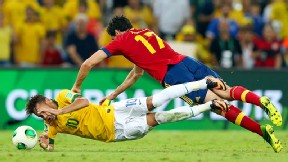 Alex Livesey/Getty ImagesSpain's Alvaro Arbeloa tangles with Neymar in yet another of his intrepid moves.
In the final against Spain, from the goal that was scored thanks to his cunning when he eluded an offside position to two sizzling passes between the opponent's lines, one 10 and another 30 meters, all his virtues with the ball became evident to the benefit of the team.

In 2012, Neymar had 27 assists, while in 2013, he has 17 with his club and the national team. He is a finisher and a builder.

He is not Messi? Surely not, and no one can guarantee that he will get there. He is not CR7? Surely not, and no one can guarantee that he will get there.

There will be a time for everyone. Neymar is 21 years old, Messi 26 and CR7 28. Did Lio and Cristiano show talent similar to the Brazilian's seven years ago? No doubt. Now Neymar is arriving to the top-tier academy that is European football.

In time, he will show what he is made of. The labels that his idle detractors attribute to him will disappear, either the good or the bad way.