The final piece of the jigsaw rarely fits
At the airport, the new arrival didn't exactly make the most forceful first impression. In fact, the AC Milan staff there to pick him up were stunned at his appearance. The 29-year-old Dino Sani didn't so much look like a footballer but "an accountant." He was thin, bald and seemed so underwhelming that club officials were left lamenting an awful mistake by manager Nereo Rocco.

On the pitch, though, it was a different matter. The languid Brazilian midfielder instantly transformed Milan. Brought in after Rocco was finally able to get rid of the unsettled Jimmy Greaves in November 1961, Sani's introduction immediately uncluttered the attack and unlocked the potential of the side. Previously, Milan had been a team that had slipped to seventh as a consequence of the clear disconnect between a functioning back nine and selfish front two. As Rocco said of the reluctance of Greaves and Jose Altafini to follow his rigorous instructions, "These two need to understand that during a football game you get kicked and not just well paid."

Sani would certainly pay back his fee. Although his signing involved the notional backward step of replacing a forward with a midfielder, it instantly gave Milan balance. There was suddenly a clear link through the team to playmaker Gianni Rivera and Jose Altafini, with Sani perfectly suited to providing the perceptive passes from which Milan started flowing. On his debut, they beat Juventus 5-1 with Altafini scoring four, before then going on to take 31 from the final 34 available points. As goes without saying, Milan would claim the 1961-62 title before then going on to lift the 1963 European Cup.

Sani's transfer from Boca Juniors was one of those rare instances where a single purchase immediately rights all of a team's wrongs, the missing piece that makes it fit together, that converts a promising team into a productive one or a very good side into all-conquering champions.

The main examples from history are famous - Alfredo Di Stefano to Real Madrid in 1953, Hristo Stoichkov to Barcelona in 1991, Eric Cantona to Manchester United in 1992 - but also somewhat few and far between. Despite the football world's general belief that throwing money around can solve an awful lot, making that key step to the kind of landmark achievement we're talking about often requires much more nuance. The majority of winning teams generally experience organic evolution right through rather than that kind of quantum leap.

As something of an illustration now that the 2013 summer transfer is open, consider the current main contenders for the Champions League title. For most, it's difficult to see any transfers that would immediately make their teams click in such a way.

Exceptional as Neymar is, and as much as he will give Barcelona an essential extra outlet, the side's recent issues in Europe have gone beyond the attack. Manchester United require enhancements in a few areas regardless of how much a midfielder like Thiago Alcantara would give them, while all of Real Madrid, Chelsea and Manchester City will have to rearrange their lineup somewhat.

The one exception, perhaps, are Bayern Munich. Imagine if such a high-functioning side replaced Mario Mandzukic with someone as utterly emphatic as Radamel Falcao. That 12-year wait for the Champions League trophy could suddenly turn into two, if not three victories, in a row. Instead, the arrivals of Pep Guardiola and Mario Goetze will change the dynamic again.

With that in mind, it's worth considering those keystone transfers that came so close but never quite happened.

Eusebio to Internazionale, 1966
As the Portuguese forward entered his prime with the Golden Boot in the 1966 World Cup, Inter had begun an apparently irreversible decline. Although the 1965-66 European Cup semifinals had seen the Italians eliminated for the first time after two consecutive victorious campaigns, it was also becoming clear that Catenaccio had started to go stale. The nadir was the 1967 final, in which they found no possible outlet against an overwhelming Celtic and were ultimately ground into defeat. That European Cup was one of three trophies Helenio Herrera's side had squandered in those final few weeks of the 1966-67 season before the side disbanded. Had Eusebio arrived as planned, however, it is eminently possible the team could have clicked anew. Beyond the bountiful goals from a forward that Inter had always quite lacked, his pace and power would have added a new energy to the team and realigned the focus of their intermittent attacks. The combination of one of the greatest back lines ever and one of the greatest forwards could well have seen Herrera's team dominate the European Cup like no other side since Real Madrid of the 1950s. Instead, just as Inter set the transfer in motion with what would have been a world-record fee, politics intervened. The Italian football authorities responded to the national team's first-round exit in the 1966 World Cup by closing the borders to foreign imports, while Portuguese dictator Antonio de Oliveira Salazar issued a decree forbidding Eusebio from moving abroad. It would take Inter an awfully long time to win the European Cup again.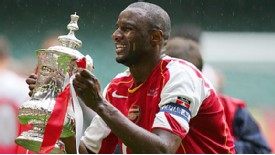 GettyImagesReal Madrid tried numerous midfield combinations after missing out on Patrick Vieira
Alan Shearer to Manchester United, 1996
Manchester United's European evolution from 1994 to 1999 is surely one of the deepest examples of a team organically learning from experience and developing in order to eventually come to completion. Although United obviously did spend money, it seemed to be complemented by a key lesson every season. Yet, while some issues with the team clearly would have remained, it is tempting to think that the anticipated 1996 capture of the free-scoring Shearer could have immediately undercut so many of those lessons. In that 1996-97 Champions League campaign, after all, Manchester United lost three home games 1-0 but still reached the semifinals. There, they lost 2-0 on aggregate to Borussia Dortmund while wasting a multitude of chances. In the absolute peak of his career, one Shearer strike could well have altered the course of the entire campaign.

Roberto Baggio to Parma, 1997
Perhaps the most regrettable missed opportunity, especially given what has happened since. For much of the mid-'90s, Parma were the team perpetually [open itals] on the brink [close itals] of something brilliant. Their position was seemingly summed up by the 1994-95 season, when they beat Juventus in the UEFA Cup final only to lose 4-0 to the Turin side in the top-of-the-table clash that would decide the title. Except, by the end of the 1996-97 season, Carlo Ancelotti had closed the gap between the sides to just two points. Then, a unique opportunity presented itself. Roberto Baggio, who had been so influential in that Juve team's rise, was willing to join Parma from an unhappy spell at Milan. It could well have provided the spark Parma needed to fire them over the edge. Remarkably, Ancelotti demurred. Baggio wanted to play as a creator behind the front two, which the coach could not countenance since he was at that point such a devotee of Arrigo Sacchi's 4-4-2. "I didn't have the knowledge to know I could change things," Ancelotti later admitted. Baggio would instead join Bologna and enjoy one of the best seasons of his career; Parma would drop to sixth in the table and 17 points behind champions Juventus. Worse, within a year of that 1997-98 campaign, Ancelotti had altered his formation to accommodate Zinedine Zidane at the Turin club. Within six, Parma were declared insolvent.

Patrick Vieira to Real Madrid, 2002-05
The summer when Real Madrid jettisoned the integral Claude Makelele for the indulgent signing of David Beckham was probably the point at which the Galactico project lost all semblance of logic. With the team seemingly defined by stars rather than actual team structure, it was no coincidence Real then went four years without a trophy. The one caveat to that view is that the likes of Beckham and Michael Owen weren't the only names that Real were chasing. Florentino Perez spent at least three years pursuing Patrick Vieira. Given how much ground the French midfielder used to cover in the centre of the pitch at that point, it isn't outlandish to think he might have just about pinned such a loose collection of ludicrously talented attackers together.

Kaka to Chelsea 2006-09
Chelsea's rise to the Champions League in 2011-12 was as emotional as Manchester United's over a decade before in that it involved so many dark nights of the soul - with one key difference. The Stamford Bridge side were probably mentally ready to win the competition long before then, but always seemed to lack the ingredient to truly ignite them. The answer was probably an element of creativity. For all the physicality and force that Jose Mourinho built up and Carlo Ancelotti later funneled, the team was devoid of fantasy. Kaka, who was then at his absolute peak and obsessively coveted by Roman Abramovich, would undoubtedly have provided it - and maybe a much earlier Champions League.