Brazil on the verge of greatness
Forget history and superstition. You have to be pretty twisted to believe that because Brazil won the Confederations Cup in 1997 and 2005 and 2009 and then failed to win the big one the following year, beating Spain and lifting the trophy at the Maracana was anything but a good thing.

Anyone who witnessed the performance against Spain, who felt the goose bumps from the Torcida, who saw Fred, then Neymar, then Oscar, then just about every member of the Selecao vault the pitch-side barriers and celebrate with the supporters will know just how important this was.

Luiz Felipe Scolari's "message" had been delivered even before the final. But this took things to another level. The combination of athleticism, stamina and quality that Brazil displayed go beyond missive into the realm of warning.

"Now we can continue on our journey with more confidence," Scolari said. "We weren't supposed to win this, but having done so, we press on with the whole nation believing in us."

He's right. There's a psychological intangible that comes from winning games like the one against Spain. Games where you dominate physically as well as technically, where everything goes your way.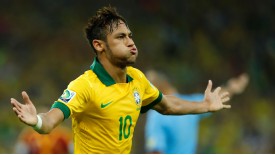 APNeymar celebrates after scoring his side's second goal in the Confederations Cup final.
Neymar will grab the headlines as well he should. He was the oustanding player of the tournament and the scary bit is that, with his skill set and at his age, unless his desire flags, he'll only get better.

But this was also a triumph of physicality, preparation and athleticism. Except for Paulinho, who made way for Hernanes against Italy, Scolari named the same starting XI in every single game. Playing five times in 15 days is a huge ask at this level. It requires not just good fortune -- avoiding injuries and suspensions -- but also the right frame of mind. To then go and play with the speed and intensity that Brazil showed in the first 20-25 minutes borders on the otherworldly.

Credit for that must go to Scolari and Carlos Alberto Parreira, the unofficial team "psychologist," as well as whoever is responsible for keeping these guys fit.

And, make no mistake about it, so many of these players were coming off difficult seasons. Marcelo and Thiago Silva missed a chunk of their club campaigns through injury. Julio Cesar was relegated with QPR. Hulk endured a disappointing year at Zenit.

"Maybe that's why we wanted to make this count," said Thiago Silva. "And in that sense, Scolari is one of the best at pulling us all together. You can see his influence in everything we do."

The right things happened at the right time against Spain. The early goal. David Luiz's clearance. The body blow of Neymar's strike just before halftime. But when you do things right, you often get the breaks.

The reality is that Brazil aren't going to play this well all the time. There will be pauses, moments when, rather than the collective effort, they'll need something else to pull them through. And that means either individuals coming to the fore or developing a more coherent and effective style of play.

In terms of individuals, they obviously have one nailed-on difference-maker, Neymar. Oscar, who was below par -- based on his ability -- for much of this tournament, could develop into another. Beyond that, one of Paulinho or Hernanes could step up, possibly Lucas Moura, if he's given the chance to show what he can do. But in terms of depth and quality, this is not a Brazil side packed with superstars, certainly not at the offensive end of the pitch.

And so Scolari will have to work to help this team grow as a unit. Take Fred, he's not the heir to the great continuum of Brazilian strikers that goes from Ronaldo to Romario to Careca to Pele all the way back to Altafini, Leonidas and Friedenreich. He's a guy who will convert chances into goals if he gets service. He's supply-dependent. Right now, Brazil don't yet have a natural way of playing to keep that supply steady. That will need to change.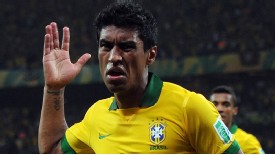 GettyImagesBrazil can get more out of midfielder Paulinho
Equally, in midfield, Paulinho and Luiz Gustavo remain, primarily, destroyers, especially the latter. You can see the logic in setting the Selecao up this way at the Confederations Cup. Scolari needed results, he didn't have much time to work with the group tactically, the priority as is often the case with him, was building a strong defence (which he did). But Paulinho can be much more than what we've seen, he can take on greater playmaking duties, make further forays into the opposing third. And Luiz Gustavo, the defensive specialist, can provide natural cover for David Luiz when he advances up the pitch, creating mismatches and wreaking havoc.

All this can come, in time. But had this Confederations Cup ended as badly as some critics thought it might, had Scolari found himself questioned at every turn, had Neymar stumbled on the big stage... well, growing into the kind of team that can win the World Cup was going to be a far greater task.

Brazil are on the verge of being such a team. And the performance against Spain, just as Scolari indicated, provides the conditions to become such a team.

With no qualifying matches on their schedule, the Selecao's next competitive match will be some time in June, in the group stage of the 2014 World Cup, where the margin of error will be close to zero. That's why these past two weeks were so important for Scolari and Brazil. They can now work toward that target with confidence.

And ignore the superstition.