Brian Clough, Barcelona and tedious genius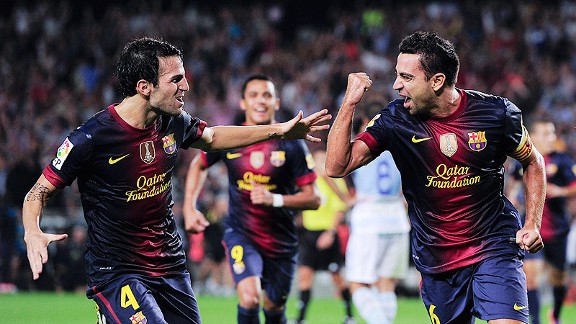 GettyImages / Josep Lago/AFP/GettyImagesXavi's stats are trawled out ad nauseam


To those of us who love a good stat, the regular output of various twitter accounts are like manna from heaven, allowing our inner geek to be continually nourished with the wonderful droplets of information dispensed.

Whatever the league, player or competition in question, we read it, store it in our memory and then recycle it - incorrectly of course - a number of weeks later when it once more becomes relevant. In recent weeks and months however, a certain number of these stats have begun to be increasingly irritating, largely due to the sheer number of times they are reproduced and quoted.

Lionel Messi is of course a sublime footballer, well on his way to becoming one of the all-time greats and his sheer volume of goals for Barcelona is simply stunning. But every single time he strikes the number is updated and reeled off within five seconds of a goal - occasionally in less time than it takes an assistant referee to rule it out for offside - somehow dulls the impact of the numbers.

The subtlety and sublime touch of Xavi is one of the wonders of today's football, the ability he has to turning away from an opponent before locating a teammate with one of his passes is a much more understated, but no less effective genius than that of his Argentine colleague. His seemingly unparalleled and unrivalled skill in helping his side retain the ball is something we may never see again, but do we really need to know his pass completion percentage after 22 minutes of last week's opening Champions League group match?

In context and as a means of highlighting Barcelona's dominance of a particular game or campaign of course statistics are a useful tool, yet repeating them with such frequency and for no reason other than to amaze your friends has become counter productive.

People have grown weary of this Blaugrana side in much the same way they did Michael Schumacher, Roger Federer and the pre-scandal Tiger Woods at the peaks of their domination. Much like those icons, the current incarnation of Barcelona are among the best ever in their respective sport and nothing should detract from that simple fact, yet the constant recycling of the information grows ever more tiresome.

One of the major factors in their superiority is the sheer amount of time they have in possession of the ball, which of course gives them more opportunity to score goals, less time spent pressing their opponent to win it back and makes them less likely to concede. The percentage of possession at a particular time of any of their matches is never too far from being rammed down our collective throats, and this has become perhaps the biggest culprit of the stat overdose, despite the ultimate truth of the oft-quoted Brian Clough adage: "It only takes a minute to score a goal".

Indeed unlike basketball for example, keeping the ball is not infallible as scoring is still - relatively speaking - a rarity in games. The greatest of game-plans can be undone by one incorrect refereeing decision, one instance of poor defending or one cheap turnover of the ball. Even with the greatest exponents of ball retention of their generation in the line-up, this Barcelona team is not unbeatable as Real Madrid proved just last season.

The current champions finally overcame their Camp Nou hoodoo back in April despite their Catalan rivals having an incredible 72% of possession throughout the ninety minutes. It was a game which only added further proof of a point made in the aftermath of Barcelona's Champions League exit to Jose Mourinho's Inter two years ago. The then Nerazzurri coach oversaw his sides passage to the final courtesy of a 0-1 defeat - giving the Italian side a 3-2 aggregate win and he said immediately after that game: "We didn't want the ball because when Barcelona press and win the ball back, we lose our position. I never want to lose position on the pitch so I didn't want us to have the ball, we gave it away."

Despite being a loss, that game has become something of a blueprint for teams looking to topple this Barcelona, with Inter 'enjoying' just 14% possession and failing to register a single shot on target. It was repeated soon after in a 0-2 home loss to minnows Hercules. There, Barca once more seemingly controlled the game with 77% possession and almost double the amount of shots of their David Trezeguet inspired opponents, but still found themselves on the losing side.

In European competition, Arsenal are often held up as the closest a team has come to replicating Barcelona's approach on a regular basis, but the north London club themselves only managed five shots - the same total as Barca - and 34% possession in their 2-1 first leg win in the Champions League Round of Sixteen in 2010-11.

While these figures are themselves remarkable, not to mention in line with Barcelona's usual numbers on a night they win, they prove it is not enough to merely keep the ball, which renders the stat useful only to a point, a fact made even clearer if we look a little closer at other teams and matches.

In the Premier Leagues round of matches - played over the 1st and 2nd of September - there were five wins, yet in only two of those matches did the victorious side enjoy the majority share of time in possession. That was Manchester City with 60% of the ball in a 3-1 win over QPR and Manchester United with 55% while the other winners did so with less of the ball: West Ham (45%), West Brom (44%) and Arsenal (47%).

The same was repeated across Europe's four other major leagues as Paris Saint-Germain (44%), Brest (41%), Hoffenheim (31%), Bayer Leverkusen (47%), Hannover (48%), Roma (47%), Napoli (45%) Mallorca (47%) and Levante (42%) all won despite seeing less of the ball, making a remarkable stat in itself. Of 34 games not ending in draws then, twelve came from the team who had less possession. Also worthy of note is that Ajaccio and Marseille ended their wins with an exact 50% share, meaning that only just over half of that days winning teams had the majority of possession.

Comparing that to American Football - another sport where common wisdom dictates holding onto the ball is always key - also proves interesting. The recently played Week Two of the current NFL calendar saw the usual sixteen games with Buffalo, Indianapolis, Arizona, Carolina and San Francisco all winning despite seeing less time in possession.

It is a very different story in the NBA however, where this case study showed that the team that controlled possession by more than three minutes won 71% of all games over a three year period. Teams playing a more up tempo style, like Steve Nash's Phoenix Suns or the 'Run TMC' era Golden State Warriors would eschew this logic but they are rare exceptions.

All of which goes to show that as good as stats are, as useful a tool as they can be in analysing games, seasons or even a particular era, the final score is and forever shall be, the only truly defining number. The rest? Share them sparingly!