New search for the Scholes of old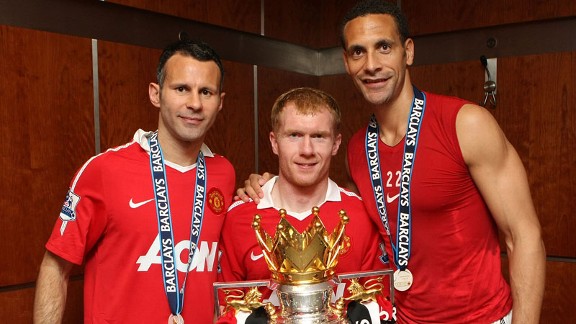 GettyImagesReplacing Paul Scholes will be one of David Moyes' most important tasks heading into his first season at the helm
Farewells came thick and fast in a manic May. It may not have pleased the overworked, chronicling the careers of the departing greats, but it certainly suited Paul Scholes. The undemonstrative maestro had always wanted to slip away quietly. By announcing his own exit after Sir Alex Ferguson's retirement became public knowledge, bowing out at Old Trafford on the same sun-kissed afternoon, he contrived to be obscured when many others, his manager included, wanted him to be celebrated.

As the dictator and the distributor exited the stage, Manchester United were quick to fill one vacancy, Ferguson anointing David Moyes as his successor. Even before the younger Scot officially took charge, it was apparent he was intent on addressing the other.

The Catalan branch of the Scholes fan club has two high-profile members in Xavi and Andres Iniesta ("In the last 15 or 20 years," the former said in 2011, "the best central midfielder I have seen – the most complete – is Paul Scholes.") Perhaps, therefore, it was fitting Moyes turned to Barcelona, albeit the younger generation, by targeting Cesc Fabregas and bidding for Thiago Alcantara.

If it represents an attempt at continuity for United, it does, too, for Moyes. His 11 years at Everton hardly gave him a reputation as a disciple of tiki-taka yet perhaps his finest footballing side was built around Mikel Arteta, who was schooled at the Nou Camp.

Indeed, if Moyes can sign a purists' player, it may win over some of his doubters. He is neither as defensive nor as direct as his critics argue. If the football tended to be attritional for the first half of his reign at Goodison Park, it was often excellent thereafter and he prospered in his final campaign partly because of the twin passers, Darron Gibson and Leon Osman, employed in the centre of midfield. A fondness for a more physical player in the No. 10 role – first Tim Cahill, then Marouane Fellaini – blinded some to the technicians elsewhere.

More important than the manager's own reputation, however, is remedying a weakness in the United squad. Ferguson left the midfield department well stocked despite an extraordinary reluctance to recruit, a glaring over-reliance on Michael Carrick and the absence of anyone approaching an automatic choice alongside him. It would be wrong to deem it a case of quantity rather than quality – Scholes and Ryan Giggs' gifts are not in doubt – but an unwillingness to buy baffled.

While they lost Paul Pogba, whose performances for Juventus illustrate he had the potential to become a long-term first-choice, the last they signed was Scholes, when he came out of retirement in January 2011. Not since Owen Hargreaves and Anderson arrived in 2007 have United paid a fee for a central midfielder they envisaged as an immediate choice.

Finally, perhaps, Moyes may scratch the six-year itch. In the meantime, United have been outmanoeuvred and out-passed by Barcelona in the Champions League and overpowered by Yaya Toure in the Premier League, but it is testament to their winning habit and Ferguson's skill in perming the right partnership (with the exception of the bizarre pairing of Rafael da Silva and Ji-sung Park he fielded against Blackburn in December 2011) that they have not been exposed more often.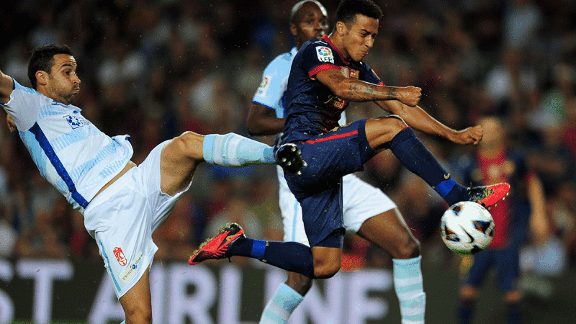 GettyImagesThiago Alcantara could be the man to bolster Manchester United's midfield


Yet the only regular duo has been the old firm – very old in the case of the 38-year-old – of Scholes and Carrick. As the former's legs have slowed, Ferguson's fondness for rotation meant Carrick has had an ever-changing cast of sidekicks. In bygone days, they included Hargreaves. More recently, they have incorporated the sadly sidelined Darren Fletcher, Tom Cleverley, Anderson, Giggs and Scholes. Yet it is an indictment of the specialist midfielders that by the end of last season the most compelling choices were Phil Jones, a defender by trade, and Wayne Rooney, a striker who does not want to be reinvented in a deeper role.

While Moyes tried to sign Fletcher in 2008, that was before a debilitating stomach virus raised questions about his future and suggested that, if he does have one, it is as a holding midfielder. While Ferguson, giddy with the excitement of winning his 13th title said Jones could become United's greatest ever player, he is more destroyer than distributor, more marauder than midfielder.

While Anderson used to have a reputation as a big-game player, it has been rather lost over 20 injury-hit months. And while Cleverley had more opportunities to establish himself alongside Carrick, he gives the impression of a player who operates in the slipstream of others, rather than controlling or deciding matches.

Hence the situation vacant as a more dynamic ally to Carrick. When Barcelona players are mentioned, passing comes to mind immediately. Yet in Fabregas, who has 29 goals in the last two seasons, and Alcantara, who got a hat-trick in the final of the European Under-21 Championships, Moyes has identified men who tackle another shortcoming: scoring. Or, more precisely, striking from deep. Compared to many of their rivals, United have long lacked goals from the middle of the park. Including Giggs, the six main central midfielders contributed just eight in the league last season.

In comparison, one of their number chipped in with 120 goals in all competition between 1995 and 2005. Moyes is looking for the new Scholes. But more than that, he is looking for the old Scholes.