Brazil had two World Cup-winning coaches up on stage ahead of the news conference for the Confederations Cup final. One, obviously, was Luiz Felipe Scolari, in full jovial "Felipao" mode, joking that he was so tense that he had "three cats inside my stomach."

The other was Carlos Alberto Parreira, the man who led Brazil to victory at USA '94. If you caught any of the footage, you probably didn't see him because he was actually all the way to the left of the stage, seated on an office chair with wheels, listening intently in the darkness. Had it not been for his bright white socks and the fact that he was not stroking a cat of the same color, he might have almost been a Bond villain.

- Del Bosque's juggling act
- Two defensive midfielders
- Spain in 'world's derby'

Officially, Parreira is a consultant to the Selecao. Those close to the team say he is part "psychologist" -- man management hasn't always been Scolari's strong suit -- and part "consigliere" to Felipao. It's probably a testament to Scolari's folksiness and confidence that he readily accepts Parreira's role. National team bosses -- especially ones who have already won World Cups -- tend to have egos, and that's not always compatible with having another big-time coach around, particularly one such as Parreira who is also a World Cup winner (actually, a two-time winner: he was the fitness coach on the 1970 team).

Still, when things are going well, there's no call for infighting. And Scolari was positively beaming.

"I don't consider Spain great favorites," he said. "Sure, they've won two Euros and a World Cup and have essentially had the same team, give or take a few guys, for the past six years. That's an advantage. But we'll be at home, in front of these incredible fans. And, most of all, we've regained our credibility."

You can see where he's coming from. Scolari replaced the much-criticized Mano Menezes in November 2012. Menezes' Brazil had lost three times in 2012 (twice to Argentina, once to Mexico) but, more tellingly, simply didn't play well even when they didn't lose (a 1-1 draw with Colombia and a miserable 1-0 win over South Africa at the Morumbi in Sao Paulo spring to mind).

Scolari didn't exactly impress in the early going, winning just one of his first six games. But all that changed at the Confederations Cup, and Brazil go into this final on the back of five straight wins.

"So many didn't believe in us going into this tournament," Thiago Silva said after the semifinal victory over Uruguay. "In fact, many even thought we'd go out in the group stage. But now we're in the final. And even if we weren't, I think the positives of working closely with [Scolari] are coming to light. The biggest thing he's given us? I'd say, apart from self-belief, it's patience."

That, perhaps, has been the biggest difference seen at this tournament. This Brazil team, even when they don't play well, tend not to play scared or frenetic. There's a sense of control that emanates directly from the veterans at the back: Silva, Dani Alves, Julio Cesar.

In that environment, even the youngsters show poise, above all Neymar. He has plenty in which he can grow, but there are times when he doesn't look 21.

"That's because even our youngsters have experience and have faced great pressure and responsibility," Silva said. "Often that's as important as age."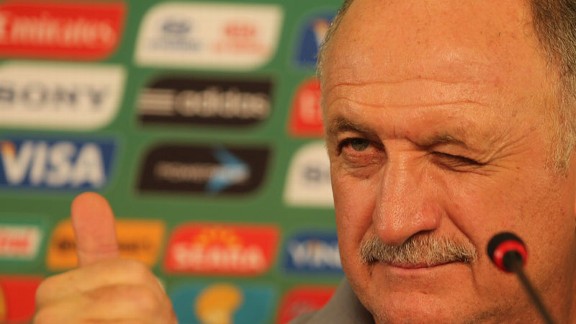 GettyImages"Big Phil" Scolari has the trust of the Brazilian public.


In that sense, Spain, with their five years of hegemony, are the polar opposites. They know how to win, and they know how to do it with class and a touch of humility. Ask Xavi why La Roja has dominated the game over the past five years, and his answer is simple: "Lots of talent, lots of hard work and lots of luck."

Iker Casillas, equally, was the picture of humility, talking about how Brazil put four past Italy, the same team that made Spain "suffer."

You never quite know whether they're being genuine or, simply, polite. Or whether the scare they got against Italy -- that puny 54 percent possession for a group that lives and dies by having the ball ("we are so much more comfortable when we have it," Xavi reiterated) -- has set off alarm bells.

Some might argue that these are two sides going in different directions: Brazil on the rise, Spain on the decline.

"We'll be playing to send the world a message," said Scolari, never afraid to play to the crowd.

But if Spain are on the slide, they're sliding from a very high peak indeed, the kind from which you peer down on everyone else and they look the size of ants. It might take a long time for La Roja to descend to the level of everyone else. And given what's coming through at the under-21 level, reinforcements are on the way.

As for Brazil and the message Scolari wants to send in many ways, it already left with a loud whoosh: The Selecao is back. Not back to the idealized, world-conquering, Jogo Bonito stereotype, not even back to where they were. But back to a point where they can give anyone a game, where the defensive nous, organization and mental toughness preached by Scolari (and Parreira) can keep things close enough for Neymar and the front men to break something at the other end. And that's a formula that, thus far, has worked against every opponent in this tournament.

Will it work against La Roja? It doesn't need to. Not on Sunday, anyway. It just needs to be ready in eleven months' time.