Previewing the Prem, Sept. 29-30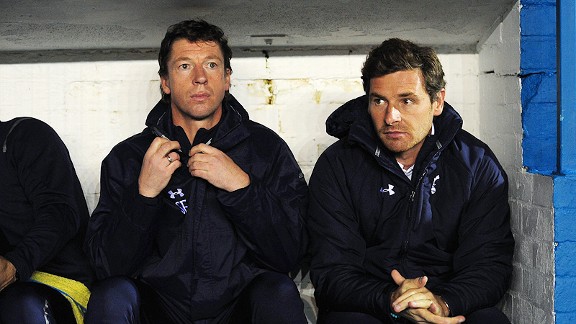 GettyImages / Stu Forster/Getty ImagesAndre Villas-Boas was humbled by his failure at Chelsea; will it turn out better at Tottenham?
In the week that was, John Terry's hissy fit disguised as his virtuous England retirement was matched only by Rio Ferdinand's gloriously hilarious assumption that this would lead to his recall to Team Three Lions.

Truth be told, Roy Hodgson probably wouldn't have picked the current version of Rio to center his defense at Fulham. The parable of the fallen mighty was reflected in our prognostications from last week -- a pathetic one out of four -- but unlike Ferdinand's partner in defensive crime, the crocked Nemanja Vidic, we are fighting fit and reporting for duty.

Manchester United vs. Tottenham

"You are entirely right and I am 100 percent wrong."

When was the last time that you heard those words from your spouse? Probably in 1989, the year of the most recent Spurs victory at Old Trafford. It's helpful to note that none of the past three U.S. presidents -- Bill Clinton (two terms), George Bush II (two terms) and Barack Obama -- was fortunate enough to work through a Spurs away win against United, although Clinton almost pulled off something nearly as rare: a Middle East peace agreement.

We're not conflicted over Spurs losing this game. That's pre-ordained -- as instinctive as a mother's love for her newborn infant, as inevitable as a sunrise. Rather, the question is how will they choose the manner of their defeat? Will the London squad tease itself as it did in 2009, jumping out to a 2-0 lead before utterly collapsing en route to a 5-2 hammering? Or will Gareth Bale & Co. follow their more recent history of losing by three goals, holding just 40 percent of the ball and mustering a Liverpool-ian four shots on target?

With Andre Villas-Boas in charge -- the same AVB who contrived to relinquish a 3-0 Chelsea home advantage to United last year -- the only surety is that he'll get his tactics mostly wrong while performing the five stages of grief and 14 stations of the cross on the sideline.

Sir Alex Ferguson will have an embarrassment of scoring riches to call upon. Combined with returning Spurs-dominator Rooney (five goals in the past five meetings), he has Ryan Giggs (he's scored more Prem goals against Spurs than against any other side, with 10) and new boy Robin van Persie, who takes special pleasure in squishing his former North London rivals (five goals, four assists in six Premier League home games against them).

Meanwhile, AVB has a resurgent Jermain Defoe (scorer of four of Tottenham's seven league goals), and a goalkeeper in Brad Friedel who was still in high school when his current employers last succeeded at Old Trafford.

It will be over quickly, just like a mugging in Stoke.

Prediction: Manchester United 3, Tottenham Inept 0

Fulham vs. Manchester City

The defending league champion is a 3-1 favorite to win at Craven Cottage on Saturday but the oddsmakers have got it wrong. Fulham's 12 tallies have it tied for second among all Prem teams, while City's busy leaking like a Ford engine. Better yet, the Cottagers have yet to lose at home -- they haven't even conceded a goal.

Martin Jol has rapidly healed his team following the Clint Dempsey/Moussa Dembele defections and with all three of his new forward signings -- Mladen Petric, Hugo Rodallega and Dimitar Berbatov -- already having scored, the goals can come from everywhere and anyone. Confidence is the most undervalued aspect of the life of a professional athlete and Jol's players have it. Meanwhile, Mancini's men are still trying to crack the hangover following May's victory parade.

Samir Nasri could be back for the Citizens, but the problem doesn't lie on the attacking side of the equation, in spite of David Silva's inexplicable loss of form. When your team ships four goals at home to Aston Villa, there are more holes in your defense than in John Terry's recently concluded FA effort.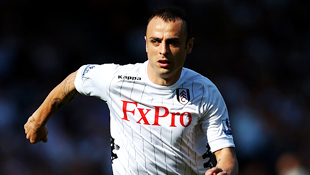 GettyImages / Clive Rose/Getty ImagesIt didn't take long for Dimitar Berbatov to settle at Fulham, something that could be to the Cottagers' advantage against a shaky Man City backline.


Granted, City's midweek defeat was a League Cup debacle, but you have to go all the way down to Villa (14th place) in the Prem table to find a club that has surrendered more league goals. Vincent Kompany continues to look both strong and capable, but the Joleon Lescott/Aleksandar Kolarov/Gael Clichy combination is comedic. Even Joe Hart looks vulnerable as he finally has work to do.

Sorry, stats mavens -- it will be all Fulham and it won't even be close.

Prediction: Fulham 3, City 1 (and Mancini widens his lead in the annual "Wenger Rant Against All" contest)

Aston Villa vs. West Bromwich Albion

Unless you were around in 1911 (aka the last time Liverpool started a season this badly), you probably don't know that these were two of the 12 founding teams in what became the English First Division. These standard-bearers of the West Midlands play a derby match Sunday, yet curiously it's surprisingly low on the loathing factor. Villa saves its animus for Birmingham, while the WBA/Wolves meetings are among the vilest of any encounters. Unfortunately, with their true nemeses currently slumming it in the second tier, Villa and WBA only have each other to kick around this term.

Last October, Chris Herd's early red for the home team allowed the Baggies to win 2-1 and break a 32-year streak of futility at Villa Park; based on the season so far, you'd think that the high-flying (we know, it won't last) West Brommers would be favored to make it two on the trot.

But they won't. WBA's march up the table is a result of its perfect home record, but they are a far more toothless team away from the Hawthorns. With lynchpin Peter Odemwingie reaching the prime age for MLS recruitment, it's hard to figure where Steve Clarke's team can go for scoring. (Without Chelsea loanee Romelu Lukaku's goal last weekend, the Baggies would have given hapless Reading an undeserved draw.)

Villa, conversely, is slowly throwing off the weighted shackles of the Alex McLeish Fun-Vacuum Era, and thumped $225 million worth of Man City talent at the Etihad on Tuesday. Gabriel Agbonlahor returned from injury/ineptitude to knock in two goals and notch an assist; if he can kindle a strong partnership with the mercurial Darren Bent, WBA will have as much success on this road trip as it did when it got clobbered 3-0 by Fulham.

Prediction: Aston Villa 2, WBA 0

Everton vs. Southampton

While the red side of town drowns in a maelstrom of angst, glued to the soap opera that is the highly visible demise of Anfield's relevance, David Moyes continues to brilliantly manage Everton. He kept hold of mop-topped marauder Marouane Fellaini and Leighton "The Fifth Beatle" Baines, made permanent the return of Steven Pienaar, has had a full year with Darron Gibson (someone Sir Alex Ferguson could arguably use in his patchwork United midfield) and added Kevin Mirallas and Steven Naismith during the summer signing window. Tim Howard is justifiably hailed as one of the world's top goalkeepers and the Blues are a veteran team used to playing the Moyes way.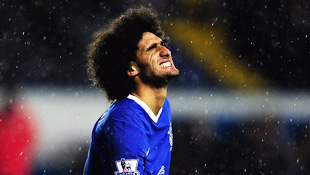 GettyImages / Stu Forster/Getty ImagesAs Marouane Fellaini goes, so goes Everton. Can his muscular presence guide the Toffees to a league win versus Southampton?


There are only two negatives: Moyes is in the last year of his contract and Phil Neville still exists.

Southampton, led by Rickie Lambert and Adam Lallana, plays courageously on the road but the schedule-makers have not been kind to them. The Saints opened at Manchester City, moved on to Arsenal and now get third–place, dangerously cocksure Everton. Where's Wigan when you need them?

Consequently, Nigel Adkins is still seeking his first away point in the Prem, and coming off their most recent 1-6 shellacking by Arsenal, Everton should have a relatively easy time picking up the win.

And in case you were wondering, the answer is 1937. That's the last time Everton finished ahead of Liverpool in the league in consecutive seasons.

Prediction: Everton 3, Southampton 1

Paul Kanarek is a freelance soccer writer living in Los Angeles, the only city in America where MLS teams outnumber NFL teams 2-0. James Tyler is an editor for ESPNFC.